GCSE results show STEM subjects are still lagging behind
However, the tech industry is optimistic about computing's future in the UK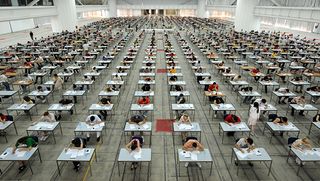 GCSE results released yesterday were disappointing for the STEM sector, with fewer A*-C results than before in computing and other science, technology, engineering and mathematics-related subjects.
In fact, students studying for GCSEs in engineering and science received some of the worst results in history, with only 0.9% receiving an A* in engineering and 0.7% achieving the top mark in science.
Computing also performed badly, with only 5.7% of students being awarded with an A*, while maths continued the downward trend, with pupils getting an A* to C grade falling 2.3%.
Despite these poor results for the sector, many industry commentators said it's encouraging to see that more people are deciding to take the subjects, even if they aren't achieving top results.
"Today's GCSE news revealing a huge rise in pupils studying computing is no doubt welcome news for a number of technology related industries," Kirill Slavin, UK general manager at Kaspersky Lab, said. "This is particularly the case for cybersecurity a sector that is crying out for greater access to skilled computer science graduates to fill an existing skills gap that is predicted to reach critical levels over the next five to ten years."
Darren Norfolk, UK managing director of Rackspace, added that encouraging more youngsters to gain qualifications in STEM subjects will fill a hole in the UK's technology sector.
"Due to the speed that our industry moves at, it's crucial we give students a firm foundation in IT and computing, especially when we already have an industry-wide skills gap," he said.
"With a rise in the number of jobs requiring skills in cloud platforms such as OpenStack, Amazon Web Services (AWS) and Microsoft Azure, these students will be more prepared to work in the growing multi-cloud environment many businesses now operate in," Norfolk added.
However, Bhuwan Kaushik, CEO of UK-based IT project and software deployment company Spectromax, thinks it's vital schools, colleges and extra-curricular organisations continue to encourage those in education to take STEM subjects if the UK is to remain competitive.
"As the IT skills gap continues to grow worldwide, we need to make sure the UK doesn't get left behind," he said. "Enthusing students to learn computing and educating them effectively will be a huge step towards making this happen long term. There's simply no quick fix.
"We also need more IT programmes outside of school and university, and better opportunities for on the job IT training too. This is especially important post-Brexit, as we will no longer be able to rely on a steady stream of IT talent coming into Britain from elsewhere in Europe."
Slavin agreed that educators have a key role in pursuading children to pursue roles in the technology sector, but businesses must also be proactive to demonstrate the rewards that a career in technology offers.
"There does appear to be a disconnect between young people's aspirations and those of business, with employers failing to channel young people's interests and talent in the field," he said.
"Kaspersky Lab's research shows that 56% do not offer entry-level IT security roles; most promote from within (72%), providing internal training as necessary, and a little over half (52%) recruit externally for seasoned security professionals."
A daily dose of IT news, reviews, features and insights, straight to your inbox!
A daily dose of IT news, reviews, features and insights, straight to your inbox!
Thank you for signing up to ITPro. You will receive a verification email shortly.
There was a problem. Please refresh the page and try again.