Salesforce CEO blames Twitter for Trump's victory
Marc Benioff reveals that shareholder pressure put kibosh on Twitter acquisition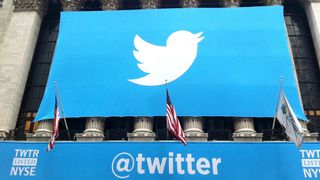 Salesforce CEO Marc Benioff has blamed Twitter for Donald Trump's election triumph.
He joins a list of political and tech luminaries who have said that social media played a substantial role in the meteoric rise of the reality TV star, despite Facebook founder Mark Zuckerberg's protestations to the contrary.
"Without Twitter, I don't think you would have President-elect Trump," Benioff told Recode. "As evidenced by this election, I think it's more important than ever."
Benioff was quick to defend Twitter, however, saying: "I think it's a great company, I think it's a great CEO. I think it has a huge vision and has a unique position in the world."
The comments came during a conversation regarding his company's possible acquisition of Twitter, a persistent rumour that circled last month after the platform's stock started to dip.
In the end, Benioff passed on the opportunity, and revealed to Recode that his shareholders talked him out of the acquisition, despite initially citing concerns over the deal's price and the company's corporate culture.
"My shareholders... made it very clear that they wanted me to exit that dream or vision or idea," he said. Many investors voted with their feet, and the acquisition rumours caused an 8% dip in the company's share price, unfortunately coinciding with the company's annual conference, Dreamforce.
"That was an uncomfortable meeting," he recalled. "I had a really incredible conference then I walked into a room with 200 shareholders and they were like, 'Look, you need to listen more closely to us.' And I agreed."
"I [had] no choice," Benioff admitted. "If anything, I have to be able to listen, and if I wasn't listening then I wouldn't really be the leader that I'm trying to be."
28/10/2016:Twitter's results better than expected, despite job cuts
Twitter has posted better than expected financial results, despite announcing hundreds of redundancies and the closure of its Vine video service.
Revenues for the last quarter rose 8% to $616 million (506 million) and although they were higher than the analysts predicted, they were 20% lower than the previous quarter, showing Twitter's growth is slowing considerably.
The growth in revenues was in part down to increased advertising revenues. They rose 6% to $545 million (373 million) in the quarter. In other encouraging news, the number of active users on the social network grew by 3% to 317 million, although this could be down to seasonal trends rather than the network winning back supporters.
"This morning we announced a restructuring and reduction in force affecting approximately 9% of Twitter's positions globally," wrote CEO Jack Dorsey in his letter to shareholders.
"The restructuring, which focuses primarily on reorganising our sales, partnerships and marketing efforts, is intended to create greater efficiency."
Twitter's international business performed better than its US operation, with revenues outside of the country rising by more than a fifth to $242 million (198 million).
Twitter has put itself up to sale, but it seems it's struggling to seal a deal, despite a number of big players including Salesforce, Alphabet and Walt Disney showing an interest.
"We have a clear plan, and we're making the necessary changes to ensure Twitter is positioned for long-term growth," Dorsey said. "The key drivers of future revenue growth are trending positive, and we remain confident in Twitter's future."
25/10/2016: Twitter to cut 8% of its workforce
Twitter will cut up to 300 jobs as part of a restructuring effort, according to a report, amid a period of slow growth and uncertainty about the company's future.
An official announcement is expected before Twitter reveals its third-quarter earnings on Thursday, according toBloombergsources.
Although the exact scope of the cuts is still unclear, the layoffs will see an 8% reduction in staff across the company. More than330 employeeswere made redundant during a similar "restructuring" plan this time last year when Jack Dorsey became CEO of the company.
The current plans remain "fluid" and are subject to change, according to an anonymous Twitter source speaking toBloomberg.
IT Prohas approached Twitter for a statement, but the company has declined to comment on the rumours.
The latest layoffs are a sign that the company is trying to control spending and attempting to recuperate losses. The social media giant has had a turbulent year, as slow growth and a number of failed takeover deals have plunged share prices as much as 40% over the last 12 months.
Salesforce, Alphabet and Disney all expressed interest in purchasing the troubled platform but have all since backed out of any deals.
Twitter has also caused surprise among analysts afterannouncingon Monday that their third-quarter earnings report would be rescheduled to Thursday, and revealed before the market opens.
This was "to avoid overlapping with several other earnings announcements in the Internet sector" that day, namely Amazon and Google, according to apress release. However rumours suggest that Twitter is attempting to draw as little attention as possible to a likely drops in earnings.
This story was originally published on the 25th October at 10:38, and was updated at 15.35 to reflect a response from Twitter.
17/10/2016: Salesforce won't buy Twitter
Salesforce has revealed it won't be putting a bid in to buy Twitter, with the company's CEO Marc Benioff describing the company as "an unpolished jewel."
Although Benioff had previously expressed an interest in buying Twitter, it would seem the social network is not as attractive as it first seemed for the CRM company.
"In this case, we've walked away. It wasn't the right fit for us," Benioff told the Financial Times after considering its options. "It's not the right fit for us for many different reasons. You're going to look at price, you're going to look at culture, you're going to look at everything."
He added that the data Twitter presented to Salesforce's staff wasn't enough to convince him the technology company should buy it. "I want to have a look at everything, conceptualise, be free to think creatively," he said.
As a result of this news, the value of Twitter's shares declined by 5% at the end of last week, leaving it in a vulnerable position.
Salesforce was the strongest contender for buying the social network after Walt Disney and Google's parent company said they would be stepping away from the acquisition opportunity last week.
Twitter said its advisors are still looking for potential investors to snap it up.
07/10/2016: Twitter's shares drop after Google and Disney 'opt out from buying it'
Twitter is apparently for sale, but it now appears that two of its biggest potential buyers aren't interested in making an offer.
The three most likely contenders for the acquisition of the micro-blogging site were said to be Salesforce, Google and Disney.
Sources told Recodethat tech giant Google no longer intends to buy Twitter, while other sources said Disney is also opting out of the acquisition.
As a result of this, on Thursday Twitter's shares fell by 19% to $20.10, according to Bloomberg.
Apple was rumoured not to be interested in making an offer at all.
This would leave CRM giant Salesforce and tech firm Microsoft as the only potential bidders left in the equation for now.
Salesforce never confirmed publically that it would make a bid to buy Twitter, though on Wednesday, Salesforce CEO Marc Benioff told CNBC: "It's an exciting product, but obviously the business has a lot of challenges, very severe challenges."
Twitter has millions of active users worldwide and has become one of the top social networking sites after it was first established in 2006.
Before Recode published the report stating that Google and Disney might opt out from its acquisition, its share price had closed at $24.87 on Wednesday, up by 5.74%.
Twitter appears to want to end negotiations with potential bidders on 27 October, according toReuters,after it reports its third-quarter earnings. This would only leave a few weeks before its conclusive prospective buyers are defined.
Get the ITPro. daily newsletter
Receive our latest news, industry updates, featured resources and more. Sign up today to receive our FREE report on AI cyber crime & security - newly updated for 2023.