The complete guide to Samsung Pay in the UK
Everything you need to know about Samsung's payments app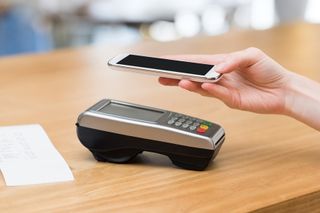 Smartphones have become an indispensable part of modern life due to their versatility and limitless applications. For a number of years, they've also been able to make mobile payments, which means you no longer need to carry around your wallet and can simply tap your phone at checkouts and train stations.
The days of having wallets full of coins and notes are gone as we increasingly adopt contactless technology. According to recent research, there were just 60,907 cash machines in the UK in November 2019, down 5,000 or 8% compared to July 2018.
The number one mobile payment method is Apple Pay, followed by Google's Android Pay, but Samsung Pay is catching up fast. Although still in its infancy, being pre-installed on devices from one of the world's biggest smartphone brands means Samsung Pay is growing in popularity. But, how does it differ to Apple Pay and Android Pay and why is its adoption behind the other two mobile payment leaders?
What is Samsung Pay?
Samsung Pay is the Korean tech giant's mobile payment platform. It enables owners of Samsung smartphones to use their device to make payments via a contactless NFC card reader terminal.
It can also be used as a digital wallet as it stores a user's card details on a device to make online purchases too. Once a card is set up on a device, it can be used as a payment option by any retailer that supports it. You can just pay via Samsung Pay and you are done. No need to enter card details online.
Picture credit: Samsung
Which banks support Samsung Pay?
Samsung Pay means you don't need to use your debit or credit card when you want to pay for something in-store or online. It stores the details of your payment methods securely on your phone, meaning you can just tap your device on a contactless card reader if you want to pay for something in-store or use its Samsung Pay Mini service to make online transactions in areas where the full version of Samsung Pay isn't available.
However, this way of paying is only supported in some countries and by some banks. Although as other payment options like Google Pay and Apple Pay are becoming more popular, banks around the world are increasingly accepting contactless and mobile payments.
To keep up with the competition, stores know they must support these methods of payment. As more devices are shipping with contactless payment solutions, consumers are choosing not to carry their cards around with them, so businesses risk losing out on a sale if they don't offer a credible alternative.
So far, Samsung Pay has signed partnerships with American Express, MasterCard and Visa payment card networks and is in talks with some of the leading US banks. Currently, more than 650 banking institutions and credit unions support the technology, including Chase, Citi, HSBC, and Wells Fargo.
While the service continues to expand all the time, a number of the UK's largest banking institutions, such as NatWest and Barclays, have yet to start supporting Samsung Pay.
Payments provider Contis also recently announced a partnership with Samsung Pay, integrating the platform into its service across 150 credit unions in the UK.
Which devices support Samsung Pay?
Samung Pay is available on all new Samsung devices, including the Galaxy Note 8 and above and the Galaxy S6 and newer. It's also available on some of Samsung's budget devices, such as the affordable Galaxy A and J ranges, and on Samsung smartwatches.
As of today, payments through Samsung Pay can now also be authorised using the built-in iris scanner on Samsung smartphones, although you can still use the fingerprint scanner or passcode if you prefer.
Reports also suggest that Samsung is having internal discussions with its manufacturers about bringing Samsung Pay to devices outside of Samsung's own in order to expand its user base, which would require the manufacturers to develop the same unique chips that allow for magnetic secure transaction (MST) payments on Samsung devices.
Samsung Pay sits in an unusual position in the market. Until recently, Android devices offered two official contactless payment services to rival Apple, leading many customers to become confused over which to use. Android Pay, which was supported on Samsung smartphones, was effectively drawing customers away from Samsung's own payments service.
To make matters worse, Google has now ditched the Android Pay brand and has folded its functionality into a new G Pay platform, once again placing into competition with Samsung Pay and creating two options for users. Samsung does have an edge in the US by offering some services that rivals currently don't, such as the magnetic secure transaction (MST) payments.
It's currently unclear whether Samsung will continue to push for its own payments service, or if it will consider blocking Google's own product.
Samsung Pay in the UK
Samsung Pay officially launched in the UK in May 2017, going head-to-head with Apple Pay and Android Pay to offer Samsung Galaxy users an alternative contactless payment method.
"Samsung Pay's primary competition is Android Pay and Samsung will need to offer some very attractive incentives to users if it wants to compete," Ben Wood, head of research at CCS Insight, told the Guardian in May 2017. "Even more of a challenge will be getting existing Android Pay users to start using Samsung Pay it is hard to see why someone would want to switch at present."
"Samsung is determined to get consumers to think of it as more than just a company that makes devices. Samsung Pay is just one of several initiatives where it is trying to add value to its products while establishing an ongoing relationship with its customers over the lifetime of a device," Wood added.
The UK implementation of Samsung Pay will add a few extra-value features compared to the service in other countries, including a tie-up with TfL, which allows you to choose which of your cards is a travelcard in London. Even if you have multiple payment methods set up on your device, you can specify which you want to be used when you enter or leave a TfL station. Users are able to pass quickly through the station without having to authenticate the transaction.
Samsung also declared a partnership with the banking solutions company Contis on 6 March, which will give Samsung Pay access to 150 credit unions across the UK, and make it a more viable option for UK users.
The MST payments that give Samsung a leg-up over Google Pay and other options in the US, but don't have as big of an impact in the UK, where most terminals have moved away from the old magstripe system.
But Samsung has taken the fight to Google by supporting PayPal in the US, finally putting it on a par with the tech giant's native service in an area in which it previously suffered in comparison. This makes the decision to use Samsung Pay over Google Pay easier for Samsung device users who have PayPal accounts. However, at the moment it's only available in the US. IT Pro has asked Samsung if and when it plans to support PayPal in the UK.
The app was originally meant to be available in 2016, but Samsung pushed this back to 2017. However, the May 2017 release date may have been encouraged by the launch of the Samsung Galaxy S8, which received a number of very good reviews.
Now it's available in the UK, Samsung Pay should work wherever contactless payments are accepted and in contrast to Apple Pay, it can be used with older retail terminals and also works for in-app purchases.
How does Samsung Pay work?
The Samsung Pay app can be downloaded from the Google Play store but will also be pre-installed on selected phones. You simply need to activate the service by signing into your Samsung account, scan your fingerprints and create a pin for future authorisation. Then you will need to add your cards by taking a picture of them- as long as your bank supports Pay.
If you've done all this then Samsung Pay will be ready to use. Swipe up on the screen the access your preferred card and hover the phone over a contactless payment terminal. Samsung has even made sure that the service can be used when the display is off meaning its easy to pay for stuff when you're out and about.
Get the ITPro. daily newsletter
Receive our latest news, industry updates, featured resources and more. Sign up today to receive our FREE report on AI cyber crime & security - newly updated for 2023.
Bobby Hellard is ITPro's Reviews Editor and has worked on CloudPro and ChannelPro since 2018. In his time at ITPro, Bobby has covered stories for all the major technology companies, such as Apple, Microsoft, Amazon and Facebook, and regularly attends industry-leading events such as AWS Re:Invent and Google Cloud Next.
Bobby mainly covers hardware reviews, but you will also recognise him as the face of many of our video reviews of laptops and smartphones.