Step into the UK's computing past with a 3D history tour
The Bletchley Park-based musem's virtual tour includes video of WITCH reboot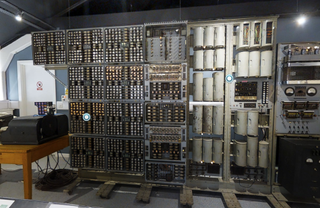 Anyone can now tour the history of computers thanks to a 3D tour of two galleries at the National Museum of Computing on Bletchley Park, the site of Alan Turing's historic achievement of cracking Nazi code in World War Two.
Developed by Venue View Virtual Tours, the general public can take a Google StreetView-style tour around the museum's galleries as if they're there in real life, taking in the sights of the rebuilt Colossus, the world's first electronic computer, and the WITCH, the world's oldest working digital computer.
The experience allows people to zoom in on the machinery and read the captions accompanying the exhibits to find out more. There are also lots of other resources available, including video of key moments in history such as WITCH being rebooted after restoration in 2009, to offer value-added content that visitors can't even experience in real life.
"The virtual tour is quite incredible and a dramatic way of realising how far technology has come in a few decades," Kevin Murrell, a trustee at The National Museum of Computing, said.
"We are seeing 1950s computers with 2017 tech and getting a convincing dolls house view of the galleries that is impossible to see in real life," he added. "It's a marvellous tool to attract people to come to see the museum in real life - even regular visitors will see something new."
Virtual View managed to create the tour using 360-degree cameras to capture the environment to every precise detail. It then adds the extra resources to offer an extremely informative tour of the exhibits.
"With our specialist camera, we can record any venue in 360 HD in a short space of time with no interference to anything in the scene," Venue View's managing director, Keith McMahon, said.
"As well as the tours being viewable in virtual reality, the addition of infra-red cameras means we can capture a 3D version of any venue to give a life-like representation of the space from above."
A daily dose of IT news, reviews, features and insights, straight to your inbox!
A daily dose of IT news, reviews, features and insights, straight to your inbox!
Thank you for signing up to ITPro. You will receive a verification email shortly.
There was a problem. Please refresh the page and try again.