BA "Happiness Blanket": Does it actually work?
We see whether a blanket really is capable of measuring your mood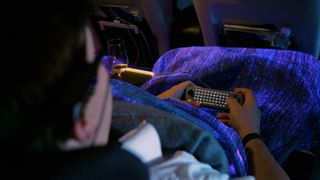 Last week, I was invited (along with several other journalists) aboard the British Airways 787 Dreamliner as a volunteer for the airline's "Happiness Blanket" experiment.
This required us to wear a mood-monitoring headset, equipped with neuro-sensors, that - via a Bluetooth connection - notified a fibre optic blanket about how we were feeling during the flight. In response, the blanket would turn blue (to indicate contentment) or red (suggesting anxiousness).
On board, we were treated to the whole Business Class (or Club World, as British Airways calls it) experience, including champagne on arrival, a full three-course dinner menu and the option to fold down our seats into a flat bed should we wish during the flight.
I've only ever flown economy class before, and consider any meal I haven't had to cook myself a luxury, so I was expecting my blanket to remain blue for much of the flight.
Head testing
The brainwave-monitoring headset took a few minutes to fit comfortably on my head, as it required participants to wear an earpiece. Unfortunately, that kept falling out, preventing the headset from communicating my feelings to the blanket. Not a sentence I ever throught I'd write, to be fair.
Once that was sorted, my blanket started glowing purple almost straightaway. I interpreted this as halfway between red and blue, suggesting I was neither anxious nor contented during this time.
That's hardly surprising, though, as I spent most of the first hour of the experiment worried the headset might stop working, given the initial teething problems encountered, and the fact I felt rather self-conscious wearing it.
Particularly, given the funny looks the passenger next door shot me when he clocked my headband, and the fact my flight blanket was glowing purple.
After a while, I got into the swing of things, and the blanket's colour slowly darkened to a blue, particularly during dinner time and while watching comedy shows, such as Friends and HBO's Silicon Valley (well, I am a technology journalist).
During our pre-flight briefing about the blankets and how they worked, we were told eating cheese during the flight had prompted the blankets to turn red during previous trials of the technology.
Unfortunately, despite opting for the cheese course as my post-dinner snack, I did not witness a similar reaction. In fact, there were only two occasions where I clocked my blanket turning red.
The first was while debating, as I was in the middle seat, which one of my sleeping travelling companions I should disturb so I could go to the bathroom. The second was during the harrowing jabberjay scene (no spoilers!) in The Hunger Games 2.
On the whole, I'd say the pre-dominant colour during the whole experiment was purple-blue. So based on what British Airways hopes to achieve with the blankets this suggests they're getting things right in business class, in terms of their service offerings.
Although, it would be interesting to see if participants that are perhaps more blas and used to flying first or business class would fare differently, rather than someone like me who's just happy to be out of the house.
British Airways said they are also planning to trial the blanket with economy class passengers. Insights into how content or anxious people on long-haul flights are when they're not treated to the trappings and comforts of business class would be worth observing. Particularly as the vast majority of passengers on-board will be sat in this class.
Seeing how the reactions of passengers on short-haul and long-haul flights differs would be another experience worth investigating, as they are likely to have different expectations about how they are treated while in the air.
Looking ahead
At the moment, British Airways said the deployment of these blankets will be limited to assessing the reactions of selected passengers to different in-flight services, but it's not difficult to see how it could be adapted in other ways while on board.
For instance, the technology could be used by cabin crew members to look out for passengers that might not be having the time of their life while in the air, and pre-empt any potential upsets by lavishing them with extra attention.
Although, not every passenger is probably going to want to (a) wear a headset for the duration of their flight, and (b) want their feelings broadcast to the rest of the cabin. But, instead of a conspicuous blanket, the sensors could be connected to subtle LED lights above where the passenger is sitting, for example.
Get the ITPro. daily newsletter
Receive our latest news, industry updates, featured resources and more. Sign up today to receive our FREE report on AI cyber crime & security - newly updated for 2023.
Caroline Donnelly is the news and analysis editor of IT Pro and its sister site Cloud Pro, and covers general news, as well as the storage, security, public sector, cloud and Microsoft beats. Caroline has been a member of the IT Pro/Cloud Pro team since March 2012, and has previously worked as a reporter at several B2B publications, including UK channel magazine CRN, and as features writer for local weekly newspaper, The Slough and Windsor Observer. She studied Medical Biochemistry at the University of Leicester and completed a Postgraduate Diploma in Magazine Journalism at PMA Training in 2006.