How AI as a service is changing the game for business
While artificial intelligence offers many opportunities, its implementation can require time, money and resources that many organisations cannot spare. AI-as-a-Service offers a solution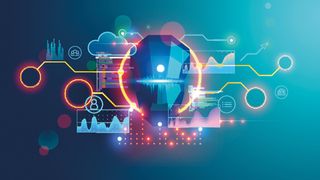 (Image credit: Shutterstock)
This article originally appeared in March's edition of IT Pro 20/20, available here. To sign up to receive each new issue in your inbox, click here.
Over the coming decade artificial intelligence (AI) will add $13 trillion (£11.2 trillion) to the global economy, according to a recent report in Harvard Business Review. The opportunities this presents to businesses are huge and those already using AI are experiencing greater productivity, sustained competitive advantage, and increased sales leads.
Despite this, many businesses are failing to realise the technology's full potential, or even try it out at all.
"While there is broad agreement regarding the potential impact of AI, the reality today is that tangible results achieved through AI implementations in most companies have been disappointing," says Jeff Grisenthwaite, vice president at AI solution provider Catalytic. "Companies are struggling to scale past the pilot phase and the initial handful of high-priority use cases."
There's one key reason for this: Lack of resources. While the majority of organisations recognise that AI can turn their data into value, they don't have the skills to effectively implement it. This is because traditional AI needs a lot of expertise around machine learning, engineering infrastructure and more.
This is where AI as a Service (AIaaS) promises to make a difference. In the same way that Software as a Service (SaaS) and Platform as a Service (PaaS) models have transformed how enterprises purchase and implement technology over the last ten years, AIaaS is expected to become just as widely used. Indeed, according to analysis published in February by Orbis Research, the AIaaS market is expected to see tenfold growth in value over the next five years, increasing from was already valued at over $2.38 billion (£2.04 billion) in 2019 and is expected to exceed $22 billion (£18.9 billion) by 2025.
Removing roadblocks
AIaaS refers to AI services that are developed by third parties to target specific needs. Thanks to the growth and accessibility of the cloud, providers are able to deliver these AI solutions as a service that can be accessed, refined and expanded in ways that were unfathomable in the past.
By enabling users to circumvent the prolonged and resource-heavy nature of development, businesses benefit from a quicker, more flexible, and more cost-effective way of working. "AIaaS allows AI to be used by a broader group of people who are not necessarily well-versed in technology," says Hossein Rahnama, CEO at contextual experience design business Flybits. "When interdisciplinary groups leverage AI with business as a mindset, the impact is going to be much higher."
Flybits is already reaping these rewards, says Rahnama: "AIaaS enables expedited testing, and a faster time to market. It also allows us to train and find more effective talent at a much faster pace. For example, in the past, I would need to hire someone with a decade of experience. Now, I look for someone who knows how to use the technology tools."
As well as negating the need to employ specialised talent, AIaaS offers a raft of further benefits. For example, it removes the need for organisations to gather appropriate data, prepare it, and use it to train their software. "An algorithm can only be as successful as the training data it is exposed to," says Hiten Shah, research analyst in Frost & Sullivan's TechVision team. "AI algorithms exposed to and trained on a diverse data set which is a true representation of a larger world can be considerably more accurate than algorithms with access to limited data. With AIaaS, algorithms get deployed in various use cases in different environments and the resulting learning from these deployments enables developers to further develop more complex and accurate algorithms."
RELATED RESOURCE
The Forrester Wave: Infrastructure Automation Platforms
The 11 providers that matter most and how they stack up
Another benefit that shouldn't be underestimated is the potential to democratise AI – AIaaS enables more people to benefit from the technology, regardless of their knowledge and computing infrastructure. "Departments throughout the enterprise will have the ability to infuse AI into their day-to-day work, improving customer experiences, and optimising business outcomes," says Grisenthwaite.
AIaaS is best applied into high-volume, digital business processes such as the analysis of documents, emails and other text using natural language processing and optical character recognition. The opportunities here are seemingly endless. "We're seeing AIaaS adopted across industries to help solve unique business issues and innovate new areas," says Levent Besik, director of product management for Google Cloud AI. "For example, in the healthcare industry, it is reducing workloads for doctors and nurses by intelligently triaging patients. For media organisations, it is connecting journalists to global audiences with accurate language translation. We're also seeing customer service teams implement it to reduce customer service wait times and increase customer satisfaction by automatically responding to common requests."
The New York Times, meanwhile, is using AIaaS to digitise its physical archive of over five million photos. "With Google Cloud, they can securely store their images, easily search for photos, and find new insights from the data locked even on the backs of images," explains Besik.
Elsewhere, multinational retailer Walmart is using AIaaS in its Intelligent Retail Lab (IRL), to facilitate the tracking of items and purchases. Out-of-stock notifications will automatically be triggered to internal apps that alert associates when to re-stock.
The democratisation of AI
As the question from customers shifts from how AI works, to what it can do for their business, the technology will continue to transition from an elite niche to a mainstream tool, just like personal computers. This transition will result in a fundamental shift in how builders and businesses develop and deliver products and services.
According to recent figures from KPMG, it's expected that by 2022 many companies will devote over half of their AI spend to third-party services with managed services, microservices and application stores being important trends to watch in this space.
Funding for AI startups is also on the rise. "A look back shows what is, perhaps, the most impressive growth statistic: we've seen a 592% increase in funding for AI technologies in only four years," says Ji Li, data science director at CLARA analytics. "Clearly, this points to an anticipated AIaaS surge as these companies continue to grow and mature, particularly as vertical markets become more comfortable with the AI value proposition."
This sets the scene for a very promising future. "As more organisations embark on the journey to get AI into production, more IT leaders will turn to AIaaS to overcome skills and technology gaps," says Magnus Revang, research vice president at Gartner. "As a result, we expect explosive growth in the next few years. By 2023, over 50% of enterprises will be using AIaaS to enhance their application portfolios, up from less than five percent today. I'm excited to see what this future looks like."
Get the ITPro. daily newsletter
Receive our latest news, industry updates, featured resources and more. Sign up today to receive our FREE report on AI cyber crime & security - newly updated for 2023.