What is a managed IT service?
With two-thirds of businesses using them, learn about what managed IT services are and how they're being used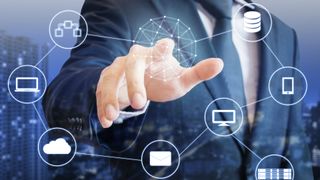 Digital transformation is a simple term for something that can often be highly complicated. The exact details and nuances of undergoing a period of IT modernisation will be different for everyone. It can sometimes be more practical to bring in specialists to manage your IT service.
RELATED RESOURCE
Nucleus Research ROI guidebook: Informatica iPaaS
Connecting disparate applications and data deployed in diverse environments
Managed service providers (MSPs) do exactly what their name suggests by taking away the pressure of handling IT functions allowing organisations to concentrate on their regular day-to-day work. Whether this is new software or a change of physical infrastructure, MSPs handle its maintenance and operation, leaving in-house teams the freedom to simply adopt the new capabilities.
During the pandemic, many companies sought out MSPs as they shifted to remote working strategies - the same is true for those now switching to hybrid work environments - which require software and hardware upgrades. The remote employees were able to do their jobs away from the office, while IT teams handle business resilience services like VoIP, or remote monitoring and management (RMM).
Digital transformation is seen as more of a journey than a destination as businesses are essentially adopting to never-ending change and IT modernisation. For as long as the business world continues to push forwards with new technologies, it will always need some level of MSPs.
What can managed IT do for your business?
Managed services have evolved from the traditional break/fix model. This is where organisations recruit a third-party specialist to upgrade, repair, or install systems on an ad hoc basis. A managed service approach, on the other hand, is usually more focused on a subscription-based model, where businesses normally agree to pay a certain amount each month in exchange for ongoing system management.
Exactly what that system management entails can differ widely depending on the provider's skill set and your needs. You can expect most MSPs to offer a basic package of daily support, but they may also offer more sophisticated services, such as disaster recovery.
Managed services can be an excellent choice for businesses that want to scale but don't possess the necessary resources to do so. Or, maybe, they simply want to focus on changing business strategy instead of fighting fires in their systems.
When outsourcing services, service level agreements (SLAs) are important, as this makes it clear what the expectations are for the minimum level of service the customer should receive.
Managed IT services can cover a variety of business functions, from application, network, server, payroll, system, and backup/recovery solutions to workstation and printer management (commonly known as managed print services, or MPS for short).
When it comes to new hardware, an MSP can also be hugely beneficial for staff. For example, remote employees who need new equipment, like a monitor, printer supplies, or a keyboard, can order this themselves while still giving IT and purchasing departments visibility and control over supplies. This helps to streamline the IT management process and if this new equipment is bought through a corporate price list, accounting won't have to worry about running it through expenses.
One common example of managed IT services at present is cloud services, where SMBs lacking expertise and resources can use a managed service provider (MSP) who may provide in-house cloud services or act as brokers with cloud services providers.
Another growing area in managed IT services is security. With the ever-growing risk of a malicious attack, some companies find it more efficient to outsource their security to a specialist managed security service provider (MSSP) who will handle the day-to-day security workload as well as patch management, backup, and responses to any breaches.
The specific advantages and disadvantages of managed IT services depend in part on the type of service, but there are some more general factors which may influence a business' choice to outsource a function to an MSP.
Advantages of managed IT services
Expertise: For smaller businesses in particular, being able to outsource knowledge and expertise can be an enormous help, as well as having experienced technical support available
Predictable costs: Rather than incurring large expenses for an IT issue, businesses can instead account for potential problems within a predictable monthly fee
Maintenance and upgrades: Organisations no longer have to worry whether software is up-to-date, as all this is taken care of by the provider. They can also get access to newer technologies which they may not have been able to afford by themselves
Time savings: Outsourcing management of services like security and cloud reduces the amount of time that in-house departments have to spend on it.
Disadvantages of managed IT services
Control: If there's an outage or an incident, there's little a business reliant on managed services can do. Theoretically, a good MSP will be able to address issues much more quickly than an internal IT team, but it can be frustrating to not have visibility of serious problems and progress in dealing with them in-house.
Flexibility: In general, managed IT service providers will have a standard offering which is available to all their clients. They may be able to modify this, but it will usually be less flexible than having a solution that is customised to business needs.
Reliability: Should anything happen to the service provider, customers could be left trying to find alternative solutions in a short space of time.
RELATED RESOURCE
iPaaS technology value matrix 2022
Simplify integration processes, reduce costs, enable business users, and redeploy developers to more advanced projects
No two businesses are the same and while some will handle their IT upgrades themselves, the market for managed IT service providers is only going to get bigger. By 2026, it's expected to be worth $350 billion, according to a report from Global Market Insight. The report also notes that the pandemic gave the MSP market a considerable boost as companies sought out external expertise for their upgrades.
With the new normal still being fully fleshed out and more capabilities and services being built and deployed across industries, managed IT services is essentially a future-proof profession.
Get the ITPro. daily newsletter
Receive our latest news, industry updates, featured resources and more. Sign up today to receive our FREE report on AI cyber crime & security - newly updated for 2023.
Dale Walker is the Managing Editor of ITPro, and its sibling sites CloudPro and ChannelPro. Dale has a keen interest in IT regulations, data protection, and cyber security. He spent a number of years reporting for ITPro from numerous domestic and international events, including IBM, Red Hat, Google, and has been a regular reporter for Microsoft's various yearly showcases, including Ignite.