The rise of the robot
Autonomous machines are moving from factories and warehouses out into the world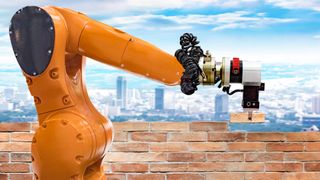 In 1966, a team of engineers at SRI International in California unveiled 'Shakey', the world's first mobile robot that had the ability to perceive and reason about its surroundings.
Shakey could perform tasks that required planning, route-finding, and the rearranging of simple objects. What's more, he led a robot revolution that not only completely transformed manufacturing, but that has had a fundamental impact on a wide range of industries.
Fast-forward to today and companies in almost every sector are realising the benefits of robotics in controlled spaces. And further change is happening fast: robots are now moving out of the warehouse and factory, and into the larger world.
Robots at large
According to Accenture's Technology Vision 2020, 61% of executives surveyed across 21 industries expect their organisations will use robotics in uncontrolled environments within the next two years. "Today, advances in robotics, sensors, speech recognition and computer vision are combining with shrinking hardware costs to make robots accessible across sectors that haven't traditionally used them," says Teresa Tung, managing director at Accenture Labs.
"It goes without saying that the biggest driver of this move would be the continuous advances in technology," adds Simon Whitton, senior vice president of sales and marketing, North America at KUKA Robotics. "Robots use many innovative advancements to keep workers safe. For example, collaborative robots use a delicate mix of power and force, using torque sensors to safely share the workspace with humans. Safety-rated monitored sensors allow industrial robots to determine when a worker is near, effectively slowing down or stopping an application that may be too dangerous for human workers."
New applications are already wide-reaching. Combined robot and human teams are now increasingly commonplace, with the robot taking on a range of dull, dirty and often dangerous tasks.
The oil and gas industry is one example. "As 'easy oil' is exhausted, hydrocarbons are being produced from progressively more remote, hazardous and harsh locations," explains Ian Peerless, a director at Ex Robotics in The Netherlands, a manufacturer of rugged robots that are built for harsh environments. "At the same time, hazards to humans are becoming less acceptable, which is why unmanned facilities are on the rise. Robots are essential facilitators for these environments – they supplement fixed instruments/actuators where they're too expensive to justify or where they're not expected to be needed. Oil and gas firms including Shell, Total, NAM, Woodside, BP, Equinor and AkerBP all have robotics programmes and are trialling their first robots."
This safety advantage is being realised elsewhere too. "Sorters in material recovery facilities (MRFs) such as recycling plants are particularly susceptible to on-the-job accidents, injuries and even fatalities," explains Chris Wirth, vice president of marketing, policy and business development at AMP Robotics in the US. "Particularly now, in the midst of the coronavirus pandemic, the use of robotics in environments like these is accelerating as a way to keep workers safe and operations continuing."
With these types of repetitive, predictable tasks, robots also offer efficiency benefits over humans.
Single Stream Recyclers, a USA-based MRF, uses 14 robotic sorters from AMP, which are connected to 10 vision systems. By using such a high number of these vision systems, the facility is able to create cleaner bales with a reduced headcount, with robots doing the bulk of the sorting that used to be done manually.
"AMP's robots consistently pick at least twice as quickly as human sorters, and with much greater accuracy," claims Wirth.
RELATED RESOURCE
The IT Pro Podcast: Can AI ever be ethical?
As AI grows in sophistication, how can we make sure it's being developed responsibly?
Robots are also making waves in construction. Hadrian X, the world's first autonomous bricklaying robot designed by Australian firm FBR, can build a three bed, two bath home in under three days. Hadrian X measures movement caused by wind, vibration and inertia and counteracts it in real-time using advanced algorithms to provide unprecedented precision. Its control system uses computer-aided design to create a 3D model of the building design, which is then used to calculate the materials list and tell Hadrian X what to build — all with precision.
Several robot applications are let loose with the general public too. Human Support Robots and Delivery Support Robots from Toyota will aid over 1,000 spectators using wheelchairs at the next Olympic Games, by carrying food and other goods, guiding people to their seats and providing event information. Robots made by US company Starship have now completed over 100,000 autonomous food and package deliveries around the world, travelling over 500,000 miles and completing over five million road crossings in the process. Italian firm Makr Shakr, meanwhile, has recently unveiled a driverless robotic bar called Guido that can make on-demand cocktails for urban residents in many different locations. Customers will be able to call it to their current location, like a drink-hailing version of Uber.
Then there's Yotel Singapore, whose resident robots deliver amenities to guests' rooms. "Yoshi and Yolanda are extremely well received by Yotel Singapore's guests – in fact, more than 40% of our TripAdvisor reviews mention the robots and other technological offerings, with many new and repeat guests attributing their choice of stay to them," says Brendan Daly, general manager of Yotel Singapore Orchard Road. "At Yotel Singapore, the robots' implementation has helped to plug the service gap in the hospitality industry. In turn, employees are empowered to turn their attention to higher-level tasks and are more meaningfully developed in their profession."
Robots are even finding their way into the entertainment industry. "Industrial and so-called collaborative robots are being used to help create commercials and movies," says Whitton. "There are a considerable number of robots around the world that are used as rides in amusement parks. In fact, the show Mental Samurai features a robot that moves contestants around in between questions."
Meeting new challenges
While significant progress is already being made, adoption is only set to accelerate with the rollout of 5G networks, which will unlock opportunities for every company in every industry to extend their autonomous capabilities into the open world. Meanwhile, advancements in manipulation, learning and adaptation abilities will have the potential to solve a number of societal challenges.
Dr Graham Deacon, a robotics research fellow at Ocado Technology believes robots that have capabilities like the SecondHands ARMAR-6 robot, which has been developed to assist workers in warehouse settings, could be used in assisted living scenarios, helping people with tasks from emptying the dishwasher to taking the bins out. "Having a robotic helper who understands complicated natural language commands, doesn't tire and is capable of both strength and precise delicate manoeuvres could have a profound impact," he says.
However, mainstream use will require a number of challenges to be met. "There will be a steep learning curve for the masses and a need to find high calibre human resources to implement and manage the automation and robotic processes until we get to the time that robots can effectively manage and maintain themselves," says Nick Grove, founder of social economy platform Peazzy.
Companies will also have to account for new audiences that will be impacted by the robots; namely, people who are not their employees or customers. In traditional factory or warehouse settings, companies can dictate which audiences would interact with robots on the factory floor or warehouse. But open-world autonomy makes those boundaries moot. Tung says that, for this larger audience, companies will need to prepare by investing in human-computer interaction expertise and plan for many more types of possible interactions with people who are not engineers, software developers, or data scientists.
"Businesses will need to be prepared to tackle unique challenges in solution development and testing too," Tung adds. "They'll need a structured approach to testing like we have for software development, with a similar approach to tooling, automation and coverage."
Todd Walker, vice president of product management at US based software firm Deltek, says it's important for firms to be aware of the limitations of robots and to be realistic in terms of their application. "Robots may have artificial intelligence and the ability to detect patterns, but they are not as intelligent as humans," he says. "Therefore, robots can never improve their jobs outside the pre-defined programming or troubleshoot issues, because they simply cannot think for themselves. Where a robot saves time, they can also lag in a real-world situation, miss critical information or misstep in society. If a robot malfunctions, you need extra time to fix it, which would require reprogramming. The biggest challenge will be to enable employees around your company to create, manage, and maintain bots as part of their workforce."
Ultimately, Tung believes that as companies look to leverage robotics capabilities in new ways, every executive will need to start seeing their company, at least in part, as a robotics company. "This means forging new partnerships, hiring new talent and finding new vendors to help realise this strategy," she says. "Organisations that begin this process today will be best positioned for success in the future, as the robot migration pushes the intelligence of the digital world out into the physical one.
Get the ITPro. daily newsletter
Receive our latest news, industry updates, featured resources and more. Sign up today to receive our FREE report on AI cyber crime & security - newly updated for 2023.