Arm launches its first new chip architecture in a decade
Arm v9 promises improved security, better AI performance, and double-digit CPU performance increases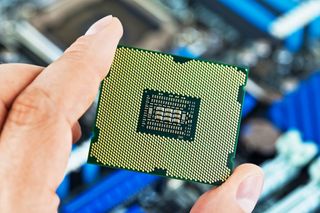 (Image credit: Shutterstock)
Arm has introduced a new chip architecture that will focus on security and AI and will be at the forefront of the next 300 billion Arm-based chips.
The new architecture is called "v9" and is the company's first new Arm architecture in a decade.
Arm hopes the new AI and security capabilities in the v9 architecture will help the company move from general-purpose to more specialised compute across applications such as AI, IoT and 5G.
"As we look toward a future that will be defined by AI, we must lay a foundation of leading-edge compute that will be ready to address the unique challenges to come," said Simon Segars, chief executive officer at Arm.
"Armv9 is the answer. It will be at the forefront of the next 300 billion Arm-based chips driven by the demand for pervasive specialized, secure and powerful processing built on the economics, design freedom and accessibility of general-purpose compute."
The company also disclosed that over 100 billion devices with Arm-based chips have shipped in the last five years, and predicts that 100% of the world's shared data will soon be processed by Arm "either at the endpoint, in the data networks or the cloud".
The Armv9 also introduces the Arm Confidential Compute Architecture (CCA) which shields portions of code and data from access or modification while in-use by performing computation in a hardware-based secure environment.
"In Armv9, we are introducing new features designed to deliver confidential computing – now an industry priority – at scale. Ordinarily, the operating system (OS) of a device has the highest authority and can see and do everything," wrote Segars.
"Confidential compute changes that, and while the OS still decides what can run when, applications sit in a separate hardware-protected area of memory isolated from everything else in the system."
This is a concept the company calls Realms, "in a region that is separate from both the secure and non-secure worlds." Arm stated that in business applications, Realms can potentially protect commercially sensitive data and code from the rest of the system while it is in use, at rest and in transit.
Intel announced this month it was working with a US government agency to develop an accelerator for fully homomorphic encryption, a type of encryption that allows users to perform calculations on encrypted data without decrypting it first.
"The increasing complexity of use cases from edge to cloud cannot be addressed with a one-size-fits-all solution," said Henry Sanders, corporate vice president and chief technology officer, Azure Edge and Platforms at Microsoft. "As a result, heterogeneous compute is becoming more ubiquitous, requiring greater synergy among hardware and software developers.
"A good example of this synergy between hardware and software are the ArmV9 confidential compute features which were developed in close collaboration with Microsoft. Arm is in a unique position to accelerate heterogeneous computing at the heart of an ecosystem, fostering open innovation on an architecture powering billions of devices."
Furthermore, Arm has developed Scalable Vector Extension (SVE) technology for its new architecture which will allow it to "enable enhanced machine learning (ML) and digital signal processing (DSP) capabilities across a wider range of applications."
Arm stated the technology, called SVE2, will enhance the processing ability of 5G systems, virtual and augmented reality, and ML workloads running locally on CPUs, which includes image processing and smart home applications.
Arm also predicts that with the Armv9 generation its expected CPU performance will increase by 30% or more over the next two generations of mobile and infrastructure CPUs.
Arm has been acquired by Nvidia for $40 billion (£30 billion) although the UK's Competition and Markets Authority (CMA) has launched an investigation into the acquisition to see what effect the deal will have on the UK market.
UK-based IT experts objected to the deal and believe the government should intervene as did Graphcore and Hermann Hauser, who was involved in the development of the first Arm processor. Hauser has described the deal as "an absolute disaster for Cambridge, the UK and Europe".
Get the ITPro. daily newsletter
Receive our latest news, industry updates, featured resources and more. Sign up today to receive our FREE report on AI cyber crime & security - newly updated for 2023.
Zach Marzouk is a former ITPro, CloudPro, and ChannelPro staff writer, covering topics like security, privacy, worker rights, and startups, primarily in the Asia Pacific and the US regions. Zach joined ITPro in 2017 where he was introduced to the world of B2B technology as a junior staff writer, before he returned to Argentina in 2018, working in communications and as a copywriter. In 2021, he made his way back to ITPro as a staff writer during the pandemic, before joining the world of freelance in 2022.