What 5G rollout failures mean for 6G
What can network operators and telecoms companies learn from a cocktail of global issues and mistakes when shifting to the next generation of mobile networking?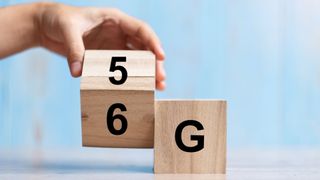 (Image credit: Shutterstock)
When 5G was introduced in the UK, the communications regulator Ofcom set its sights on the island being a beacon for next-gen technology. Indeed, former prime minister Boris Johnson regularly made grand promises for the tech sector, with 5G and full-fibre broadband among his administration's most common tech talking points.
Even before Johnson got into Number 10, though, Ofcom itself had assessed the potential of future 5G networks, declaring "5G could enable new companies to enter the market and offer new service to businesses and consumers". Yet, recent news that Vodafone and Three have found it necessary to merge due to crippling costs, low adoption, and unachievable coverage targets, indicates the market is stumbling.
Although some attention has now turned to its successor, 6G, given the current landscape, customers may be forgiven for feeling let down. As CCS Insight analyst Kester Mann explains, 5G had a lot to live up to when it launched. "There was such a long build-up for 5G; so much hype and expectation, and it was a big story at Mobile World Congress (MWC) year-on-year," he says.
"We heard all this about connected autonomous vehicles, drones, and enterprise use cases, which may eventually happen," he adds. "Obviously the consumer market was the first to receive 5G but the industry never really had a compelling use case or reason to encourage people to upgrade to a new 5G smartphone, or to take 5G services."
Plugging the 5G demand gap
CCS Insight research into the perceptions of 5G, Mann continues, shows the challenge for operators is that people don't feel that they need it. This view marries up with that of Richard Thurston, research manager for 5G strategies at IDC, although he does suggest use cases are still incoming.
"Initially there had been a lot of focus on 5G being faster, offering reduced latency or supporting a greater number of simultaneous Internet of Things (IoT) connections, which is all true, but businesses – and that's the sweet spot – will be focused on business outcomes, so it's essential for the mobile industry to look at use cases that deliver those outcomes," Thurston tells IT Pro.
"The good news is these use cases are continually coming and all sectors are benefitting, be that retail, healthcare, manufacturing or transport, which are enabling the creation of new products and better ways of working."
He adds that IDC forecasts show 5G adoption is in a growth phase in the UK, with 29.4 million 5G connections projected by the end of 2022, and 5G eclipsing 4G in 2024. "It's important to be realistic; businesses have real challenges to solve given what we'd call the storms of disruption," he continues. "There's rarely a specific silver technology bullet. It's more about delivering the right solution for the customer."
Overcoming geopolitical obstacles
These 'storms of disruption' have come frequently for the tech industry, and it's fair to say that the 5G rollout has been plagued with obstacles.
Even before 5G's launch in June 2019, US president Donald Trump set his sights on Huawei, a leading network infrastructure vendor. He banner the Chinese networking giant as part of a trade war, before applying pressure on the UK to follow suit.
The ensuing years saw the UK ban Huawei from using its technology to form any part of the UK's 5G infrastructure. Next came a global pandemic, a semiconductor chip shortage, and a shift in enterprise attitudes which place a newfound focus on working from home rather than travelling – which have all hampered 5G appetite.
Inflation and the cost of living crisis are other major issues telecoms companies must now contend with, Paolo Pescatore, telco analyst at PP Foresight, adds. Although 5G adoption may look like it's continuing to increase, he says, it won't be seen as a sought-after feature.
RELATED RESOURCE
Sharpen your manufacturing competitive edge
Smarter asset management
"Major uncertainty in the market awaits," he says. "Prices are heading in the wrong direction with consumers feeling the pinch and tightening their belts. We've seen businesses increase prices across all industries, and cost increases inevitably get passed onto consumers.
"People will be forced to make decisions over coming months on their devices, services and subscriptions. Some will downgrade, others cancel altogether, some will be happy to sign up to premium bundles provided they add significant value."
Despite this, Pescatore says 5G adoption will naturally, albeit gradually, expand as people upgrade their devices. Ultimately, consumers want ubiquitous connectivity.
Thurston agrees that inflation also threatens to become another challenge for networks to overcome, with device supply chain issues, the energy crisis and high levels of inflation continuing to affect all industries. "In terms of the future," he adds, "sustainability will grow in focus and operators will be faced with the conundrum of managing costs while mobile data consumption and energy prices increase, so they are looking for improved power-saving features in network equipment."
6G must target the enterprise
Despite the challenges facing the 5G market, if you've been lucky enough to attend MWC anytime over the past three years, you'll have noticed 6G is already a major talking point. With the rollout of 5G seemingly struggling, though, in a market of apathy and incomplete offerings, what lessons can the industry learn? Mann and Pescatore agree the answer lies in the enterprise.
"It's great to look at what's next, and I'm sure we'll hear more about 6G in the coming years, but we've hardly scratched the surface of the 5G opportunity," says Mann. "I think the operators will want to get as much out of 5G as they can and, although it hasn't got going on the consumer side, the industry has a lot of hope on the enterprise side.
"One angle we've been talking about at CCS is whether it was a mistake for 5G to target consumers first – bearing in mind expectations haven't quite been matched. So for 6G, maybe there's an opportunity to lead with the enterprise side, rather than the consumer side."
"We are still at an early phase of 5G rollout," adds Pescatore. "But, ultimately, 5G opens up new use cases in the enterprise segment. The merits of 5G will better serve enterprises that need ultra-low latency, robust, and fast dedicated connections for their connectivity needs. Network slicing, for example, provides telcos with significant means to recoup their investment in 5G.
Although margins are being squeezed, major investment is still needed for network rollout and spectrum, with the business model for 5G in the consumer world remaining unclear and unproven. This should be taken into account in the future when operators roll out technologies like 6G to transform the workplace. This is because the industry needs to avoid the same mistakes that were made over the course of the last few years to ensure viable services are more accessible and affordable.
Get the ITPro. daily newsletter
Receive our latest news, industry updates, featured resources and more. Sign up today to receive our FREE report on AI cyber crime & security - newly updated for 2023.
Elliot Mulley-Goodbarne is a freelance journalist and content writer with six years of experience writing for B2B technology publications, notably Mobile News and Comms Business. He specialises in mobile, business strategy, and cloud technologies, with interests in environmental impacts, innovation, and competition. You can follow Elliot on Twitter and Instagram.