UK's EfficiencyIT launches prefabricated data centre offering
The company has previously built modular data centres for government and defence customers in 12-16 weeks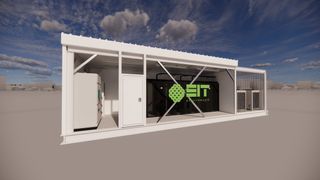 (Image credit: EfficiencyIT)
UK data centre company EfficiencyIT has launched a range of customisable, prefabricated data centres.
The focus of the new offering, ModularDC, is aimed at on-premises, distributed IT, or edge computing environments, the company said. The modular data centres will be designed, manufactured, and engineered in the UK.
The new range will also make use of components from its partner Schneider Electric, and aims to serve customers in government, defence, and other sectors, in 12-16-week timeframes.
The line makes use of EfficiencyIT's UK-manufactured external enclosures, and can provide quick-to-deploy prefabricated data centres for remote locations.
Customers will be able to choose their own power modules, such as backup generators, low-voltage equipment, or uninterruptible power supplies (UPS).
ModularDC also offers all-in-one modules that customers can customise. They contain UPS, cooling, physical security features, integrated racks, and data centre infrastructure management (DCIM) software.
EfficiencyIT said the data centre range offers cooling modules, with the latest energy-saving equipment, including liquid-cooled products for high-performance computing (HPC) customers, as well as in-row cooling and hot and cold-aisle containment.
The company said it provides data centres for customers that need high security for mission-critical environments. These modules can come with radiofrequency (RF) shielding, enhanced physical security, acoustic mitigation, and can also comply with requirements for sensitive compartmented information facilities (SCIF).
"Since 2017, our company has been designing, specifying and installing prefabricated systems for customers' application-specific data centre requirements," said Nick Ewing, managing director at EfficiencyIT.
RELATED RESOURCE
The seven types of power problems
The most common types of power disturbances and how to safeguard your equipment
"By enhancing our offering with dedicated UK manufacturing capabilities, all of which are fully complementary to the solutions offered by our partners at Schneider Electric, we're ensuring our customers' demands for bespoke, agile and ultra-secure data centre environments can be met quickly, efficiently, and with the engineering reliability our business has built its reputation upon," said Ewing.
Customers are able to use virtual reality (VR) to view their data centre virtually before the build process starts. EfficiencyIT said this helps to ensure customers can see the system is built for their requirements, and meet security criteria.
Customers in the EMEA region are able to purchase the modular data centres from the company in the UK, Ewing told IT Pro. EfficiencyIT is already designing, building, and deploying systems for customers in the UK, Europe, Middle East, and Africa.
"In terms of specific industries, our customers span life sciences, public sector, defence and government, but prefabricated solutions are also being used by hyperscalers, colocation providers and enterprise customers alike - primarily due to the rapidly deployable nature of the systems and the fact they can be deployed almost anywhere," he added.
A daily dose of IT news, reviews, features and insights, straight to your inbox!
Zach Marzouk is a staff writer for IT Pro, Cloud Pro, and Channel Pro where he writes news articles and in-depth feature pieces primarily focused on Asia Pacific and the US. Aside from covering topics like security, privacy, worker rights, and startups, he also contributes to the IT Pro podcast and IT Pro 20/20.
After studying an undergraduate degree in Arabic and Spanish at the University of Leeds, Zach completed a journalism internship at The Argentina Independent in Buenos Aires where he wrote about the country's history, politics, and technology.
He then joined IT Pro in 2017 where he was introduced to the world of B2B technology as a junior staff writer, before he returned to Argentina in 2018, working in communications and as a copywriter. In 2021, he made his way back to IT Pro as a staff writer during the pandemic.
Contact him at zach.marzouk@futurenet.com or find Zach's thoughts (and more) on Twitter @ZachMarzouk
A daily dose of IT news, reviews, features and insights, straight to your inbox!
Thank you for signing up to ITPro. You will receive a verification email shortly.
There was a problem. Please refresh the page and try again.