Blockchain engineering jobs especially threatened by automation and ChatGPT
Blockchain engineers, software developers, and web designers are all at high risk, according to new research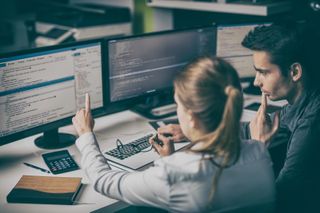 (Image credit: Shutterstock)
Generative AI tools such as ChatGPT could pose a significant risk to blockchain engineers due to the automation of roles, according to new a study.
Blockchain engineering roles were given a 97.1% risk score by researchers while 'web and digital interface' designers were given a 100% exposure score alongside accountants, auditors, and financial quantitative analysts.
With the increasing capabilities and power of generative AI tools, it is possible that organisations could look to automate a significant portion of blockchain engineer tasks, presenting a risk to workers.
With regard to the risks posed to blockchain roles, a key factor in this is likely due to the basic skills requirements of these specific positions.
Research from the Blockchain Council highlighted a basic understanding of cryptography, for example, as a key skill requirement for this role.
Proficiency in programming languages and a "strong background in software development" were also identified as top skills by the Council.
Away from blockchain, various other tech roles were highlighted as being particularly exposed to automation amid the emergence of generative AI technologies.
The use of tools such as ChatGPT in programming and assisting users with mathematical equations has been highlighted extensively since its launch in November last year.
The conclusions were drawn in a research paper published today, examining the potential impact of large language models (LLMs) on the US labour force.
It found that approximately 80% of the US workforce could have "at least 10% of their work tasks affected by the introduction of GPTs".
The research, supported by OpenAI, also found that nearly one-fifth (19%) of workers may see at least 50% of their tasks automated.
"Our analysis indicates that the impacts of LLMs like GPT-4, are likely to be pervasive. While LLMs have consistently improved in capabilities over time, their growing economic effect is expected to persist and increase," the paper stated.
Higher wages mean greater risk
The study found that occupations with higher wages generally face a higher risk of automation through generative AI tools, with roles requiring "programming and writing skills positively associated with LLM exposure".
Blockchain developers typically command a higher pay scale compared to software engineers, according to the Blockchain Council, meaning their roles are also at higher risk of automation based on these findings.
In the US, a blockchain engineer can expect an average salary range of between $100,000-$120,000 per year while in the UK this stands between £65k and £75k per year.
"Blockchain engineer salaries are climbing day by day, and the day is not far when blockchain engineer [roles] will be considered the most highly paid," the Council said.
Job losses on the horizon?
The publication of this research comes amid a period of lingering fears over the potential risk to jobs posed by generative AI tools in recent months.
RELATED RESOURCE
The newest approach: Stopping bots without CAPTCHAs
Reducing friction for improved online customer experiences
Elsewhere in the broader global tech industry, the use of ChatGPT has been touted as posing a risk to a range of roles – particularly in terms of marketing and content creation.
Sam Altman, CEO at OpenAI, has also been vocal on this subject, noting that while there are significant benefits to the use of ChatGPT, for example, there are associated risks.
In a recent interview with ABC News, Altman told the publication that he was a "little bit scared" of the future potential of AI tools, warning that they could seriously disrupt the labour force as organisations seeks to automate a variety of roles.
"It is going to eliminate a lot of current jobs, that's true," he said. "We can make much better ones. The reason to develop AI at all, is that I believe this will be - in terms of impact on our lives and improving our lives and upsides - will be the greatest technology humanity has yet developed."
A daily dose of IT news, reviews, features and insights, straight to your inbox!
Ross Kelly is a staff writer at IT Pro, Channel Pro, and Cloud Pro, with a keen interest in cyber security, business leadership and emerging technologies.
He graduated from Edinburgh Napier University in 2016 with a BA (Hons) in Journalism, and joined IT Pro in 2022 after four years working in technology conference research.
In his spare time, Ross enjoys cycling, walking and is an avid reader of history and non-fiction.
You can contact Ross at ross.kelly@futurenet.com or on Twitter and LinkedIn.
A daily dose of IT news, reviews, features and insights, straight to your inbox!
Thank you for signing up to ITPro. You will receive a verification email shortly.
There was a problem. Please refresh the page and try again.