How Wimbledon served up its AI-enhanced app in 2023
Wimbledon delivers a slick doubles partnership of app and website each year, with generative AI front-and-center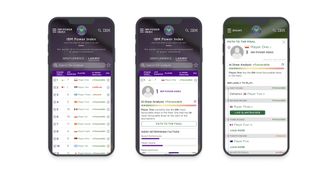 (Image credit: Wimbledon/IBM)
Whether you're a tennis fan or a professional tennis player, Wimbledon is the pinnacle of excellence. But it isn't only the grass and stadiums that must be pristine: fans expect a smooth experience, from the official app to streaming videos on Wimbledon.com. Any sensible organization would stick to the tried and trusted, but this year Wimbledon decided to integrate two cutting-edge generative AI features.
First up, AI commentaries. In what we believe is a world first for any sporting event, if you watch match highlights on the Wimbledon app or website then you can enjoy AI-generated audio commentary (along with closed captions).
Second, AI-powered draw analysis. From the moment the draw is announced to the final shot of the Championships, this will provide live predictions for each player based upon countless factors: how the current matches are going, the player's historical performances on grass, head-to-head results, current form and the relative strength of other players in their section of the draw. And much more besides.
Both of these new features are designed to engage fans, whether they attend a day's play, stream the action live or simply have favorite players they want to keep tabs on. To discover how Wimbledon decided upon this year's features, and implemented them, ITPro spoke exclusively to Chris Clements, the digital products lead for Wimbledon.
An extended partnership
"It's not like there's a defined start when these exact projects came about," says Clements, when we asked about timelines. "It's kind of an iterative innovation programme that looks at the latest technologies, continuing to evolve them and work with IBM's AI platform, Watsonx, to see what use cases there might be for that."
IBM is a constant both in our conversation and, over the past 34 years, for Wimbledon itself. The two world-leading brands first joined forces back in 1990, maturing into a full-on strategic partnership a decade ago. For Wimbledon, that means it can leverage cutting-edge technologies; for IBM, a chance to showcase the power of its technology in a brand.
Clements is responsible for Wimbledon's digital products, and works to enhance the experience of those attending on-site and watching matches from home. He works closely with technology partners, including IBM. He's previously held a variety of digital, technology and strategic roles in sports and education.
The key technology here is large language models (LLMs), as made famous by ChatGPT's arrival last October. But Chris is keen to emphasize that "the foundational models have been worked on for years". Indeed, way back in 2017, Wimbledon fans could enjoy AI-determined match highlights where clips were based on the reactions of players, the crowd and commentators.
This year's AI-generated voice commentary drew upon 130 million documents, including countless commentaries, which was then used to train an LLM chosen from Watsonx. It's a similar story for the IBM AI draw analysis. "That's built on the foundations of the Power Index match insights that have been around for three or four years now," says Clements.
Staying nimble
No IT project ever happens entirely smoothly, so what has gone wrong this year? Only "minor operational elements", insists Clements. "One of the challenges that you always face, in particular on Android, is being able to test every single potential setup. And as always, a couple of minor bugs will come out when it's being used en masse by hundreds of thousands, into the millions of people, so there have been bugs on a couple of those things, but they've actually been pretty minor."
This isn't to say that things have gone perfectly to plan. While not giving away any detail, Clements said the team had to "pivot" and "stay agile" to ensure they had a great product for users. "We don't necessarily work to a fixed scope from the outset," he explains. "Obviously, we have an idea of what we want to achieve and the user experiences that we want to enable. But as we progress we see opportunities, and we will pivot as we go. We think that's the most effective way of enabling innovation."
So while some unplanned features jump to the front of the queue, others slip down. "There are things that are on our backlog that we won't do this year," says Clements. "We knew that would be the case when we started, but it's a matter of working in an agile way through that backlog based on priority, to deliver what we think is the best user experience."
Lessons to learn
We spoke to Chris Clements in late June, two days before the official draw and less than a week until the start of the Championships. So, how was he feeling?
"I think it's more just excitement to actually see people using [the products] and see how they use them. Gathering data is critical, as it is for any kind of digital product. Especially running an event, you don't get to see that on a regular basis."
Are there any lessons to learn that he would pass on to any fellow senior IT directors? It boils down to having a partner you trust. "I think the thing that enables our partnership to work so well and deliver great fan experiences is being open about what we're trying to achieve," he says.
"So we're very open about the business objectives that we want to achieve. IBM is very open about the latest technology that they've got available that can potentially be utilized. And that openness I think enables us to be able to unlock value for both sides of the partnership."
This year's tournament runs from 3 July to 16 July 2023, with fans able to attend in person or watch at home via the BBC in the UK, or on ABC, ESPN, ESPN2, ESPN+, and Tennis Channel in the US.
Get the ITPro. daily newsletter
Receive our latest news, industry updates, featured resources and more. Sign up today to receive our FREE report on AI cyber crime & security - newly updated for 2023.
Tim Danton is editor-in-chief of PC Pro, the UK's biggest selling IT monthly magazine. He specialises in reviews of laptops, desktop PCs and monitors, and is also author of a book called The Computers That Made Britain.
You can contact Tim directly at editor@pcpro.co.uk.