Microsoft just redesigned its Edge browser to be an essential business tool
The shift signals an attempt to remain relevant following a move to Chromium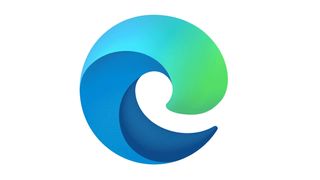 Microsoft has released a major update for its Edge browser, which introduces a new logo and a host of business-focused features designed to fuse together intranet and internet search.
It's arguably the first major change of direction for Edge since it migrated to the Chromium source code late last year, and is a clear attempt to reassert itself as a relevant browser.
Currently in preview, the new update introduces the ability to access company intranet directories from within the Edge browser. For example, entering the name 'Sofia' into the Edge search bar will bring up the details colleagues that the user is likely to be searching for, based on previous interactions or similar projects.
Another example Microsoft gave was an employee searching for how many days they are allowed to take off for jury duty, with the top result being the company's own policy taken directly from the organisation's intranet.
Given that the new version of Edge is built on the Chromium source code, it's unsurprising to hear that Edge now has performance parity with Google's Chrome and is now a perfect match in terms of website compatibility. However, the company explained that it was keen to innovate beyond that to remain competitive.
"We see a unique opportunity to bridge the tradeoffs of today's web search with more complete solutions that Microsoft can uniquely address," explained Yusef Mehdi, corporate VP of Microsoft's Modern Life & Devices division. "The irony is that it is easier to find an obscure piece of information on the much larger internet, than it is to find a simple document on your company's intranet such as a paystub portal, a pet at work policy, or the office location of a fellow employee."
Employees will be able to use natural language search to find colleague titles, team names, office locations, floor plans, definitions for company acronyms, and a wide set of internal company information, Microsoft explained.
"As company information continues to expand to terabytes, petabytes and zettabytes of information, this will only get more complex," added Medhi. "We will unite the internet with your intranet with Microsoft Search in Bing so that you can increasingly access more of your important data in a single browse and search experience."
Drag and drop search
Another feature, known as Collections, allows workers, such as those involved in procurement, to drag and drop items from search results into a list that can be shared to others, complete with all the appropriate images and metadata for those items. It's also possible to export this list into Excel, which will automatically input the metadata into a spreadsheet.
A product demo also revealed that each user will be given a personalised homepage, which was largely influenced by their account being logged into the Azure Directory. This meant that links and data from the company's intranet could be displayed in the place of trending news stories.
InPrivate and baseline cookie blocking
Alongside the business update, the company was also keen to showcase its new privacy protections, including default anti-tracking filters, which it has been working on since June, and an incognito mode dubbed InPrivate, which the company claims offers the most effective protection on the market.
"We're taking a new, more protective stance to help you on the web. 'Balanced', which is what we do by default... gives you more protections than any other browser. If you really want to have your data and privacy secure, you're going to want to with Microsoft Edge."
These options can be tweaked in the Edge settings. By default, Edge will block all trackers originating from sites you haven't actually visited, but a 'Strict' option is also available, which will block the "majority of trackers from all sites", and potentially break some website functions that rely on cookies.
The second feature, the InPrivate mode, is pitched as being a more robust version of Chrome's Incognito. Medhi explained that Chrome's version "keeps your browsing safe and private, but what you don't know is that you can be accidentally logged in on Gmail and your search is not private", referencing this story from earlier in the year.
"When you navigate to a page (in Edge), we will actually prevent you from being accidentally logged in, and all those searches are kept on the machine, they don't go back to the server."
Release schedule
A handful of smaller announcements also accompanied the new Edge launch, including an expansion to the App Assure program to cover the new browser, as well as an expansion of the FastTrack deployment program to rollout Edge in Q1 of 2020.
The release candidate for the new Edge browser is available to download now for both Windows and macOS, with the company aiming for general availability by 15th January.
A daily dose of IT news, reviews, features and insights, straight to your inbox!
A daily dose of IT news, reviews, features and insights, straight to your inbox!
Thank you for signing up to ITPro. You will receive a verification email shortly.
There was a problem. Please refresh the page and try again.