SAP profits fall 22 per cent
The German software giant reports a 22 per cent fall in first quarter profits, blaming costs and delays to the deployment of its Business ByDesign product and problems absorbing its Business Objects acquisition.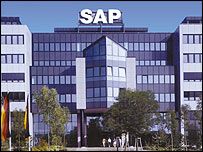 SAP, the German enterprise software maker, has reported a huge drop in first quarter profits, as market conditions, and problems with new products and integrating acquisitions into the company wiped out growth in its core software revenues and in sales of services.
The company reported a net profit of 242 million (191.1 million) for the first quarter of 2008, down 22 per cent from 310 million (244.8 million) it reported in the same quarter in 2007, based on US GAAP accounting rules.
GAAP profits were hit by one-off charges associated with the company's 3.3 billion acquisition of Business Objects in October 2007. However, the company insisted earlier this month that it remained on schedule with its plans for releasing the next version of the Business Objects business intelligence product, XI 3.0.
Winfried Rapp, UK chief financial officer for SAP, told IT PRO that the company still expects to achieve significant operating synergies once the Business Objects integration is completed.
"The integration of Business Objects is a significant task, though not our most important objective for this year," he said.
The lacklustre results were also blamed in part on the poor performance of its Business ByDesign software-as-a-service (SaaS) product, which was announced in September 2007.
"It takes a while for the market to adopt a new product such as this," said Rapp. It has been a huge challenge creating Business ByDesign, in a way it has been like setting up a whole new company as we have had to construct a whole new channel and partner network in order to sell and support it."
Business ByDesign is SAP's biggest effort to-date to move into the SME space, targeting companies of 100-500 seats. However, it has failed to sell in the quantities predicted by the company, forcing SAP to delay its plans of $1 billion (500 million) in revenue from 10,000 customers by an addition 12-18 months from the original 2010 target.
The company also confirmed that it was still making tweaks to the product and as a result would launch Business ByDesign in only six countries this year.
SAP has also been hurt by the global economic downturn, and by currency fluctuations - in particular the weak dollar and the weak pound against the euro.
"We have seen a big impact from currency fluctuations, and we are definitely suffering from the weakness in the dollar. UK revenues have been put under pressure by the weakness against the Euro," said Rapp. He added that while there was scope for localised variation in pricing away from the global euro-based price list, such local pricing cannot be adjusted that frequently to account for such frequent shifts in currency exchange rates.
"Overall we are pretty confident of double digit revenue growth in the UK, ahead of expectations. Yes there is an impact from the economic downturn, but we continue to see a lot of business fro banks and financial services customers. Our overall win rate for new business remains strong," Rapp said.
A daily dose of IT news, reviews, features and insights, straight to your inbox!
A daily dose of IT news, reviews, features and insights, straight to your inbox!
Thank you for signing up to ITPro. You will receive a verification email shortly.
There was a problem. Please refresh the page and try again.