HD video conferencing: As good as being there?
Is high-definition video conferencing finally good enough to make up for not meeting in person?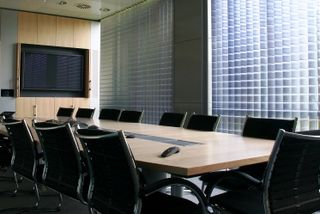 Jerky video the size of a large postage stamp and tinny audio. Lengthy presentations that take over your whole desktop, with a tiny chat window at the side. Web chats and online meetings save you travel but they don't give you eye contact, body language or the feeling that you've actually met someone.
High-definition video conferencing claims to give you the benefits of a real meeting without the hassle of travel. Just how good are the dedicated video rooms and how much will they cost you? Or can you do high-definition on a low budget?
Humans are social animals; we like to get together. We're often better at explaining things out loud that we are at writing them down and face to face meetings are still the best way to get many things done. For a start, you're giving the meeting your full attention, you can hear and see the other people clearly, you can read any documents involved and get a good look at any physical objects that are relevant to the discussion.
A lively discussion means people are going to interrupt each other, which is much easier when you can see the expression on someone's face you know sooner if you haven't convinced them. You never meet anyone useful in the hall after an online meeting, either. Sometimes there's a side benefit too - a good meal, a nice place to visit, time to look around.
But other times, you travel for three hours each way for a 90 minute meeting and spend the first 20 minutes trying to get the projector working. Or you can only fit in one meeting when you want to talk to two separate teams, but one is in Ireland and the other is in Scotland.
Never mind global warming concerns or rising petrol prices. If you can replace long security lines, cramped seats and anonymous business hotels with a high quality video conference in the comfort of your office and have a real meeting rather than a glorified phone call, you could be much more productive. If you can make decisions with two or four teams in a day rather than just one, you can speed up business processes and development cycles. The question is whether video conferencing is good enough to replace a face to face meeting and how much that will cost you.
What tech does it take?
True high-definition video conferencing needs a lot more than a Webcam at your desk or an ISDN line. The California Institute for Telecommunications and Information Technology (CalIT2) in San Diego has a 100 million pixel display wall (made of LCD screens mounted side by side) and an auditorium with a Sony projector running at four times the resolution of 1080 HD.
"This isn't video conferencing," says Larry Smarr, the founding director of CalIT2. "This is telepresence. This is the elimination of distance. The technology is now here to make distances disappear, to make the world wormhole connected. The question is how will we live and work in this world?"
On a 4x HD connection, you can look people in the eye and see whether they follow your argument. You can also lean forward and read not just the headlines but all the text in the slides on the HD screen of the MacBook on their desk as if it was sitting in front of you.
Making it look real
None of the commercial systems offer this resolution. For a start, the 10Gb connection you need for 1,500Mbps of video data is hard to come by if you're not on the Internet 2 backbone. You can get a lifelike experience that feels like a face to face meeting with HD resolution, but it's still a significant investment. Systems like HP's Halo (built with Smarr's help) and Ciso Telepresence are built in to a meeting room, with multiple screens, integrated cameras and sound systems (that let you tell where in the room a speaker is sitting), high bandwidth networks and even specially designed lighting.
Get the ITPro. daily newsletter
Receive our latest news, industry updates, featured resources and more. Sign up today to receive our FREE report on AI cyber crime & security - newly updated for 2023.
Mary is a freelance business technology journalist who has written for the likes of ITPro, CIO, ZDNet, TechRepublic, The New Stack, The Register, and many other online titles, as well as national publications like the Guardian and Financial Times. She has also held editor positions at AOL's online technology channel, PC Plus, IT Expert, and Program Now. In her career spanning more than three decades, the Oxford University-educated journalist has seen and covered the development of the technology industry through many of its most significant stages.

Mary has experience in almost all areas of technology but specialises in all things Microsoft and has written two books on Windows 8. She also has extensive expertise in consumer hardware and cloud services - mobile phones to mainframes. Aside from reporting on the latest technology news and trends, and developing whitepapers for a range of industry clients, Mary also writes short technology mysteries and publishes them through Amazon.
Get the ITPro. daily newsletter
Receive our latest news, industry updates, featured resources and more. Sign up today to receive our FREE report on AI cyber crime & security - newly updated for 2023.
Thank you for signing up to ITPro.. You will receive a verification email shortly.
There was a problem. Please refresh the page and try again.