UK business still confused by WEEE after a year
The implementation of the technology recycling legislation a year today still has many companies baffled by its requirements.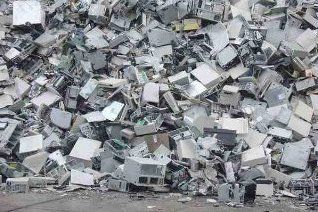 One year on, businesses are aware of the Waste Electrical and Electronic Equipment (WEEE) directive, but remain unclear on how to comply with it.
Introduced by the EU in 2004, the UK was one of the last member states to implement the directive last year.
Governed by the Department for Business, Enterprise and Regulatory Reform (BERR) and enforced by the Environment Agency, the regulations require business owners and electrical equipment manufacturers to dispose of old equipment bought after 13 August 2005 through approved and auditable recycling schemes.
But recent surveys have revealed compliance is an issue with small-to-medium sized businesses (SMBs) in particular. Nearly half of UK businesses that import, rebrand or manufacture electrical and electronic equipment have not signed up to a producer compliance scheme.
The results of a joint Dell UK/Federation of Small Businesses (FSB) survey, which questioned over 100 FSB members, revealed that although 81 per cent were aware of WEEE, nearly 22.5 per cent did not know whether it applied to their business or not.
John Holbrow, FSB environment chairman, said: "There is still work to be done by the government and vendors in educating businesses about IT equipment disposal responsibilities."
Although the majority (39.8 per cent) recycled their IT equipment through a third party organisation, some respondents admitted to alternative disposal methods, including storing it indefinitely and even burning it. Almost a quarter donate old IT equipment that is no longer needed.
And in terms of new equipment, SMBs are more likely to deploy power management software (29.7 per cent) than they are to use simple, more cost efficient options, like printing on both sides of a piece of paper (cited by 14.4 per cent).
Recent research by the Environment Agency found 76 per cent of WEEE producers, including retailers and PC resellers, were aware of the directive. However, 45 per cent of the "significant proportion" that the agency said had not yet signed up to a producer compliance scheme argued that the regulations do not apply to them.
Adrian Harding, producer responsibility policy advisor at the Environment Agency, said: "Over 80 per cent of the producers we questioned know that enforcement action can be taken against them for non-compliance but many are still failing to act."
He added: "As we step up our enforcement of the regulations, many of these businesses are putting themselves at an increasing risk of being fined."
Meanwhile, the EU closed its consultation period on re-evaluating the directive earlier this month. It currently targets a collection of 4kg per capita on an annual basis, which the Environment Agency said the UK surpassed in 2007.
The re-evaluation is likely to trigger new targets and an update to manufacturer responsibility provisions in 2009.
A daily dose of IT news, reviews, features and insights, straight to your inbox!
A daily dose of IT news, reviews, features and insights, straight to your inbox!
Thank you for signing up to ITPro. You will receive a verification email shortly.
There was a problem. Please refresh the page and try again.