Juniper serves up online infrastructure for Ocado
Ocado has boosted reliability, speed and security with new networking kit.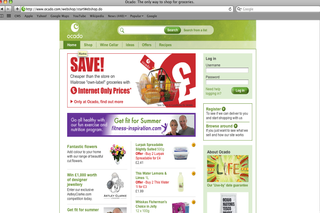 Ocado has implemented a new networking infrastructure to supports its online operations, with the aim of reducing costs and improving customer service levels.
The retailer is making use of technology from Juniper Networks, including its EX Series Ethernet switches, routers and security gateways to help boost its online presence, which currently serves some 13.5 million homes in the UK.
By simplifying its operations, Ocado hopes to reduce its operational overheads, boost performance and build a platform that will evolve and scale as its business does.
"Our customers expect fast, reliable and secure service from our website when placing online orders, so the network infrastructure is critical to our business model," said Andy Howard, Ocado's network manager, in a statement.
"We were looking for an innovative, robust hosting environment, and Juniper's high-performance network infrastructure with open and scalable solutions has helped us achieve that objective."
A daily dose of IT news, reviews, features and insights, straight to your inbox!
Maggie has been a journalist since 1999. She started her career as an editorial assistant on then-weekly magazine Computing, before working her way up to senior reporter level. After several years on the magazine, she moved to 'the other side of the fence' to work as a copywriter for a marketing agency, writing case studies and working on ad and website copy for companies such as eBay, Dell, Microsoft and more. In 2006, just weeks before IT Pro was launched, Maggie joined Dennis Publishing as a reporter. Having worked her way up to editor of IT Pro, she was appointed group editor of Cloud Pro and IT Pro in April 2012. She became the editorial director and took responsibility for Channel Pro, in 2016. Her areas of particular interest, aside from cloud, include management and C-level issues, the business value of technology, green and environmental issues and careers to name but a few.
A daily dose of IT news, reviews, features and insights, straight to your inbox!
Thank you for signing up to ITPro. You will receive a verification email shortly.
There was a problem. Please refresh the page and try again.