Amazon's drone delivery might track customer location info
The service will use a person's smartphone data to find them and deliver even if they are not in a static location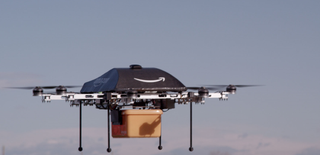 Amazon's drone delivery service will find a customer by monitoring their smartphone's location data, a recent patent has revealed.
Amazon's patent also details how its drones will be able to make calls on whether it's safe to deliver parcels by monitoring weather conditions. They will also communicate with each other about traffic to judge the best way to get to their target.
The routes will be monitored in real time, using sensors and data feeds built into each flying device. A customer can decide upon the kind of service they wish to receive (such as delivering to their person, to their home, their car or even their boat) when they make an order.
Sensors built into the drones will include radar, sonar, cameras and infrared help keep track of the full range of weather and routing conditions. They will also pack in-flight monitors for advanced measurements and can detect humans and animals in their paths, ensuring they can deal with obstacles safely.
The delivery system is expected to come under a lot of scrutiny from human rights groups that believe tracking such metrics are against a person's freedom. Additionally, it's expected there will be extensive regulatory considerations before such delivery vehicles will be in mainstream use.
A major barrier to Amazon's plans could be local legislation around the commercial use of drones. The company is one of the leading campaigners in an attempt to convince the US Federal Aviation Authority (FAA) to allow such use of unmanned drones.
The online retailer has been testing its delivery drones in Canada, where regulations are more relaxed. But two months ago, the FAA said it could undertake some testing in the US, although they must keep a low flight path, not flying any higher than 400ft (122m).
A daily dose of IT news, reviews, features and insights, straight to your inbox!
A daily dose of IT news, reviews, features and insights, straight to your inbox!
Thank you for signing up to ITPro. You will receive a verification email shortly.
There was a problem. Please refresh the page and try again.