Microsoft cuts Windows 7 prices
Microsoft has revealed the cost of its Windows 7 operating system, but will cuts be enough to make up for lower US prices?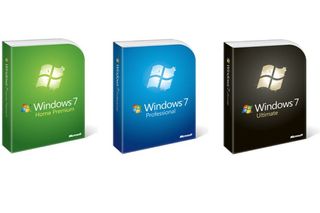 Microsoft has unveiled the pricing plans for Windows 7, cutting the cost of its next gen operating system.
While the price cut will make many happy, UK buyers might feel short-changed, as they'll be paying a bit more to get their hands on the software than their US counterparts. This is on top of delays surrounding a "European version" - which offers Windows 7 without the Internet Explorer browser embedded to keep regulators happy.
Europe, including the UK, will not be offered a choice between an upgrade version and a full version like the US, as the Windows 7E specific to the area is not yet ready.
Microsoft's corporate vice president for Windows consumer marketing Brad Brooks said: "Because of what needed to occur around testing of Windows 7E, it became very clear that we would not be able to offer a retail upgrade version of that piece of software on 22 October."
Rather than delay the launch in Europe, Microsoft will be offering the full version of Windows 7E for what it calls "upgrade pricing".
"[W]e will not have a separate upgrade SKU for the packaged retail product versions of Windows 7 at GA [general availability]," noted Brandon LeBlanc on the Windows blog. "But we will be offering upgrade pricing on our full licenses to make sure that European customers who want to upgrade have the pricing options available in the rest of the world."
Discount pricing and availability
So in the US, a discounted version of Windows 7 upgrades will be available for pre-order starting tomorrow, well ahead of its 22 October launch. A discounted version of the full Windows 7 will be available in the UK from 15 July.
In the US, Windows 7 upgrades will cost half of full price - just $50 for the Home Premium version, and $100 for the Professional Version. In the UK, those versions will cost 50 and 100 - a difference of over 30 per cent compared to the US versions, but for the full copy.
Gartner's Annette Jump said she was "nicely surprised by the cutdown in prices," adding that "in the past they tended to increase them."
She told IT PRO that the pre-order discount was Microsoft's attempt to bring its upgrade prices inline with Apple's Mac OS.
Pre-ordering will last for a month, unless supplies run out, Microsoft said. As well, anyone buying a PC pre-loaded with Vista from tomorrow will receive a free version of Windows 7 on its release.
Regular pricing
Once the discounted copies are sold out, the Home Premium version will run $119.99 in the US, down from $129.99 with current versions of Windows XP, for an upgrade copy. The full version will cost $199.99, which Microsoft said is $40 less than the Vista edition.
The Professional version will cost $199 for upgrade and $299 for the full version, while the Ultimate upgrade will cost $219 and the full version $319.
In the UK, buyers will pay upgrade prices for full versions until the end of the year, meaning the editions will cost 79, 189 and 199 until then, when the full price will kick in at 149, 219, and 229 respectively.
The only reduction in price that UK consumers will see is on the full version of Vista Home, which has been cut by 20.
Microsoft also noted it will have 14 languages available from 22 October, with the rest added a week later. It said that was the fastest it has yet to hit so many languages after general release.
Get the ITPro. daily newsletter
Receive our latest news, industry updates, featured resources and more. Sign up today to receive our FREE report on AI cyber crime & security - newly updated for 2023.