A stylus for Apple's tablet device?
A recent patent sparks new rumours about an Apple-developed tablet-style device.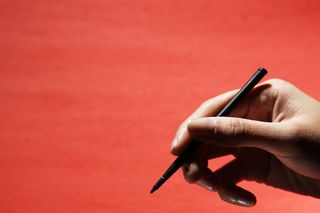 Apple has filed a patent related to handwriting recognition on a tablet device, sparking fresh rumours that development of such a product is in the offing.
The patent describes a method of handwriting recognition that would be much more flexible than current systems.
Essentially, the patent envisages a tablet device being outfitted with a "handwriting context manager" which would be able to understand the meaning of sentences and act on them.
Suggesting, for example, a device whereby the user simply wrote the name of the person they wanted to contact and the tablet dragged up all their details.
"The ink manager may also pass the ink phrase to an application executing on the computer system that is associated with the ink information, and it, in response, may return a reference pointer and a recognition context to the ink manager," states the filing.
It adds: "The reference pointer and recognition context are then appended to the ink phrase data structure. Utilising the recognition context identified by the application, the handwriting recognition engine generates one or more hypotheses for the ink phrase, and provides them to the ink manager.
"The ink manager forwards the hypotheses together with die reference pointer to the application and may also append them to the ink phrase data structure."
Though rather complicated, the filing makes repeated references to a tablet device and is sure to fire further speculation that Apple is set to unleash its secret project on the world in 2010.
Other speculation surrounding the tablet suggest it will feature a 10in touchscreen running the iPhone OS, and will be able to hook up to a Mac and be used as a secondary screen, or clever touchpad.
A daily dose of IT news, reviews, features and insights, straight to your inbox!
A daily dose of IT news, reviews, features and insights, straight to your inbox!
Thank you for signing up to ITPro. You will receive a verification email shortly.
There was a problem. Please refresh the page and try again.