Citrix: Digital generation to force IT laggards to catch up
Citrix says IT departments that don't embrace corporate and consumer IT convergence will die.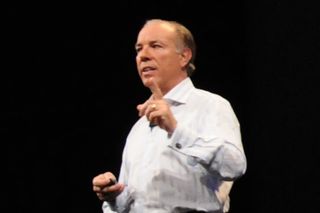 Citrix has successfully put itself right in the middle of the IT virtualisation battleground with its desktop, server and mobile apps delivery products, but still thinks many IT departments aren't moving quick enough to meet their employees' needs.
The fact that around 4,600 delegates from IT shops and partners are in attendance in San Francisco for the firm's big Synergy user event is testament to the fact that Citrix is making good progress in delivering apps to anywhere staff need and demand them.
But its main goal, to make sure that the dividing wall between corporate IT and consumer IT is pulled down completely, is still very much an aspiration.
Citrix says staff working from home, on the road, part-time and often with their own equipment, should be allowed to access any apps they choose to get the job done. It says they should be able to access online apps stores, load their own software that can be used to run both their personal and working lives, and use it on any device they like.
Citrix chief executive Mark Templeton told IT PRO: "Those that oppose the combination of corporate IT and consumer IT will meet their maker. The digital generation will also force along those laggards who are thinking about it but not moving quick enough."
"We are being completely unambiguous about what we think will happen and what is needed," Templeton said.
As well as marketing its user conferences as Synergy events - changing them from the established but rather undynamic iForum branding to emphasise this corporate/consumer convergence - Citrix is putting its new products where its mouth is.
XenClient
Citrix is making it easier for firms to deliver secure and faster applications and data to remote laptop workers with the launch of Citrix XenClient.
Citrix said XenClient had been launched to address analyst estimates which show 72 per cent of corporate endpoints will be laptops by 2014.
The product is integrated with Intel processor virtualisation technologies, which also reduce the amount of battery power needed by a laptop to handle this type of working when it isn't connected to a wall socket.
The XenClient technology allows IT administrators to deliver to their users full-time data back-up and data synchronisation, using remote policy data management controls. If the laptop is lost or stolen, administrators can also "kill" the application and block access to the corporate data.
XenClient can also support more than one virtual desktop on the same laptop, meaning firms can split corporate documents and apps from consumer-based apps and private data accessed by the user on the laptop.
Templeton said: "Corporate laptops are the last mile in extending the full benefits of desktop virtualisation to all users in the enterprise."
A daily dose of IT news, reviews, features and insights, straight to your inbox!
A daily dose of IT news, reviews, features and insights, straight to your inbox!
Thank you for signing up to ITPro. You will receive a verification email shortly.
There was a problem. Please refresh the page and try again.