Hunt to test best bet for rural broadband
The new minister for culture, media and sport has announced three projects to look into the best way of providing rural broadband.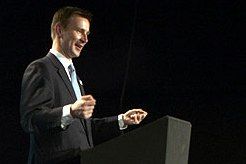 Jeremy Hunt, the coalition's new minister for culture, media and sport, has proposed a number of trial projects to figure out the best way to provide broadband in rural areas.
Also the new broadband minister, Hunt confirmed in a speech today that his Government backed the 2Mbps pledge as made by Labour and would use money left over from the Digital Switchover campaign to fund it, but wanted to look further into how to reach difficult to provide for areas.
He said "three market testing projects" would take place, although further details about them are not set to be released until 15 July.
"These are projects that will not only benefit those living in these areas, but that will provide us with vital information about how we can best target government intervention and make next generation broadband viable in even the most challenging areas," he said.
Hunt added that he wanted not just BT, but other providers to be forced to unbundle their lines and allow more competitors to get onboard their infrastructure to drive the rollout.
Hunt added: "If legislation is necessary to require other infrastructure providers to open up their assets as well, then as announced in the Queen's speech I am ready to bring it to the House as soon as parliamentary time can be found."
Last month Hunt confirmed there would be no repeal for the Digital Economy Act and that it was thought a better move to wait and see what happens after the legislation has been implemented.
Although Hunt didn't mention the Digital Economy Act specifically in this speech, there was reference to the creative industries and the new model for distributing their work.
Listing the film, TV, music and gaming industries in the UK, he said: "There is one thing that binds nearly all of these together, something of quite simply extraordinary significance for Britain's economic future. Nearly all of these industries involve the creation of digital content."
He added: "Just as the Silk Road and Pax Britannica opened up trade in physical property, so the internet opens up trade in digital property. So for the country that is probably the second best in the world at creating that digital property, this is a remarkable opportunity."
However, he believes it is a great chance "if" the country grasps it, rather than "when."
Blaming a mixture of the recession and "rapid technological advance," Hunt claimed the UK was lagging behind other countries, citing a recent survey showing us ranked as 33rd in world broadband speeds as an example.
But he felt it was time to throw out the "old truism that we provide the creativity and the rest of the world makes the money" and face up to the technological changes.
"We are at a technological turning point of huge significance," Hunt concluded, "and because we are used to producing products of global quality and global appeal, the opportunity for us is greater than for many others, not just to strengthen economic capital, but social and political capital as well."
Get the ITPro. daily newsletter
Receive our latest news, industry updates, featured resources and more. Sign up today to receive our FREE report on AI cyber crime & security - newly updated for 2023.
Jennifer Scott is a former freelance journalist and currently political reporter for Sky News. She has a varied writing history, having started her career at Dennis Publishing, working in various roles across its business technology titles, including ITPro. Jennifer has specialised in a number of areas over the years and has produced a wealth of content for ITPro, focusing largely on data storage, networking, cloud computing, and telecommunications.
Most recently Jennifer has turned her skills to the political sphere and broadcast journalism, where she has worked for the BBC as a political reporter, before moving to Sky News.