Kognitio looks to kill the physical cube
Kognitio believes its Pablo technology could mark a significant moment in data analytics.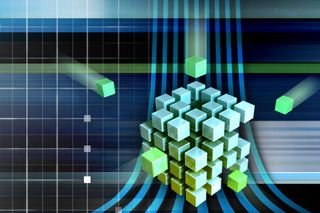 Kognitio has hailed the death of physical cube databases with the launch of Pablo, designed to enable "train of thought" analysis.
The MDX connector lets users create and query virtual cubes "on the fly," without any of the lag and complexity that comes with physical cubes, the business intelligence firm claimed.
Pablo, named after the cubist master Picasso, can leverage any MDX-compatible tool, including Microsoft Excel, to help the end user carry out in-depth analysis.
This will no doubt please those unwilling to splash out on expensive front-end applications.
Pablo will only work, however, on top of Kognitio's WX2 analytical database and will come as an addition to the offering from 1 June.
Because Pablo helps create in-memory images of a database, this makes the process of analysing information considerably quicker than using OLAP [online analytical processing] cubes, which can take hours to build, according to John Coppin, product director at Kognitio.
"It has an immense number of implications if you can do things in that time," Coppin told IT PRO.
"You can move analysis much closer to real time. You can change things around as much as you like because you don't have to spend time rebuilding things."
Coppin said businesses want the ability to be flexible and remain fluid in how they mine data.
Pablo's introduction will mean Kognitio "is no longer niche" as it should open up a wider market for the firm, he claimed.
"Just because we don't have a separate OLAP technology it doesn't mean we're not actually competing against OLAP as a technology," he added.
"It does away with the need for businesses to do a whole layer of stuff."
A daily dose of IT news, reviews, features and insights, straight to your inbox!
A daily dose of IT news, reviews, features and insights, straight to your inbox!
Thank you for signing up to ITPro. You will receive a verification email shortly.
There was a problem. Please refresh the page and try again.