RIM BlackBerry PlayBook review - First Look
Does the debut tablet from Research in Motion have what it takes to attract the corporate user? We think it just might.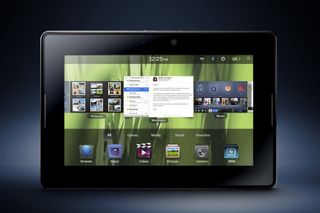 Tablets are the hot ticket for all mobile companies right now. However, they often aim to please the consumer, who wants to play games or watch videos, and not the more serious business user.
Research in Motion (RIM) is renowned for its BlackBerry smartphones which have flooded company networks for many years. However, it has now chosen to try and break the tablet market with the launch of the consumer-sounding but fit for business BlackBerry PlayBook.
The tablet's screen measures seven inches, but unfortunately the thick bezel makes the screen look quite small. That said, the bezel has been made to be touch sensitive too and can actually be used to bring up menus and return to the homescreen. We still would have preferred to have these functions as part of a bigger screen though.
The screen resolution of 1,024 x 600 pixels was bright without being overpowering and showed off the very attractive homescreen at its best. The distinctive and unique operating system is RIM's own creation. It is quite unlike Apple's iOS and Google's Android in look and feel, but is nonetheless aesthetically pleasing. Up to six of your favourite applications sit along the bottom of the screen, while apps currently being used sit in a carousel placed above the favourite apps bar.
This is where the operating system's multitasking capabilities really shone. When playing both a game and video simultaneously, the Playbook did not falter in performance. By swiping to the left or right, we were able to easily switch between open applications. Multitouch gestures, such as pinching to zoom, worked well.
In addition to the main home screen, the software allowed for a grid view of all the applications available with a simple swipe up or down to look at the list. Included as standard is an office suite for viewing and editing documents as well as the usual email capabilities. The best business feature of this phone though was the ability to link up with a BlackBerry smartphone via Bluetooth. As well as being able to copy over contacts or documents from the handset, the moment the connection is broken, the PlayBook wipes any evidence it was ever there. From a security perspective, this is ideal for the enterprise market, but also enables it to be shared by multiple users, giving it an appeal to a small or medium business.
The inclusion of a dual-core processor was a good move by RIM, making the PlayBook responsive and very fast. However, while its 1GHz speed is very usable, it's already being outshone by other devices which have moved to 1.2 or 1.4GHz processors.
Currently the only method of connecting to the internet is Wi-Fi, which will be more than sufficient for many corporate purposes. We are still looking forward to the 3G option coming later this year though.
Video conferencing is enabled on the PlayBook thanks to a front facing three-megapixel camera higher quality than a lot of its competitors while there is also a five-megapixel rear camera for shooting your own pictures or videos.
The tablet was a mere 10mm thick and weighed in at around 400g which we were very pleased with. It made the device very portable, as well as comfortable to hold for long periods of time.
The Playbook was one of the stars of this year's Mobile World Congress where we managed to film a video of the BlackBery PlayBook in action.
So what are our first impressions?
Verdict
The PlayBook looks sleek and beautiful. Although onscreen keyboards will never win us over as the primary way to work, the extra security features, video conferencing camera and smooth-running software gives the PlayBook potential to be far better than other tablets for corporate customers.
Processor: Dual-core 1GHz Storage: 16GB or 32GB Display: 7in 1,024 x 600 pixel resolution Operating system: RIM Blackberry Tablet OS Camera: Five-megapixel rear camera, three-megapixel front-facing camera Connectivity: Bluetooth and Wi-Fi – 3G model coming later in the year Dimensions: 130mm x 194mm x 10mm Weight: 400g
Get the ITPro. daily newsletter
Receive our latest news, industry updates, featured resources and more. Sign up today to receive our FREE report on AI cyber crime & security - newly updated for 2023.
Jennifer Scott is a former freelance journalist and currently political reporter for Sky News. She has a varied writing history, having started her career at Dennis Publishing, working in various roles across its business technology titles, including ITPro. Jennifer has specialised in a number of areas over the years and has produced a wealth of content for ITPro, focusing largely on data storage, networking, cloud computing, and telecommunications.
Most recently Jennifer has turned her skills to the political sphere and broadcast journalism, where she has worked for the BBC as a political reporter, before moving to Sky News.
Get the ITPro. daily newsletter
Receive our latest news, industry updates, featured resources and more. Sign up today to receive our FREE report on AI cyber crime & security - newly updated for 2023.
Thank you for signing up to ITPro.. You will receive a verification email shortly.
There was a problem. Please refresh the page and try again.