Why Bing and BlackBerry make sense together
'BingBerry' is a sensible response to Google because Bing and RIM share more than an enemy.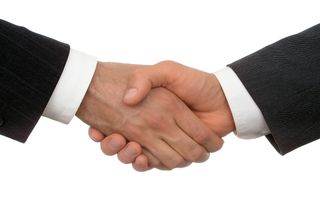 Every now and then there are suggestions that Microsoft should buy a phone maker like Nokia or RIM. Instead of buying one platform, Microsoft prefers to partner with the ones it sees as strategic. That's not necessarily because they're the most successful, but because they're in competition with companies Microsoft is also in competing with.
As the saying goes, the enemy of my enemy is my friend. But making Bing the default search engine and map service on all new BlackBerrys, and building it right into the BlackBerry 7 OS on new devices this autumn, is as much about technology as it is about snubbing Google.
For Microsoft, RIM is already a partner. To use BES you need a mail server and, often, that's Exchange Server. Indeed, the two companies recently announced that RIM would be running versions of BES for Office365 customers. Microsoft will carry on developing for Android and iPhone devices, but what it does for BlackBerry will be the kind of platform-level services apps on Windows Phone can use rather than individual ones.
As the saying goes, the enemy of my enemy is my friend.
"While Microsoft will support the top phone platforms with our cloud services we're going to invest uniquely in RIM, in addition to our own Windows Phone platform," Steve Ballmer said this week at BlackBerry World.
Bing Maps architect Blaise Aguera y Arcas demonstrated the search engine putting your location on the BlackBerry lock screen ready to find information and offering maps and a directory of nearby services. Bing will use voice search and Streetside augmented reality to find what you're looking for and show you how to get there. It will then link to reservation services and coupons for nearby businesses on the assumption that if you search for a restaurant, you're most likely planning to actually eat there. Microsoft is also likely to bring the Photosynth app it's just released for iPhone to BlackBerry.
While Ballmer didn't miss an opportunity to criticise the competition, he did explain why BlackBerry is easier for Microsoft or third-party developers to work with.
"With Android the volumes have risen but there's an ensuing chaos that has caused a level of frustration with consumers and developers alike," he said. "The Apple platform has certainly offered opportunity for app developers but there are a very limited set of ways to collaborate and extend experiences of their device for businesses and consumers. On BlackBerry we see opportunities to create unique experiences. This goes way beyond a search box and links with ranked URLs. It's about finding real tools that help real people get jobs done."
For RIM, Microsoft and Bing is a better combination than Google because Android is far more of a threat than Windows Phone. What's more, as the underdog Bing's team is more motivated to work on the level of integration that RIM wants.
When Mark Zuckerberg announced social search integration with Bing rather than Google, he said Facebook had chosen Microsoft because "the companies doing great innovation tend to not be the incumbents". To tackle Google's head start in search, Bing is thinking differently. The instant answers you get today for weather and flight status information are evolving into tools that are more about doing things like booking a table in a restaurant, sending a message or spending money than finding information. That means the way Bing thinks about search is very close to the way RIM thinks about what the BlackBerry is good for: giving you the right information at the right time for what you're trying to achieve.
What RIM wants, says co-chief executive Mike Lazaridis, is search super apps.
"BlackBerry super apps can speak to each other seamlessly and we've working with Microsoft to deliver a richer experience for that, from the cloud," he said.
I see a sentiment with people moving away from using Google and starting to use Bing because they don't want to be seen to be siding with the 'evil empire.'
Microsoft is a good choice to give RIM the help it needs with that richer experience, according to Stuart Carlaw, an analyst at ABI Research. "I think there's a lot of mileage in this. The Achilles heel of BlackBerry has always been maps," he told IT PRO
"There's a lot in the Microsoft partnership with Nokia that's going to benefit the RIM platform more than they could have done themselves. NAVTEQ is one of the leading contenders in mapping, not only for traditional positioning but value added services."
The more controlled BlackBerry OS is a better place to build these integrated information tools than the fragmented Android, Carlaw claims. "In the future search will be the way we view location today. [It will be] an enabler for what people want to do," he said.
"I won't search Google to find out what time my train is, I'll just type train time' and the info will be there. That can only happen where there's a unified environment where that search occurs."
According to Microsoft, RIM has been driving a lot of the work on the search concepts demonstrated this week. Carlaw points out that, increasingly, Microsoft is a more attractive partner in the mobile space than Google.
"There was a short term marriage of convenience but the problem with Google is that it is commoditising everybody's business around it and there's no value add in what it's doing." he said.
"I see a sentiment with people moving away from using Google and starting to use Bing because they don't want to be seen to be siding with the 'evil empire.' And Microsoft is in no position [to] 'do a Google' on somebody and dictate terms."
A daily dose of IT news, reviews, features and insights, straight to your inbox!
A daily dose of IT news, reviews, features and insights, straight to your inbox!
Thank you for signing up to ITPro. You will receive a verification email shortly.
There was a problem. Please refresh the page and try again.