Cloudy with a chance of services
You'd have to be living under a rock to have escaped the buzz being created by cloud computing. For businesses the cloud can offer tremendous benefits. But it also presents significant challenges for both clients and service providers.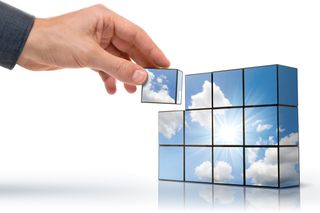 To the IT fraternity, it's the biggest thing since portable hard-drives.
Cloud computing is the industry darling that allows an organisation to run all its applications through a traditional corporate datacentre. Aimed at improving systems, cutting costs and making data storage and access far easier to scale, the cloud has grown from simply being a promising business concept to one of the fastest growing segments of the IT industry.
Around one-third of Europe's online population currently accesses banking services and mobile banking will reach one billion people by 2015, according to Kobi Korsah, product marketing director of CA.
"As more sophisticated services, channels and delivery models proliferate, so business services must be seamlessly delivered," says Korsah.
"Forecasts for the future of IT appear to be cloudy with a chance of services'. Hence the quest for clarity of cloud-derived service management is understandable. Cloud computing with its various derivatives and models presents a number of challenges. For example, who will be in charge of, and accountable for, which bits of the evolved service model?"
Responsibility for helping businesses achieve positive business outcomes and for ensuring that customer experiences are consistently good - falls squarely on the head of the IT team, says Korsah.
"This requires that revenue generating applications and IT infrastructure are highly available and perform, regardless of the degree to which they utilise external resources. As a result, any service providers engaged by business must have a framework for agreeing and guaranteeing acceptable levels of service so that they can focus on enabling that business."
In the near to medium term, a sliding scale of shared responsibility is the likely outcome, concludes Korsah.
"Ultimate responsibility for the quality of service still lies with the customer; but having diligently assured infrastructure and applications for years, a large piece of the solution to your service assured future is probably closer to home than you might think."
Meeting the challenges of cloud computing will be a key topic of discussion at the CIO Summit Europe 2011 which takes place at the Ritz Carlton in Berlin, Germany from 24-26 May 2011.
The CIO Summit Europe 2011 is an exclusive C-level event reserved for 100 participants that includes expert workshops, facilitated roundtables, peer-to-peer networks and co-ordinated meetings.
For more information visit www.ciosummiteurope.com.
GDS International is a business-to-business events company. It offers financial, healthcare, IT service management, telecoms and oil and gas summits for senior executives throughout the Asia Pacific, Africa, China, Europe, North America and Russia markets. For more information, visit www.gdsinternational.com
A daily dose of IT news, reviews, features and insights, straight to your inbox!
A daily dose of IT news, reviews, features and insights, straight to your inbox!
Thank you for signing up to ITPro. You will receive a verification email shortly.
There was a problem. Please refresh the page and try again.