Synergy 2011: What's the real cloud? And the personal?
What's new with cloud computing? Citrix thinks it's getting real and it's getting personal.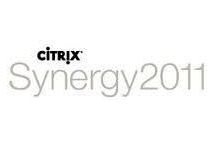 You would have thought there were enough definitions and terms in the cloud space already.
But at this week's Synergy 2011 event in San Francisco, Citrix took the opportunity to coin some more cloudisms.'
One of them was the "real" cloud. Want to know what that is?
Citrix believes the real cloud has to be built on open technologies and allow for scale out rather than scale up. It will give businesses infinite resources without trapping them in with specific vendors - at least in Citrix's Utopian vision.
Sounds rather pleasant, doesn't it? So who is pushing the real cloud right now? No vendors are doing it just yet sadly, according to Mark Templeton, chief executive (CEO) of Citrix.
"Look, Azure has got some great scale out, but it's a very specific type of cloud infrastructure, it's not the kind of open system that we're talking about," Templeton told IT PRO during a Q&A at the conference.
"VMware is really building on its server virtualisation platform, trying to make it more and more cloudlike. But we're talking about an architectural difference, and you can't simulate these scale out kinds of things we're talking about with a server virtualsiation platform."
If anything can be taken from the "real cloud" concept, it's that Citrix is betting the OpenStack framework as the future. Hence why Citrix will be bringing out a product based on OpenStack later this year.
"There's a big community forming around OpenStack. We're going to be a part of that community," Templeton added.
"We'll bring some leadership to it but hopefully that suits everyone because we don't believe in this winner takes all idea, we're not trying to take all the chips off the table."
This time, it's personal
The "real cloud" does sound like a decent concept, even though it's hardly revolutionary. A more dubious piece of phraseology from Citrix was its introduction of the "personal cloud."
This is essentially an overarching term to define the ways in which individuals want to use cloudy services, wherever they are and with both their own and their company's data.
It doesn't sound new, but what Citrix has tried to do is put a name on what IT should be looking to incorporate into their operations. Rather than reject consumerisation, businesses need to let it in and embrace the personal cloud.
A daily dose of IT news, reviews, features and insights, straight to your inbox!
A daily dose of IT news, reviews, features and insights, straight to your inbox!
Thank you for signing up to ITPro. You will receive a verification email shortly.
There was a problem. Please refresh the page and try again.