IBM IOD 2011: Big Blue's analytics keep animals and wind in check
IBM's analytical tools are helping a variety of businesses, from wind turbine giant Vestas to the Cincinnati Zoo.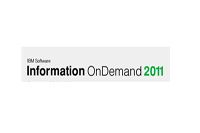 IBM has announced a number of new tools and features to help businesses get more value out of information and tackle the challenges posed by so-called big data, including an iPad version of Cognos.
Around 2.5 quintillion bytes of data is created each day, according to IBM, which also claims 90 per cent of the world's current information volume has been amassed in the last two year's alone. This data growth is being spurred along by social media, with one billion Tweets and 30 billion messages being posted on Facebook each month.
To help make more sense of this data growth and aid better business decisions, IBM has beefed up its software portfolio. In addition to extending the reach of its Cognos tool to include iPad users, Big Blue used its Information on Demand (IOD) conference in Las Vegas to unveil:
Hadoop-based cloud software to help deal with the wealth of unstructured data, which can be up and running in just half an hour.
Predictive analytics software with built-in mapping.
Software to rank the quality of data and provide a greater level of information assurance.
Cincinnati Zoo is one such company making use of Cognos on the iPad while Danish energy giant Vestas Wind Systems has implemented IBM BigInsights and supercomputing.
With more than one million visitors each year, Cincinnati Zoo needed a better way of analysing customer behaviour and turning that insight into increased revenue, according to John Lucas, the organisation's director of operations.
"Analytics has changed us to the DNA level," he said. "We turned to IBM a couple of years ago. We realised we couldn't see the story being told to us by our guests as we didn't have a lens to see it. Making guest-centric decisions was very challenging for us."
That has since changed. By implementing Cognos 8 in 2010, the zoo can now gain a better insight into customer behaviour and better target its marketing and other efforts accordingly.
As a result, Lucas believes the software helped drive $500,000 in new revenues to the zoo in the first quarter. For a business with annual revenue of $27 million, that's quite a return on investment, he claimed.
"We are able to report guest behaviour and spending and can very strategically and surgically send marking communications based on likes, dislikes." he said.
"Our members are more temperature intolerant than our non members. They stop coming after 90 degrees. We use [analytics] not only to drive a superior guest model, but new revenues too."
Cognos on the iPad will help such aims going forward and enable analytics use on the move, according to Lucas.
"We are an animal business but also a people business. On a busy day you won't see me and the executive team and managers in our offices," he said. "We go out there and interact with guests and check on pain points."
Similarly, Vestas is gaining business advantage through its partnership with IBM.
Lars Christian Christensen, vice president of plant siting and forecasting at Vestas Technology R&D, told a press conference at IOD how his company was using IBM tech to aid wind turbine placement.
"Imagine putting the Hoover Dam in the wrong location. That would not be fun If a customer turns up and says Where should I put a power plant equivalent to the Hoover Dam site?' I have to be able to write a reply fairly quickly," he said.
"We know wind direction, turbulence you name it - 178 different parameters. Big data enables us to ask in this big pool of data Where should we locate the next plant?' And we get the answer really, really fast. This helps us to create business case certainty."
Vestas expects the amount of weather and related data it has to analyse in the future to quickly reach and exceed 20 petabytes in the coming years.
With big data tools, Vestas can get answers to some queries in a matter of hours, where it would have taken approximately three weeks, Christensen concluded.
A daily dose of IT news, reviews, features and insights, straight to your inbox!
Maggie has been a journalist since 1999. She started her career as an editorial assistant on then-weekly magazine Computing, before working her way up to senior reporter level. After several years on the magazine, she moved to 'the other side of the fence' to work as a copywriter for a marketing agency, writing case studies and working on ad and website copy for companies such as eBay, Dell, Microsoft and more. In 2006, just weeks before IT Pro was launched, Maggie joined Dennis Publishing as a reporter. Having worked her way up to editor of IT Pro, she was appointed group editor of Cloud Pro and IT Pro in April 2012. She became the editorial director and took responsibility for Channel Pro, in 2016. Her areas of particular interest, aside from cloud, include management and C-level issues, the business value of technology, green and environmental issues and careers to name but a few.
A daily dose of IT news, reviews, features and insights, straight to your inbox!
Thank you for signing up to ITPro. You will receive a verification email shortly.
There was a problem. Please refresh the page and try again.