Citrix ropes in ShareFile skills for personal cloud enlightenment
The desktop virtualisation giant tightly integrates its ShareFile acquisition.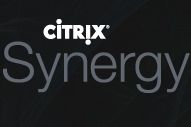 Citrix has sought to further its Personal Cloud' and Follow Me Data' concepts by tightly integrating recently-acquired ShareFile technology into its product line-up.
The desktop virtualisation vendor closed the ShareFile acquisition earlier this month for an undisclosed fee, gaining a host of cloud-based file sharing and collaboration technologies.
Some people refer to ShareFile as Dropbox for the enterprise, but it's not really.
Citrix customers will be able to enjoy ShareFile as a standalone service in a browser, on a desktop as a separate app and within Microsoft Outlook. ShareFile capabilities will also be available as a 'Workspaces' feature within the GoToMeeting collaboration product.
The Workspaces addition is expected to arrive in early 2012 at no extra charge for GoToMeeting customers, Citrix announced during its Synergy 2011 conference in Barcelona.
"On the web interface you're going to be able to login, create folders and add files to it easily, so users can view and annotate them online," Bernardo de Albergaria, vice president and general manager for collaboration at Citrix Online, told IT Pro.
"Of course you can modify them offline or work on them native programs, you can share them, you can create a list all within GoToMeeting. The promise of that is being able to centralise the ability of file-based collaboration and easily share, especially where you have problems with file sizes or different versions."
Talking more generally about ShareFile, Albergaria sought to distance it from major cloud file-sharing provider Dropbox.
"Some people refer to ShareFile as Dropbox for the enterprise, but it's not really because Dropbox is really focused on file access and syncing. This is really about creating workspaces where people can collaborate on their files," he said.
The move to introduce Workspaces comes as part of Citrix's three cloud vision including the Personal Cloud, the Private Cloud and the Public Cloud. The ShareFile capabilities focus on the first of those clouds, which seeks to ensure workers can access their apps and desktops from any device.
For the IT department running Citrix deployments, it will now be able to centralise and control files for greater security. The Workspaces addition includes the ability for IT to encrypt data with the industry standard 128-bit encryption, as well as remote wipe and set policies.
"This will set a standard for the type of Follow Me Data capabilities companies are looking for," added Brett Caine, senior vice president for Citrix Online.
Citrix has also introduced Follow Me Data for the Citrix Receiver, meaning it isn't just apps users can access via the virtual desktop client. When users load Receiver, another area for cloud-based data will run as well on whatever device they are using.
That feature will be available from the fourth quarter of 2011 in preview form.
A daily dose of IT news, reviews, features and insights, straight to your inbox!
A daily dose of IT news, reviews, features and insights, straight to your inbox!
Thank you for signing up to ITPro. You will receive a verification email shortly.
There was a problem. Please refresh the page and try again.