Big Blue's little brother
Inside the enterprise: IBM has launched a budget mainframe. But with a $1m price tag, it may be more at home in the cloud than the data room.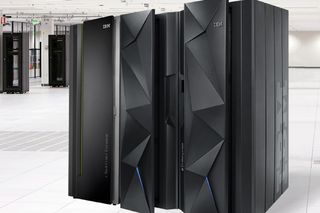 In these days of BYOD and the consumerisation of IT, it is interesting to see there is still technology out there that, in the words of the beer ad, is "reassuringly expensive". And one area where that certainly applies, is the mainframe.
Industry analysts point out that the market for mainframe hardware is steadily declining, a trend that is expected to continue over the next few years.
The main beneficiaries of slower mainframe sales are x86-based servers, although a sluggish economy, and tight IT budgets, also plays their part.
In that context, IBM's decision to launch a new, lower-cost mainframe is either a sign of the times or an attempt to open the technology up to new markets.
But, with the zEnterprise EC12, to give it its full name, costing around $1m a unit, it is still a significant purchase, even for the largest IT shops.
IBM is promoting the new big iron's security features as well as processing capabilities, and its ability to handle "big data" analytics tasks.
In some ways, IBM's move is just the latest argument in the ongoing debate over the future of IT: do we scale up, in the shape of a mainframe or supercomputer or scale out, to lots of small, cheap x86 chips.
In others, it is an attempt by Big Blue to take much of what is wrong with x86-based parallel systems or grids: physical hardware limitations; potential security weaknesses; IO and other bottlenecks; and solve them by putting them all into the type of box IBM makes because they are the type of box IBM makes.
After all, IBM would not be IBM without a mainframe product line, and the fact the company has invested more than US$1bn developing this one shows how much it matters to the vendor.
For existing mainframe customers, a new model gives reassurance that IBM remains committed to the line. The greater challenge, though, may be convincing new customers to try them out.
As industry analyst R Ray Wang, of Constellation Research, points out the $1m price tag of the EC12 limits the market to companies with revenues of $400 million or above, as most firms spend no more than five per cent of turnover on IT. This is despite the usefulness of the Z-series for solving big data problems.
An alternative market could lie with companies processing data in the cloud, or selling data (or information) as a service. These companies, Wang suggests, will have the scale and probably the revenues to benefit from the efficiency gains promised by the EC12.
"As software moves to information brokerages, people will buy streams of information," he says. This, in turn, creates a market that could suit IBM's new mainframe.
The question is not whether the EC12 is an attractive machine, but whether IBM can persuade younger developers and IT professionals to consider a mainframe solution. For many IT professionals working today, it is x86, not the mainframe, that is the comfort zone.
Stephen Pritchard is a contributing editor at IT Pro.
Get the ITPro. daily newsletter
Receive our latest news, industry updates, featured resources and more. Sign up today to receive our FREE report on AI cyber crime & security - newly updated for 2023.