Facebook is planning a 360-degree virtual reality video app
Social network's virtual reality app would work on iOS and Android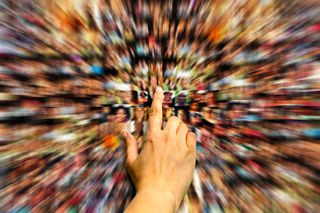 Facebook wants to bring 3D virtual reality to smartphones with plans to create the first 360-degree (spherical) video app.
The app would be the first in what is expected to be a series of virtual reality apps from Facebook, according to the Wall Street Journal, citing sources familiar with the project.
Users would be able to move through spherical videos, constructed using multiple cameras, and change their viewing perspective by turning and tilting their phone.
It is still unclear if or when the app, still in the early stages of development, will become generally available, but it will reportedly be compatible with both Apple and Android devices.
Facebook CEO Mark Zuckerberg has referred to virtual reality as the next big platform to follow mobile, and VR devices are certainly on the rise with a projected 14 million sales by 2016.
Facebook acquired Oculus Riftlast March for $2 billion (1.2 billion),and Zuckerberg explained at the time: "After games, we're going to make Oculus a platform for many other experiences.
"Imagine enjoying a court side seat at a game, studying in a classroom of students and teachers all over the world or consulting with a doctor face-to-face - just by putting on goggles in your home.
"Mobile is the platform of today, and now we're also getting ready for the platforms of tomorrow. Oculus has the chance to create the most social platform ever, and change the way we work, play and communicate."
It is not clear whether the Oculus technology will be leveraged for the app, or whether it would be compatible with the app, either.
But while amobile app on its own would offer a less immersive experience than a headset, it would help expose a greater number of people to the technology and further establish Facebook's presence in the virtual reality field.
Earlier in the year, Facebook revealed it had been working with Oculus to support 360-degree video, allowing users to "move around inside the video and view it from different angles", as the WSJ stated.
Samsung has already collaborated with Oculus to create Gear VR, a lightweight headset that works with your smartphone to create a virtual reality viewer, released earlier this year.
Meanwhile Sony's Project Morpheus virtual reality headset is set to debut next year in competition with theOculus Rift, which is due to be released in the first quarter of next year.
A daily dose of IT news, reviews, features and insights, straight to your inbox!
A daily dose of IT news, reviews, features and insights, straight to your inbox!
Thank you for signing up to ITPro. You will receive a verification email shortly.
There was a problem. Please refresh the page and try again.