Oculus Rift release date, price and system requirements: Oculus overtakes HTC in key market
Steam Hardware Survey indicates that the Rift has surpassed the Vive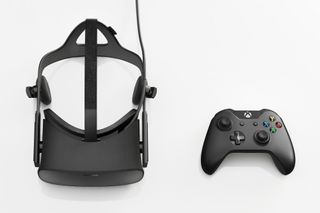 The Oculus Rift is perhaps one of the most significant technological advancements of the past decade. First revealed back in 2012, the Rift was the first successful virtual reality headset, offering users a totally immersive way to experience movies and games.
Oculus Rift latest news
07/03/2018: The Oculus Rift has surpassed its primary rival the HTC Vive in one of its biggest markets, new figures have indicated.
February's Steam Hardware Survey - a monthly opt-in survey conducted by digital gaming platform Steam to determine what components and peripherals its customers are using - shows that the Oculus Rift has pulled ahead of the HTC Vive in terms of popularity for the first time ever.
The race between the two devices is still incredibly close - the Rift is now used by 47.3% of Steam's VR users, compared to 45.3% using the Vive. But this marks the first time since both headsets launched that the Rift has overtaken Vive among Steam's users, though it has been the culmination of a reasonably steady growth in popularity for Oculus's flagship product.
This survey is far from a concrete indication of sales performance, as it measures only the number of headsets that are in use among Steam's PC gaming community. This is, however, an overwhelmingly large portion of both devices' overall markets, and provides a good benchmark as to the relative popularity of both headsets - especially as neither company release official sales figures for their devices.
The main factor in the Rift's growing market share is likely to be its relative value when compared to the Vive, as the Rift is still significantly cheaper than its main rival with a price difference of around 200.
The Windows Mixed Reality segment has also made minor gains, with a market share of 5.36% according to Steam's figures.
Oculus Rift price and release date
The Oculus Rift is now on general sale in the UK, and can be ordered from Amazon, as well as purchased instore at retailers including John Lewis, Harrods, GAME and Currys PC World. The device debuted at 549, including VAT.
To complement the launch, Oculus set up a series of demo areas at various retail locations, in order to sway undecided customers. A strong physical presence is important to the company, according to CEO Brendan Iribe, who told CNBC "you have to see it to really believe it, and we feel like once you see it, you're gonna want it".
"Getting it into broad retail around the world is going to be very important to the success of VR and to the success of Oculus and the Rift".
Oculus Rift design
The Oculus Rift DK2 was a squat, boxy affair. The consumer model is a much more attractive device, however; it's had a full-on makeover and is looking sleek and polished.
In place of the elasticated strap, the visor is now secured by a flexible plastic harness. The headset itself now has rounded sides and a flat, but slightly curved front, with a smooth finish on the face and textured plastic on the sides.
In a move that will please the visually-impaired, you can also now wear it with glasses, as well as adjusting the interpupillary distance of the lenses via a slider.
As a head-mounted device, comfort is critical. The DK2 is a bulky beast, weighing in at almost 400g. However, Oculus has trimmed a lot of the Rift's unnecessary fat for its big reveal, and Oculus is boasting of the Rift's light and comfortable nature.
Oculus Rift specs
Due to its highly-specialised nature, the Oculus Rift is much more technically capable than many other devices, and has some pretty beefy specs in terms of its visual hardware.
The Rift runs at 2,1601,200 at 90Hz split over dual displays, which equates to a per-eye resolution of 1080p. It also runs at 90Hz, which, while not quite as impressive as the 120Hz claimed by PlayStation VR, is perfectly acceptable. There's no noticeable lag or latency, and motion looks smooth and natural.
Current page: Oculus Rift release date, price and system requirements: Oculus overtakes HTC in key market
Next Page
Get the ITPro. daily newsletter
Receive our latest news, industry updates, featured resources and more. Sign up today to receive our FREE report on AI cyber crime & security - newly updated for 2023.
Adam Shepherd has been a technology journalist since 2015, covering everything from cloud storage and security, to smartphones and servers. Over the course of his career, he's seen the spread of 5G, the growing ubiquity of wireless devices, and the start of the connected revolution. He's also been to more trade shows and technology conferences than he cares to count.
Adam is an avid follower of the latest hardware innovations, and he is never happier than when tinkering with complex network configurations, or exploring a new Linux distro. He was also previously a co-host on the ITPro Podcast, where he was often found ranting about his love of strange gadgets, his disdain for Windows Mobile, and everything in between.
You can find Adam tweeting about enterprise technology (or more often bad jokes) @AdamShepherUK.