Banking and the cloud: Everything you need to know
How banks can use the cloud to their advantage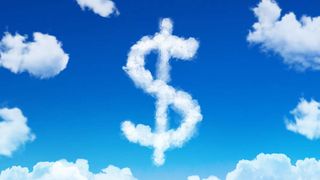 Cloud computing is relevant for every industry, enabling companies to replace legacy infrastructure with new software managed and delivered by vendors without it taking up space in businesses' datacentres.
But banks have been slower to adopt cloud services than businesses in other verticals, partly due to security and compliance issues that have hamstrung them from moving from old mainframes to new, cloud-centric infrastructure.
However, financial institutions are beginning to catch up - below we detail just how cloud can help your organisation.
Latest news
02/11/2015: KPMG and Oracle have teamed up to help finance companies adopt cloud solutions more quickly.
KPMG Powered Finance focuses on optimising companies' service delivery models to speed up the process of converting data into a format suitable for Oracle's cloud tools, as well as halving the time it takes to implement Oracle's SaaS applications, according to the vendors.
12/10/2015: Financial services firms use 1,004 cloud apps, including 195 geared towards collaboration, piling pressure on IT to manage the range of unauthorised applications in the workplace, according to a new report.
In June, SAP launched a new HANA-based tool to help financial services businesses derive increased profit from banking and insurance products by letting them better understand risk and finance processes.
In February, Deutsche Bank announced it is to move its IT infrastructure into HP's Helion managed private cloud to free up its own IT department.
To what extent are banks adopting cloud services?
Retail banks have a reputation for being innately conservative when it comes to adopting the technology. Unlike many industries, cost is not an issue, they're happy to spend the money buying the right products, it's just they haven't traditionally been innovators. This image of innate conservatism took a knock during the recent financial crash when it transpired that many retail banks had made some unwise investment decisions.
But while banks' reputation for good housekeeping took a bit of a knock, their reputation for lack of risk in tech has persisted. However, this is not always the case: in some parts of the world, banks are breaking out of their limitations.
It's slightly misleading to talk about banks' conservative attitudes as, in some regions, there are very advanced thinkers, according to Ian Massingham, cloud evangelist for Amazon Web Services. "The picture is not globally consistent with banks in different locations operating under different regulatory environments adopting cloud at different rates," he says.
"In cases where the regulator is fast moving, we do see companies adopt cloud. In a lot of respects, banking is not different from another industry, companies will assess the risk/cost-benefit."
William Fellows, research vice president with the 451 Group concurs, saying: "The word on cloud is 'yes' and 'no' at the same time. On one hand, they are operating under so many regulatory constraints that use of hosted cloud is seen as a non-starter – and largely out of their hands from a regulatory point of view. On the other hand, cost-control climates and the competitive pressure under which they are operating mean that they have to consider cloud options."
He adds: "Indeed, they've been experimenting with cloud models internally and externally for years, and many have projects up and running."
What are the cloud inhibitors for banks?
There are two main inhibitors: regulatory regimes and legacy software. As mentioned, some environments are more favourable to innovation than others so it's not a consistent picture. However, when it comes to legacy software, this is a common problem, shared by all banks.
Many banks are still heavy users of mainframes, many of them still using software written in the 70s – or even 60s – many of them are the product of a continual process of mergers and acquisition. That layer of legacy can be a real problem for banks. "It can be tougher moving legacy applications over, particularly if they're on non-Intel machines," says Massingham.
How are the banks who are using cloud leveraging the technology?
With a few exceptions, banks haven't adopted cloud wholesale. They're using the technology for specific applications and in particular ways.
IaaS is generally a non-starter, according to 451's Fellows. "Our investment bank customers are pretty clear that, having experimented extensively, they've decided that using public cloud purely for large-scale infrastructure has no benefit to them," he says. "They can do it more cheaply themselves, even with all of the discounts suppliers apply. This is what they have been doing historically across HPC and grids."
AWS' Massingham supports this view and sees many examples of banks who have used the additional power of cloud services to boost HPC applications. But, he explains, in a fast-moving commercial environment, banks are looking in other areas too.
"While it doesn't make sense to overhaul core banking technologies, it shouldn't be an all-or-nothing approach. There are plenty of ways in which cloud can be used; areas such as mobile and marketing are a good fit for cloud-based applications," he says.
There are some banks who have gone a lot further, he adds: "Suncorp in Australia moved all their applications to the cloud all in go, as has the Commonwealth Bank of Australia."
What's going to be the future for banking and cloud?
There's little sign of a wholesale move to the cloud by the bulk of retail banks but organisations are certainly not ignoring the technology, but they are going to be pickier in how they use the technology.
This means that cloud suppliers will need to become more flexible, according to Fellows. "Banks are looking to sign up and pay for business outcome and packaged services (using IaaS) rather than technical services. This is not their domain of expertise," he says.
"Thus, there are opportunities available for suppliers that can raise their software IQ to provide services that can support banks' specific enterprise workload needs (together with the appropriate certification and regulatory compliance), as SaaS or hosted business processes (rather than a generic compute platform)."
These targeted approaches will help banks shed even more of their conservative reputation. Indeed, banks are beginning to experiment more freely with innovation to try and move banking forward, according to Massingham.
As an example of the sort of initiative that banks could be doing, look at Bank Hapoalim in Israel. The company set up a hackathon using anonymised retail banking data, which was stored on AWS. Local developers participated in the hackathon, which resulted in a few financial applications being developed.
It is developments like this that will change the cloud landscape. The image of banks took a battering six years ago; some more innovation, courtesy of cloud, will help set that right.
This article has been updated multiple times to reflect the most recent developments (most recently on 2nd November 2015).
Stay up to date with the latest news and analysis from the world of cloud computing with our twice-weekly newsletter
ITPro is a global business technology website providing the latest news, analysis, and business insight for IT decision-makers. Whether it's cyber security, cloud computing, IT infrastructure, or business strategy, we aim to equip leaders with the data they need to make informed IT investments.
For regular updates delivered to your inbox and social feeds, be sure to sign up to our daily newsletter and follow on us LinkedIn and Twitter.
Thank you for signing up to Cloud Pro. You will receive a verification email shortly.
There was a problem. Please refresh the page and try again.