Skype vs Hangouts: Which takes the VoIP crown?
Skype's 12-year dominance is being challenged by Google Hangouts, but which is best?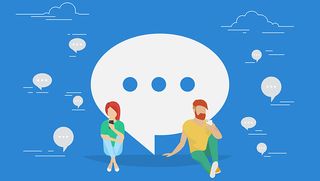 Just over a decade ago, Skype transformed the way we communicate. The Voice-over-Internet-Protocol (VoIP) tool has seen mass adoption as people embrace the ability to video chat with friends and colleagues halfway across the world.
Having amassed hundreds of millions of users, Microsoft snapped up £5.2 billion to acquire it back in 2011.
Looking to challenge the might of Skype, Google launched a competitor in the form of Hangouts in May 2013.
So, how do they compare? Here's our comprehensive guide to help you decide which one to use, whether you want to call your gran in Norfolk or your colleague in New York.
INTERFACE
Skype
Skype's latest blue and white makeover in version 7.0 brings consistency to the interfaces running across PC and Mac machines and iOS, Android and Windows Phone operating systems.
It also clears up the clunky Mac design in which users had to press '+' to toggle between instant messaging (IM) and calls, now placing a nifty sidebar to display both IMs and video at once.
File-sharing presentation has improved too, with new icons introduced to distinguish different document formats, like Word docs and PDFs.
Hangouts
Google Hangouts has a distinct green and white interface with three simple tabs to scroll through on Android phones to view contacts, IMs and calls.
Google revamped its Hangouts design for Windows and Chrome operating systems in September 2014 to introduce a number of changes. Those include a darker background to provide a black frame for images and videos, but go further.
Conversations are represented at the side of your desktop by circular icons, making them accessible but unobtrusive, though no such update is available for Mac users yet.
VIDEO
Skype
Microsoft's tool offers users free voice and video calls to other Skype users, and back in April 2014 it scrapped a $4.99 charge for group video calls.
Windows and Mac users can now take part in group chats of up to 10 people without paying for it.
Mobile device users can currently only join those videoconferences as audio-only entrants, and Skype has received criticism over the quality of its video calls, especially over a cellular connection.
Premium account holders can share screens on video calls, helping with things like presentations.
Hangouts
Google's VoIP software has long offered free group video calls for 10 users. A great feature is the ability to initiate a Hangout with people who don't have a Google Plus account if the host makes the session public.
Unlike Skype, Hangouts On Air allows those users to participate from mobile devices – Skype currently only allows audio participation from mobile devices, though says it's working on this.
Google took measures to address poor call quality when it introduced the ability for users to adjust their bandwidth in 2013. This means you can sacrifice video quality for audio quality if you're suffering from poor connectivity.
INSTANT MESSAGING AND SMS
Skype
As previously mentioned, Skype's update makes it more Mac-friendly by displaying IM alongside video calls.
IM is a free feature on Skype, and can be used across any device – from PCs and Macs to smartphones, tablets and even smart TVs.
However, users must subscribe with a paying account to send texts, making it difficult to contact people without a Wi-Fi or cellular connection.
Hangouts
IM is also free on Hangouts, and since Google Voice was rolled into Hangouts in September 2014, users now also benefit from being able to send and receive SMS messages inside their Android Hangouts app. Operator charges still apply for SMS messages, and users can't get them on their PCs or Macs at this time.
FILE-SHARING
Skype
Skype was quick to realise the potential uses at both home and work for file-sharing and made it free to send files of any size and any type to other users during voice, video or group calls. They can include photos, documents, PDFs, presentations and more.
Hangouts
Google's tool offers file-sharing abilities as comprehensive as Skype's, with a few added extras such as sharing Drive files directly within Hangouts (see Apps, below).
APPS AND INTEGRATION
Skype
Considering Microsoft's wealth of products, Skype does not integrate with quite as much as you'd expect. Office 365 users get 60 minutes of international Skype calls free per month, but there's no way to share 365 documents via Skype just yet.
Nor is there any integration with Yammer, the social networking app, right now.
However, Skype does boast an upcoming voice translation tool designed for Skype. Skype Translator was available in preview as of December 2014, and in it users can enjoy near real-time voice translation during video calls.
The Preview so far offers only English and Spanish translations, but translates text in more than 40 languages.
The integration of Skype with Lync (pictured), following the latter's recent rebrand as Skype for Business, is a plus for users, according to IDC's Richard Costello.
"Merging the consumer and business worlds closer together will improve the user experience and reduce the necessity for users to move between applications," he said.
"Some users may want to unite various Skype personas using only one account for both business and personal contacts, which should add value from an end user perspective."
Hangouts
Google may have the edge on Skype when it comes to what apps are available on Hangouts. The tool offers full integration with a wealth of other Google services, including YouTube, Google Docs, SlideShare and Google+ Games.
There's also Google Calendar, Gmail, Google Drive and Maps to consider, even if there's no swanky translator app waiting in the wings.
Docs users can rest assured that security is a priority, with users required to grant permission for Hangouts contacts to access files.
Neither tool yet natively supports whiteboarding (where users can annotate shared files) or similar features, and third-party apps that do offer it are quite limited in their capabilities.
PRICING
Skype
To access Skype's full suite of services, you need a Skype Premium subscription. The solution did cost $56 per user per year, but following the release of free group calling, Microsoft has temporarily withdrawn Premium from sale.
However, users can make mobile and landline calls and send texts on a pay as you go basis with Skype Credit. Otherwise, call rates depend on your country. British users can pay £1.55 per month for UK calls, or £3.59 per month for US calls.
Hangouts
Hangouts is free for Google+ users, but business users can access it as part of Google Apps for Business, at £32.50 per user per year. However, landline and mobile calls cost extra.
VERDICT
Skype remains a brilliant VoIP tool for doing what it has always done best: long-distance calls over the internet. Despite sporadically poor video quality, installation is easy and people can communicate via desktop, laptop, tablet or smartphone. Google Hangouts requires users to have a Google Plus account which, while free, is another layer of red tape for the occasional user.
While both offer impressive file-sharing abilities, Skype's free service is too limited to consider as a business tool. However, that could change if Skype Translator proves good enough for people to communicate with foreign business heads.
Otherwise, Microsoft has simply not done enough to integrate Skype with other products such as Yammer and Office 365.
In contrast, Hangouts comes ready made for integration with numerous Google apps, like Docs and Maps, not to mention more social services like YouTube.
This wide overall offering makes it ideal for business and personal use. Its group videoconferencing tool is also more advanced than Skype's, including use from mobile devices, making it more attractive for businesses.
Stay up to date with the latest news and analysis from the world of cloud computing with our twice-weekly newsletter
Thank you for signing up to Cloud Pro. You will receive a verification email shortly.
There was a problem. Please refresh the page and try again.