Four steps to successful Apple device management in your business
Apple devices are rising in popularity, so how can you deploy and manage them in your organisation?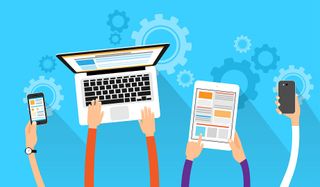 As the number of Apple devices used in business environments around the world increases, many organisations are looking closely at investing in Mac, iPad, iPhone and Apple TV devices. But this can put a heavy burden on IT departments that are tasked with managing this influx of new devices, particularly for those who have long-established Windows environments.
From initial deployment to the end-user experience, it's critical to understand, manage and support the entire lifecycle of the devices in your business environment. This ensures both the security and maximised potential of your Apple devices.
Deployment and provisioning
Before configuring them for end users, devices must be enrolled into management within a Mobile Device Management (MDM) solution. Most Apple devices can understand and apply settings such as remote wipe or password restrictions thanks to the built-in MDM framework, which has configuration profiles and management commands as its two core components.
These components communicate to the device via Apple's Push Notification Server (APNS), which is kept private to your organisation through obtaining a secure certificate from Apple. Apple's server then maintains a constant connection to devices, allowing them to receive commands, settings, configurations or apps you define.
The most common MDM solution is the Device Enrollment Program (DEP), which provides an out-of-the-box experience to employees with everything configured as soon as the device is turned on. Another option for businesses is user-initiated enrollment via URL, where users visit a specific URL to configure their device.
Configuration & app management
When it comes to configuring Apple devices, there's a wide range of options. Businesses can personalise and tailor individual devices or groups of devices based on the needs of their end users, with configuration profiles, advanced management workflows, smart targeting and scripts.
The rich library of apps available in Apple's App Store will be familiar to most people, but popular office software such as Microsoft Office and Adobe Creative Suite for Mac aren't available through that portal, so it's important to have a Mac client management tool that's able to deploy custom software.
It's also possible to use an app management solution to ensure that users have all the apps they need and are properly secured within your environment, such as Apple's Volume Purchase Program (VPP) for enterprises. Deploying apps via VPP gives extra security and configuration options, including managed apps which can be flagged as owned' by an organisation, and Managed Open In which controls the flow of data from one app to another.
Inventory
MDM solutions are capable of querying an Apple device to collect a large amount of inventory data, ensuring device information is always up to date. Data collected can include device type, OS version, storage capacity, managed status, IP address, security status and more.
This data can be used for a wide range of business needs, including ensuring all devices are secure and running the latest versions of any software. Some management solutions even allow collection of extra inventory about specific hardware and software add-ons, such as which printer drivers are installed.
Security
The security and privacy of devices and access to corporate resources should be a top priority for any organisation. To address these worries, Apple has a number of security features built right into macOS, iOS and tvOS. Coupled with an MDM solution, it's straightforward to ensure that your devices are not only secure, but your apps and networks are as well.
Unix is the foundation for Apple's operating systems, and all their OSs are built with security in mind and have unique security settings added, all of which can be managed with an MDM solution. Security commands include being able to lock, locate and recover lost or stolen iOS devices, and implementing a conditional access path for Mac devices in organisations primarily running a Windows environment.
Picture: Shutterstock
Get the ITPro. daily newsletter
Receive our latest news, industry updates, featured resources and more. Sign up today to receive our FREE report on AI cyber crime & security - newly updated for 2023.
Esther is a freelance media analyst, podcaster, and one-third of Media Voices. She has previously worked as a content marketing lead for Dennis Publishing and the Media Briefing. She writes frequently on topics such as subscriptions and tech developments for industry sites such as Digital Content Next and What's New in Publishing. She is co-founder of the Publisher Podcast Awards and Publisher Podcast Summit; the first conference and awards dedicated to celebrating and elevating publisher podcasts.
Get the ITPro. daily newsletter
Receive our latest news, industry updates, featured resources and more. Sign up today to receive our FREE report on AI cyber crime & security - newly updated for 2023.
Thank you for signing up to ITPro.. You will receive a verification email shortly.
There was a problem. Please refresh the page and try again.