How wearable tech is helping to save lives
The combination of smart devices, patient-facing apps, and cloud analytics is helping to slash hospital admissions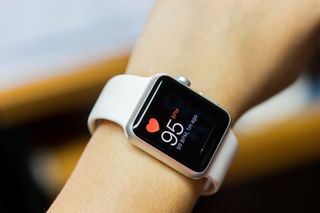 By 2021, 10% of people who use wearable technology will have changed their lifestyle to some extent, in turn lengthening their lifespan by an average of six months.
That's according to analyst firm Gartner, which highlighted the benefits of wearable technology in its recent report 'Predicts 2018: Personal Devices'.
"The World Health Organisation (WHO) states that lack of regular exercise increases risk of mortality by 20-30%, depending on gender, and some medical studies have shown the positive effect of wearables usage on more frequent exercising," says Annette Zimmermann, research vice president at Gartner.
"Even a basic wearable device could have a positive impact on the wearer's health we are seeing growing numbers of users actively changing their behaviour for the better with the adoption of a wearable device."
Dr Peter Bannister, executive chairman of the Institution of Engineering and Technology's (IET) healthcare network, believes that the gamification of health is helped push us to keep trying to beat our own, or others, 'scores'.
"For example, I often find myself choosing stairs over escalators when on the London Underground to make sure I beat my step count," he admits.
The growth of corporate wellness programmes
One of today's biggest trends to emerge from wearable tech is the emergence of corporate wellness programmes, driven largely by large organisations in the US.
"Employers engage with health insurance companies and wearable vendors like Fitbit to provide special programmes to employees," explains Zimmermann.
Not only do the schemes provide those employees who choose to participate with the chance to earn exclusive rewards and discounts, but they also work to bring down the yearly costs of healthcare insurance for the employer.
Dr Bannister notes, however, that the perks of such schemes are not always aligned with the goals of the company, particularly when they tend to favour rewards like free coffee or cinema tickets over cooking courses and gym memberships - things designed to change a person's lifestyle.
The wider global market for wearable medical devices is expected to reach $4.5 billion by 2020 (3.2bn), driven not only by an increasing need to manage chronic diseases of a growing population, but also by a rise in health awareness and innovation in health management devices.
With it we are seeing advancements in health technology, whether it be devices that monitor patients at home, more protective headphones, or smart watches that monitor heart rate, physical activity, food consumption, "and even the surrounding air," explains Bannister.
"Beyond fitness trackers, there have been attempts to combine clothing and haptic interfaces (by companies including Google and Levi). While these products do not seem ready for widespread adoption, the advances in technology are making it easier to manage health and help patients," he adds.
At a minimum, wearables are improving overall awareness of fitness and activity. Yet the technology has the potential to have a far greater importance for the diagnosing of ailments, particularly in the case of sleep apnoea and heart arrhythmia, conditions that would otherwise likely go undetected for some time.
Take Apple's US Heart Study initiative. The Apple Watch has the ability to detect heart arrhythmia, and if you're enrolled in the programme and this condition is detected you're directed to further information and guidance on where to get help.
"With technology like this you may be able to detect a condition early on," says Zimmermann. "The steps and measures taken after early detection are normally less complex and costly than when detected at a later stage."
Saving lives and money
Then there's the trial by myCareCentric Epilepsy consortium particularly pertinent as Public Health England (PHE) recently highlighted a 70% rise in the number of deaths of epilepsy patients between 2001 and 2014.
The consortium has been trialling a programme that, with support from Microsoft's Azure cloud platform, is able to provide epilepsy patients with wearable technology alongside enterprise software. The service is able to gather health data and alert medical staff to any complications, helping clinicians develop a detailed record of the patient's condition and seizure patterns.
The combination of smart wearables, patient-facing applications and enterprise communication technology, as well as the analytical power of the Azure environment, provides the consortium with the opportunity to scale and leverage machine learning capabilities and ultimately improve patient outcomes.
Since its launch in 2016, the project demonstrated an 80% drop in the time taken for medical professionals to respond to an individual, and 30% fewer admissions to hospital by patients.
By reducing the number of seizures suffered by patients, the consortium estimates that it could alongside potentially saving lives reduce the NHS' cost of treating and supporting epilepsy patients by as much as 250 million each year.
Can wearable tech really help us live longer?
Due to its ubiquitous presence, it's plausible that wearable technology can help extend lives. However, it's unclear whether the benefits of wearable tech, often requiring individuals to meet arbitrary targets, are optimal for the everyday user.
As Dr Bannister notes, many recent press reports have expressed "scepticism over the benefit of 10,000 steps versus three brisk walks a day".
And despite the incredible potential and successes to date, Maulik Majmudar MD, a cardiologist at Massachusetts General Hospital and the associate director of Mass General's Healthcare Transformation Lab, says there are still many questions about the benefits and worth of wearable tech.
"The challenge has been long-term sustainability and impact," says Majmudar. "Evidence suggests that there is a significant drop off in adherence to wearable tech after 12-16 weeks and there has been some evidence that there is no long-term impact on health benefits.
"Furthermore, there is an incredible selection bias among people using wearable tech and those that will truly benefit from it," he adds.
Majmudar agrees that wearable technologies have an important part to play in the future of healthcare, but that there's a need for regular studies to assess its effect on patient engagement, lifestyle behaviours, and quality of life.
"Newer wearable technologies will continue to have more sophisticated sensing capabilities, with the potential to monitor and diagnose conditions like never before," he says. "However, rigorous, high-quality clinical trials will need to be conducted to demonstrate the safety, accuracy, and effectiveness of these technologies prior to wide-scale clinical adoption.
"Consumers should demand some degree of validation of these devices prior to purchasing them," he warns.
Image: Shutterstock
Get the ITPro. daily newsletter
Receive our latest news, industry updates, featured resources and more. Sign up today to receive our FREE report on AI cyber crime & security - newly updated for 2023.
Keri Allan is a freelancer with 20 years of experience writing about technology and has written for publications including the Guardian, the Sunday Times, CIO, E&T and Arabian Computer News. She specialises in areas including the cloud, IoT, AI, machine learning and digital transformation.