Google offers 'Grab and Go' laptop programme to businesses
Replacement device scheme can help enterprises save on IT downtime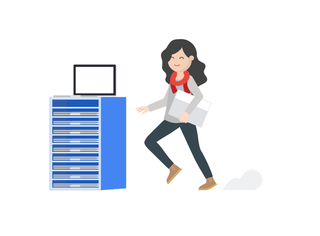 Google is extending its 'Grab and Go' service to businesses, allowing them to source replacement laptops 24 hours a day from a centralised rack.
With more and more businesses favouring laptops for employees and hot desking proving a popular method of working, there is an increased importance on portability, convenience, and workplace flexibility.
But Google's scheme targets those times that computers malfunction, aiming to help businesses avoid IT downtime and hampered productivity.
"When laptops remain at home, get left on the other side of the country during a business trip, or take a glass of water to the keyboard, a remedy is needed," said Russ White, Google's IT operations manager and author of a detailed white paper about the programme.
"The quicker that remedy can be actioned, the less time and money is left on the table and the quicker the employee can get back to making amazing things happen."
Google's answer is Grab and Go, which it has already deployed in its offices around the world. According to White, the company has had more than 30,000 people loan out 100,000 devices in the last year. Google estimates that its initial investment in deploying the programme paid for itself in recovered productivity time after only 50 days.
Essentially the initiative is a self-service rack of Google Chromebooks, fully charged, centrally located and available 24 hours a day. As soon as an employee's laptop has an issue, they can grab a new Chromebook from the rack and log in through their corporate account.
The Grab and Go programme uses Chrome Enterprise to provide simple manageability through a Google Admin Console. Employees can sign in to the Chromebook, where all of their company's systems and tools exist via a VM.
By using Chrome Enterprise, any work left on the faulty laptop is already stored in the cloud, allowing employees to jump back into projects immediately as if they never left their old device. All bookmarks, passwords, extensions, browsing histories, and personal settings are available on the new device thanks to Chrome Sync.
White also said that the programme is an ideal solution for other business cases where employees require temporary access to a device. For example, shift workers in professions where devices are shared, such as healthcare and call centres and those who work remotely and travel between office locations, their homes or even abroad.
It's not clear how Google will roll the service out to businesses yet, whether as something located in enterprises' offices or as hubs situated in locations where businesses express interest in the scheme. Firms can register their interest here.
Picture: Google
A daily dose of IT news, reviews, features and insights, straight to your inbox!
Bobby Hellard is IT Pro's reviews editor and has worked on Cloud Pro and Channel Pro since 2018.
In his time at IT Pro, Bobby has covered stories for all the major technology companies, such as Apple, Microsoft, Amazon and Facebook, and regularly attends industry-leading events such as AWS Re:Invent and Google Cloud Next.
Bobby mainly covers hardware reviews, but you will also recognise him as the face of many of our video reviews of laptops and smartphones.
He has been a journalist for ten years, originally covering sports, before moving into business technology with IT Pro. He has bylines in The Independent, Vice and The Business Briefing.
Contact him at bobby.hellard@futurenet.com or find him on Twitter: @bobbyhellard
A daily dose of IT news, reviews, features and insights, straight to your inbox!
Thank you for signing up to ITPro. You will receive a verification email shortly.
There was a problem. Please refresh the page and try again.