The benefits of hot desking
Many workers are now adopting this new approach, but what makes it so attractive?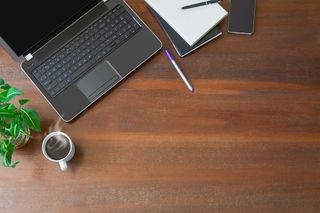 (Image credit: Shutterstock)
The idea of hot desking was being adopted by an increasing number of businesses before the onset of the COVID-19 pandemic. It involves employees turning up to the office and setting up wherever an available workstation was available on that given day.
Now that a return to the office is fully underway, the same flexible approach to physical attendance will likely remain, perhaps becoming even more prevalent. Teams are staggering their returns with varying levels of capacities in offices being filled which makes the idea of forgoing a regular desk space less likely, especially when a sizeable number of employees expressed a desire to stay remote according to a previous survey.
There are obvious financial benefits to hot desking, with research by Vodafone suggesting it could save UK businesses £34 billion a year.
What is hot desking?
Hot desking removes the traditional idea of workers turning up and sitting at the same desk, and in the same chair, every day. Hot desking environments see staff choosing where in the office they can perform their best at any given time, on any given day.
Sometimes, employees may feel like sitting in a brighter, heavily windowed room will best suit their productivity on one day, while sitting away from others in a less-populated area of the building may be better for really getting stuck into a piece of work on another day. It all comes down to flexibility and employee preference.
Hot desking is powered by businesses operating on a BYOD policy, as many modern businesses do nowadays. Typically, employees are handed a company-issued laptop and/or mobile phone so they can hook it up to any available monitor and keyboard/mouse set up in the office. It removes the tower PC and desk phone set-up of yesteryear.
Hot desking and the coronavirus pandemic
Hot desking can provide a number of benefits for an organisation and its workforce. However, before we delve into them, it's important to be aware that the practice may be at odds with local guidelines imposed by governments of countries and areas which are struggling with the COVID-19 pandemic.
Although many workers are now returning to the office, if only on a part-time, hybrid-model basis, social distancing measures should still be in place in order to prevent the spread of the virus. Unfortunately, frequently changing seats and desks, especially with those who don't display any COVID symptoms, might put other employees at risk. This is why companies that had previously relied on hot desking might want to temporarily assign permanent seating options, at least until the number of positive cases decreases.
In the UK, official guidance from the government, updated in mid-August 2021, states that "workstations should be assigned to an individual if possible". However, it also acknowledges that this might not always be a feasible solution, especially when using only every second or third desk in order to maintain space between employees.
This is why the guidance adds that, if the workstations "need to be shared, there should be ways to clean them between each user". A hot desking organisation needs to be able to identify who will be responsible for wiping down each workstation with sanitising products, as well as provide the equipment to be used for sanitation. On top of that, it should also provide "hand sanitiser in multiple accessible locations" as well as "regular reminders and signage to maintain hygiene standards".
What are the benefits of hot desking?
Decluttering
Everyone is familiar with how fast a desk can become a dumping ground. In the heat of working and meeting deadlines, it can be extremely easy to let used mugs, mountains of documents, or random belongings pile up in your workspace.
Thanks to hot desking, it means that workers need to be more conscious of the space they operate in as fellow colleagues will sit there the day after. This means that the desks in your office should start to look more tidy, ordered, and minimalist. Although this means that employees won't be able to decorate their desks in their own way, it ends up helping the office to be cleaner. Additionally, it can help your workers focus more on their work as the desk is easier to work in, with many people having heard of the phrase "a tidy desk equals a tidy mind" which will be true for hot desking.
Onboarding
During the pandemic, onboarding was hard to do physically as many people needed to work remotely. However, thanks to hot desking, these employees should find it easier to adjust to office life. Any employee who joined during lockdown will probably be familiar with the company's systems and services, most of which are essential for hot desking. When introduced to the office, it will boil down to meeting colleagues and finding a seat like everyone else.
Post-pandemic, however, this will also be simple as employees will be able to sit within a specific area but take any seat of their choice. They might have to sit near a superior or colleague as they get to grips with the organisation's systems, but this can potentially be done through the company's messaging service too.
Getting to know your peers
The traditional model of being located at one desk every day isn't necessarily attractive for all your employees. It can be challenging at times to interact with other workers in the building if they are shackled to the same spot every day.
However, thanks to hot desking, employees can get to know more of their co-workers on a day-to-day basis. Helping your workers deepen these relationships can have a huge impact on their confidence and development. Although this may be a side effect of hot desking, it is a positive outcome.
Owning your environment
Happiness is the key to productivity. If a workforce is happy, motivated and positive, it's likely to have a positive impact on their working day. But people have different needs in order to feel happy and although working outside of your most comfortable environment may be daunting, having the flexibility to move around and sit where you want is hugely empowering.
It also means you can choose which type of environment you want to work in and when. Some people may thrive on conversation and discussion, while others prefer quiet and calm. With hot desking, you can choose which environment suits you best to result in greater levels of productivity for you as an individual, which in turn benefits your organisation.
Modernising infrastructure
Although hot desking encourages employees to move around the business, their experience still needs to be the same regardless of where they work. To facilitate this, companies are moving the entirety of their internal business systems to the cloud, allowing employees to access everything they need remotely. HR, payroll, printing services, and even joining meetings and chatting with colleagues, can and should be available from anywhere in the building. Importantly, employees will no longer need to rely on that dodgy fourth-floor printer.
Reducing overheads
As traditional work environments typically created a specific spot for each employee to work in, those areas would go unused when that person was out of the office or off work that day. Hot desking allows businesses to significantly cut down on all that wasted space, as not every employee will need to be provided with a traditional desk every day. This not only cuts down on equipment costs but can allow companies to downsize their operations into a space that is more affordable, while still maintaining a productive workforce.
Giving employees autonomy
Hot desking is as much a cultural change as it is a physical one. As workers are able to change what their day-to-day environment looks like, it allows a great deal more flexibility when it comes to their social and home lives. Whether they're attending an event, or simply need to be back in time for the school run, employees are afforded greater choice when it comes to working remotely when they need to. With hot desking, people are no longer tethered to their desks.
Are there any downsides to hot desking?
While there are clearly a number of benefits to hot desking, it's important to be mindful of any downsides, too.
The biggest one is the fact that not everyone enjoys the flexibility of being able to sit in a different place every day. Some people like the comfort of knowing their surroundings and who they will be sitting next to and shaking this up can prove unsettling. It's important that organisations, and managers, in particular, are aware of this and able to have the necessary conversations with affected staff members so they feel supported and heard.
Isolation can be another side effect of hot desking. It tends to follow the first-come, first-serve rule of selecting a desk. That means, in practice, the early bird always catches the desk of their choice, while those held up by transport delays, in meetings - or just working a different shift pattern - miss out. It can be disheartening to commute some distance to an office only to find you have to sit in a different place, or on a different floor, to the rest of your team.
This aspect can mean that some employees just don't bother coming into the office as much, their attitude being that they may as well be anywhere if they can't physically sit with their co-workers and interact with them face to face. This can create an unhealthy level of absenteeism where employees who once felt motivated and part of a unit now feel cut off and disconnected with no sense of belonging.
The mental health impact of hot desking also needs to be carefully considered and managed by organisations. Indeed, a recent study of more than 1,000 office workers found that 80% of employees feel modern workplace seating models, such as hot desking, are not helpful to positive mental health and well-being.
"There are growing issues in the way businesses are currently managing and looking after their workforce causing an alarming need for companies to rectify this situation and enhance employee wellbeing," said Christopher Burke, CEO of Brickendon, the consultancy behind the research.
"Managing this can be a minefield, and in its current state hot desking is very much flawed, and worryingly affecting employees' mental wellbeing. It's an important issue requiring urgent attention."
More than two-thirds (69%) of workers also said they had anxiety about not knowing where they were going to sit on any given day, according to the study. Furthermore, far from realising the promise of increased productivity, some employees are actually being hindered by a move to hot desking. Some 84% of those surveyed by Brickendon said they spend, on average, five minutes a day searching for somewhere to sit, while 38% spend more than 15 minutes doing so.
Simon Constable, a contributor to Forbes is slightly more downbeat when it comes to whether an organisation should or shouldn't embrace hot desking, entitling a recent column How hot desking will kill your company.'
RELATED RESOURCE
Engaging the new digital workforce blueprint
Reimagine employee communications
"If you hate your company, its employees and the shareholders then go ahead and introduce the latest management fad: Hot desking," he wrote.
"It's a better way to destroy the firm than inviting Russian hackers to rob you blind. The bigger the company, the faster the damage will occur with hot desking."
Constable suggests that hot desking means companies don't value employees and that it's increasingly hard to find the people you need to speak to because you simply won't know where they are located on any given day.
While Constable agrees there are some exceptions to the above - such as small organisations with few employees - he argues the negatives far out way the positives when it comes to hot desking.
"If you see a public company introducing hot desks as a way to add flexibility or save money across the board, then be afraid for investors. Why? Because the profits quickly suffer in a dysfunctional company," he concluded.
Ultimately, every organisation is different and every employee is unique, too. As such, companies must tread very carefully when it comes to changing any working practice - whether it's to do with sitting, lunchtimes, office location or anything and everything in between.
It's also incredibly important to ensure all relevant stakeholders are involved in the discussion. This shouldn't just be limited to IT – indeed, HR, facilities and others should be brought on board.
Finally, it's critical that employees themselves are asked what they think – before, not after the fact. That way a great deal of the issues can be ironed out before they become big business barriers.
A daily dose of IT news, reviews, features and insights, straight to your inbox!
A daily dose of IT news, reviews, features and insights, straight to your inbox!
Thank you for signing up to ITPro. You will receive a verification email shortly.
There was a problem. Please refresh the page and try again.