Podcast transcript: The rise of automated contracts
Read the full transcript for this episode of the IT Pro Podcast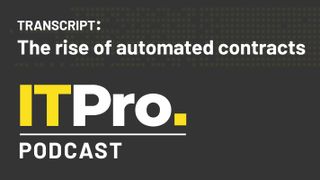 This automatically-generated transcript is taken from the IT Pro Podcast episode 'The rise of automated contracts'. We apologise for any errors.
Rory Bathgate
Hi, I'm Rory Bathgate. And you're listening to the IT Pro Podcast, where this week we're discussing digital contracting. As automation has been ramped up, companies have sought to improve manual tasks such as document handling using machine learning and AI. But when it comes to automation in the legal space, strategy is key. Contracts can be very complex and require human input, especially in stages such as negotiation — achieving the perfect blend of machine and employee oversight involves striking a careful balance. Rich Somerfield, CTO at Summize, to discuss the opportunities presented by automated workflows, and how companies can implement systems such as contract automation to improve efficiency and insight. Rich, thanks so much for being on the show.
Rich Somerfield
Thanks for having me.
Rory
So just to start off with, what are some of the current problems in the tech sector that Summize is seeking to address?
Rich
So Summize is a product that aims to make legal easy, so trying to understand what's in contracts, trying to help legal teams work with the rest of the business to understand what's in those contracts, and just overall processing those contracts. So we see our product is really like changing the game, in terms of how businesses work with the contracts and understand them. But yeah, overall, it's really just trying to make that whole process a lot smoother and a lot easier.
Rory
So in trying to speed up that process and trying to make that process smoother. What kind of qualities have you identified, that businesses are looking for, in IT contractors at the moment? And then vice versa, what kind of qualities are contractors looking for when they're forming contracts with businesses?
Rich
So I think it's quite interesting. So I've worked with contracts, never have actually been a contractor myself in the IT field, but I've worked quite closely with a number of different contractors, and for a range of different reasons as well. So some have been very specific projects with a very specific requirements and milestones, and others have been much more open-ended, kind of almost like as an ability to kind of increase your development team quite rapidly. But without kind of the fixed nature of a long term employee, so really kind of accelerated. I've worked on so many different projects. And those ones have seen both successes and challenges. But then really, in terms of the contractors themselves, it's critical to try and obviously find the right people, get them up to speed as quick as possible, and really deliver value. And like I say, I've seen successes and failures in that. And I think typically, it really revolves around a clear understanding, when you go into the process, about what the milestones are and what you want to achieve, whether that be a short term or a fixed event, make sure everyone understands on both sides what's expected, or whether it's a like I say, a longer term addition to a team to kind of accelerate other expertise or capacity. But then in those scenarios, given they are sometimes longer, longer ended, or, you know, kind of over a longer timeframe with with a less clear end date, I think again, it's really important that both sides understand what's happening and what's what's going on. What the end point is really.
Rory
So on a contractor side, being transparent, very clearly communicating what what a business can expect when they're entering a contract with you.
Rich
That's right, yeah, like I say, I've seen some of that have been very much more open ended, which is, you know, you've got a team, it needs more capacity for for many reasons, or it needs some expertise. And in some cases, they have been multi-year, in the end, they might have started out as kind of a couple of months that gets extended, keeps on getting extended, and then you kind of look around and it's they might as well, you know, have been a permanent employee for the time they've been with you. But, it's different. And obviously, it gives both sides at that thing, get their own benefits and cons as well. You know, from a contractor's perspective, they get the opportunity to work in an environment, a little bit of stability, but without the typical constraints of being a permanent. And then obviously from the business' side, you know, if things go really well, then you can look to different options moving forwards or if things don't go well the project closes down or whatever it would be, then obviously, you can, it's a little bit easier to kind of just agree an endpoint and kind of move on separately.
Rory
So when businesses implement solutions, such as Summize, they're really looking at, they could see benefits in the short term, but they're potentially looking at really great long term ROI.
Rich
For sure, I mean, in the IT sector hiring is quite challenging. There's been a massive increase into the supply side of things. Since I started 20 odd years ago, the supply has increased, but the demand has increased and exceeded that supply as well. So everyone's looking for the right people, and looking for the right skill set. And I think that really, everyone's quite different, which is quite interesting, the diversity that we're seeing start to expand. Traditionally, it might have been someone who went into IT in high school, and stayed in it and beyond. I think what we've seen over the last 10 years or so, is people actually transitioning from other careers and sectors. And I think what we've found is that diversity is actually incredibly useful, incredibly beneficial people perhaps being in the services sector, for example, and bringing that to the IT team. I think, yeah, that that kind of diversity has been incredible, really, overall.
Rory
Yeah, there's been a lot of discussions around roles such as CIOs, for example, really benefiting from people with maybe an HR background or humanities background. Do you see that contracts are kind of following in that suit? And there are there are greater discussions around maybe more flexible roles and pairing up companies maybe that traditionally, you wouldn't have paired up before?
Rich
Yeah, I think that's a really interesting idea. I really like that that thought process really like you say, you're looking at those combinations of different experiences, lead to kind of unexpected results, and unexpected and beneficial results. So if you've got people from different backgrounds, different ethnicities, different kind of previous careers, those combinations actually really generate a much better end result is what we've experienced. And I've seen from the different roles I've done, as well, I always kind of look to like innovation, there's some people look at innovation has being like magic, but really, it's just connecting the dots between different things that have never been connected before. So if you've got someone that's perhaps worked in, like you say, HR, or the service industry or anything like that, that then comes into an IT role, then they've got experiences, they can connect in to new experiences, or new understanding of IT. And it's those connections that if you've been in the pure IT role on your career, you're unlikely to see. But the connecting the dots is actually quite simple, if you've experienced it. We've got a strong ethos at surmise round DEI, so a dedicated DEI person, and really trying to make sure that we're doing the right things. Because it is easy to kind of stick to what you know, and recruit from people that you know, but you're really trying to make sure that you're looking outside of that. And bringing those different, different experiences in is incredibly beneficial, whether that be you know like I say, all the different backgrounds, or contractors, what it would be like you think of typical contract has probably done quite a few different contracts, seen a few different things experience have experienced quite a lot. They've they've got a wealth of experiences they can bring into a team as well. So like keeping those combinations there is incredibly valuable.
Rory
So taking into account a range of data points for any hiring process, any contract process that really evaluates people are more than just the traditional metrics.
Rich
Absolutely right. Yeah.
Rory
Fantastic. So, on the sort of more technical side of the solution itself, Summize is looking at using AI powered automation, and improving workflows to automate contracts, automate hiring. How would you go about combining AI powered automation and human workers to achieve a balance. Presumably, there must be situations in the creation of some contracts where things have to be, for example, escalated to a to a manager for oversight.
Rich
Absolutely right. So, we typically try to think a little bit more about augmented intelligence than pure artificial intelligence. I think artificial intelligence, is obviously a very broad, a broad area with many different areas of applicability, but really thinking more about augmented, that ties in quite nicely with the legal, with it being very much an advisory service. So you've got people who have trained seeing different things, understands the current business strategy and the appetite for risk, all that kind of stuff. And then really kind of tying that together with the direction that you're assessing contracts that coming in, or that you're drafting new contracts, we really see that as kind of a, very much a human powered activity, really, at the moment at least. But then bringing that in with where are the areas where computers can help make that process more efficient, more effective, perhaps more predictable in the areas that make sense? So coming into legal I, prior to joining Summize, I was had not been in the legal sector at all. And from a programmers perspective, you kind of look at the look at contracts, and you think "well obviously they're going to be consistent language, you know, everything's going to be like a, almost like a coding language that turns into a contract". And the reality is extremely, a long distance away from that. Contracts are very much bespoke. Everyone's kind of got slightly different favourite clauses and different words and approaches to tackling them. So I think what's interesting is how can you blend that variety with something that potentially is more predictable? There's been some initiatives in the industry for things like one NDA and one DPA, which is trying to kind of narrow down the ranges in contracts that perhaps don't need that ultimate flexibility in the drafting side of things. But, but in other cases, you know, you've got your most important supplier, and negotiating the contracts with them, you're highly unlikely just to kind of click a couple of buttons and let the machine generate the contract for you, you're going to want to be much more involved, understand, on both sides of things, and also build that personal relationship as well with the third party that as you go through that negotiation process, you both understand what the best result for you is. I've looked into negotiation practices in the past, there's some quite interesting podcasts out there. And they often talk about aim for the win-win, because almost certainly, whether you negotiate contract with that, that party again, or like a friend of a friend, you know, there's always kind of relationships. And if you get a reputation for kind of, even for win-lose negotiations, it's always going to come back and cause you challenges in the future. So yeah, the win-win's where you want to get to, typically you need relationships to be able to do that. And like I say then the computer software itself, just trying to support you and make that process a bit easier. And anything that is repeated, really take on the load of those ones. But keep the advisory nature for sure.
Rory
Right, so it's it's drawing on a kind of repertoire, that it builds up and understanding of, like you were saying, in-house clauses that are used more often while leaving leeway for, you know, leaving the door open to somebody to come in and create the more bespoke aspects of a contract.
Rich
Exactly right. I mean, one of the one of the capabilities we've built into Summize is to, like understand payment terms, for example, it's good example, payment terms. Now, obviously, if you're a supplier, you might want those payment terms to be going in a particular direction, you know, kind of payment terms want to be as short as possible. If you're a purchaser, you might want the payment terms to be slightly larger, obviously. So you've kind of got some kind of thing you're looking to, to optimise or to average out overall. If a contract comes in, and it's massively different than your average payment terms, that's something you probably want to know about. So, Summize software can do that, we can automatically tell you what the average payment terms are, how this relates to that one. And then obviously from from the human perspective, you're going to understand this particular contract with this particular third party, how important is it for us to get that one really tight on the payment terms? Or are we a bit happier to be kind of slightly more flexible? And that's really where that advisory part comes in. But as long as you have the data points to kind of guide you, then we see that as a real win.
Rory
So are you looking for the software to kind of learn over time? So you're building up examples for it? Are you looking to go for a more traditional route, of sort of setting out rules for the AI?
Rich
I think it's both. As with all these things, everything's a bit of a hybrid, isn't it? So you start with the rules to get a good baseline to get the data. But then obviously, over time, the learned behaviour element is incredibly helpful. We kind of typically think around things over three phases, really, when we talk about the augmentation. So, you start with the manual. So here's all the tools as a human, you're totally in control of everything. And then from that point onwards, then the next stage beyond that is like a suggested based approach. So "we've seen you do an X, we think Y would be the next best thing to do", or we think this is interesting to you, so really trying to help cut down the time it takes you to see the data point to understand what's going on. As you started to look at those suggestions, if the, if your use of those suggestions gets to a certain threshold, effectively what you're telling the system is that the suggestions are pretty good value. And then that's when you look to the automate. So everything we really do follows those three phases, really. So we'll start with the start with the repetitive manual thing, shift through suggested and then turn to automated. And we see that's a really nice, nice approach for tackling AI overall and integrating that into people's experiences, that you gain the trust, and then once you've — you know, really when when you look into any role via the if you've got an assistant or someone that's helping you do something or team of people, you'll typically follow the same process anyway, there'll be an education phase. Then you'll kind of monitor and then the trust builds up and you say, well, great, we're happy with all that goes and and then until something goes wrong, then we'll just keep going.
Rory
Right? Putting the AI on probation.
Rich
That's not it's not a bad way to think about it. Yeah.
Rory
So on that point of rules learned over time: some businesses, when they implement automation workflows, worry about leaving losing oversight of the process, over time, or pretty quickly. How do you manage this?
Rich
It's a really good point. And I think it's, I don't think there's a free lunch, when you're talking about this sort of stuff. So whether you're looking to automate something, or whether you're looking to do it yourself, there's always going to be some involvement in the process. So even in a fully automated system, you want to understand how well it's doing is it being effective. You know, you might have a fully automated manufacturing plant, but if everything that comes out, the other side has got defects in it, it's totally pointless, you've just wasted even more time. So I think keeping that regular quality control, staff check on how things are going, is it actually working is critical. So you just kind of change your involvement in the process. And that might, you know, may be the case that you can offload that monitoring capabilities. But it doesn't go you know, you don't go from having work to do to having zero work to do. It's always important to stay in the loop, even though obviously, the time involved in that, and perhaps the skills needed to do that oversight changes might free you up for more time. But yeah, if it's doing something on your behalf, I think I would always recommend that you keep an eye in to make sure it's doing it correctly.
Rory
Right. And then on the other side of that, I know that Summize, offers increased data insight into in contracts with a data system. What kind of data are clients typically looking to draw out of contracts in particular, and and how are they using those to improve their decision making going forward?
Rich
We say that businesses run on contracts. And I think when you start to think about it, you might might not think about it often. But when you start to think about it, it's absolutely true, everything a business does, is really signed into a contract. Whether it be for your employees, suppliers, or obligations, or whatever it be, it's in a contract, almost always in a contract somewhere, if not always in the contract. And then what we often see, is that people don't really have a clear view on what contracts they've been signed up for. Whether the contract sat in someone's inbox, which is quite often the case, that it gets signed, stays in the inbox, nobody ever knows about it apart from that individual, or whether partially centralised often in a slightly ad hoc way. So I think one of the key bits is like, can you get all the contracts into one place? If the business runs on contracts? Which obviously does, you kind of need to know what's in them, the first step of knowing what's in them is actually getting them gathered them all together, and have a process which keeps them all together. So it's one of the things that our product offers is the ability to kind of centralise your contracts. Then the next part there is to actually understand what's in them, and how that differs or aligns to your business risk appetite. So there's an element of that one. And then the other bit is simple things where they like, end dates on a contract, or maybe you've got to lease on your offices; when do you need to renew the lease? When when's the timeframe that you perhaps need to break the lease if you want to move? The cost implications of some of these things missing that date, is incredible. So one of the elements that we've got in our product is we automatically understand dates and their relation within the contract, whether it be a termination or renegotiation that whatever date, and then surfaced that into a central calendar, so even if it's even simple things like that one, giving visibility around kind of like the calendar for your contracts is incredible, but like I say it starts really around collecting them all together, understanding them, and then different parts of the business are interested in different pieces of information. Whether you're like, the C level might be interested more in the kind of holistic risk you have, and where strategic is whereas down to individual account execs are probably more interested in the specifics around renewals and delivery targets.
Rory
So on the product more specifically again, Summize offers integration with Word, with Teams, with Slack. Is that something that was based on customer demands? Or was that led by a specific concept of the system?
Rich
When the company started, it was really trying to help legal teams be more as effective and efficient with contracts, and legal needs, and I think what we what was pretty clear to us straight away is that a law department so in the existing business law department is often considered the cost centre. They don't generally generate money, but they really like obviously. but even though they're providing value to the business, they're not really like a revenue generator. So what what was clear is that any kind of budget constraints that they might have, for that team themselves, imposing a totally brand new system on the rest of the business, and getting the rest of businesses switched over can actually be quite challenging. And you look at businesses as well, they typically have services that they've integrated with, whether it be like CRMs, or whether it be your IoT side of things, or your document management, you've almost always implemented some kind of system. And you're unlikely to want to rip all those out and replace it with an all in one solution from your legal team, for example. So you're really kind of always trying to look to see how can you integrate that into the existing environment. And that's really something that's been critical to the way we've thought about the product, so integrated into office 365, or Microsoft 365, as it's now called, or whether it be into the the G Suite side of things, Slack, Teams, you know, these are the things that people are using today and continue to want to use, and obviously Microsoft Word as well, as is hugely used in the legal sector. So integrate what people are already doing, I think there's a couple of benefits there, the ease of adoption, obviously goes massively, massively improves this limited need for training. So that becomes a lot easier. And then obviously, working with the rest of the business as well, there's less of that pushback, because it's kind of where they already are. So one of the elements that we've got is the ability to interact with your legal team, we call it legal front door, whether it be for creating new contracts, or reviewing contracts. That capability is available Teams, Slack, or through the web application. So it's really easy to adopt. And then also, because they've adopted that piece of technology and something like Teams or Slack, for example, that chat experience is where we can start to preempt questions. So typically, and this always raises a bit of a laugh with any lawyers I talk to, but they'll typically get an email on a Friday at 5.30 with a Word document attached from somebody in the business that just says "FYI". What does that mean? When do you need? What do you need me to do? Do you need me to review it is an important client, you know, all that kind of stuff? The first questions you've got to ask are that information. Well, our software means we can preemptively ask that question before you even see it as a human. And I think when we come back to what we talked about earlier about augmented intelligence, that simple step of pre collecting that information is a huge value add. So, when the legal when the person in the legal team receives the request, they know who it's for how important it is, and with it being 5.30, can they go for the beer? Or do they need to kind of stay around and just and just do the work? Because that is what it is. So I think like I said, integration into existing tools. And practice is absolutely critical in for being a success. And it's really important to us as well, that our customers are successful, obviously, a long term partnership, but really kind of starts as quickly as possible. How can we get you to the point where you now see this project as a success? We'll talk about kind of expanding beyond that in the future. But yes, always around that first point where you're actually seeing the value. And I think the other bit to touch on as well is obviously we've all been through COVID and experience, experiences around that. And Teams and Slack, the virtual office. Before that it was used in some places, but probably a little bit kind of sporadically. More often people were used to kind of the in person meetings, I think what we saw very quickly was those virtual offices being adopted. And you only have to look at the Microsoft Teams, the usage went from double digit numbers in the millions, to many, many hundreds in a very, very short space of time. And I think even though we're you know, people are starting to move back into the office, bit more of a hybrid style approach thing. It's really, really centred around those virtual offices, still, people are still using Teams, because almost certainly somebody on your team is going to be working from from home on particular day. And I think really, that's where business happens now, in those environments, Teams and Slack. So it's critically important that the we're there in that mix, and we can be part of that story as well.
Rory
Right. So yeah, you'd say that if you're not coming into implementing automation with a specific strategy in mind for how employees can access that and whether it's recognisable or not, then you're almost at risk of immediate tool sprawl. I know that that's something that employees run into increasingly, with a range of different digital tools that they're being asked to use, it makes more sense to have them in in a single place.
Rich
Absolutely. I think I mean it's a great question really, because it talks a little bit to what are you trying to get out? You're buying some software, or product or whatever it is, what is the what's the win scenario for that piece of software? I think it's always an important thing is trying to identify, looking at, you know, six months or whatever, looking back, what is it that we get to this point of being successful? So, some products are more tool-based, like you say, and they are excellent at what they do. But they're probably confined and constrained in the kinds of impact they're going to have into the wider business. So the legal team, I'm sure, could make use of many of these tools, but they're never really going to go beyond the legal team in terms of effectiveness, really. So we think a lot more around kind of like business optimization, how can we help the business work better with contracts. Well, we're talking about the business, clearly, that's all departments, and every area. And in those cases, like you say the one off tools are probably not going to achieve what you want. And it's much more around the entire business process, making that successful in as easy a way as possible. And I think a lot of that really, many experiences I've had, and people I spoke to had as well. It's really that implementation phase where you have those business transformations, obviously, but it's the implementation phase where the business transformation really stalls. And so that's one of the real areas of focus for us, that we want to identify, like I say, the first milestone where you started to get successful, and then how it helped you through those. But that first point, if you can get that first point of being successful, the rest really follow a lot more naturally. Yeah, absolutely.
Rory
Something on once again, the more technical level, but that I noticed that Summize is advertised as offering the ability to scan documents for legal risks. How is that achieved? Is that using the same kind of repertoire of clauses that the AI has become used to? Is it identifying problem areas in that way?
Rich
I think exactly right, exactly what you've said. So we've got the ability to analyse contracts for clauses, whether they be PDFs or or Word documents, whether it's a scan, effectively a photo of a contract, and doesn't really matter to us. So we kind of ingest those, when we ingest them, we start to analyse them for the different clauses. The often what you'll see in a contract, as well as even though there might be a primary paragraph related to a clause, there's probably other sections all the way through the documents that have additional additional information or constraints around that clause. And I think typically, when you're looking at contracts, you might find the first bits or finding the subsequent bits is a lot harder from a human perspective. So one of the things we've got is to try to tease out those bits. So we'll tell you the highlights, the one we think is the most important, but then also, it's really easy to navigate through the other bits as well, that you may or may not have found. So I think that's kind of the ability, to kind of analyse it. And obviously, when we're starting to look at other entities, like dates, places, times, etc. What are they in relation to? Is it in relation to, like, termination or payments or whatever. So we can understand that information as well. Coupled with our ability to run the analytics across your other contracts, whether they're similar contracts or different contracts, you can start to kind of build that cross-contract picture now. How does this contract compare to others of a similar type? Is it better or worse? Or would it be? And what party is it with? Is that party something we genuinely have different terms with? I think all that kind of stuff from an analysis perspective, which which learns and adapts from usage. And then the other bit that actually ties in quite nicely to this as well is the concept of a playbook. So in case you didn't know, a playbook is typically you have a Word document, or maybe an Excel file of "given this particular scenario, this is what we recommend you do. If they disagree to X, Y, Z and it's come through three negotiations, then please escalate to somebody else on the team". So that kind of internal guidance, on how to deal with certain things. Again, typically, it's in a Word document that people print out, they're probably not always got the most up to date version, they probably always don't refer to it. So one of the critical things rules is for example, in Microsoft Word, which is where most most legal work typically tends to happen, we surface that playbook actually in Word itself. And we can be context aware as well, what you're looking at, so we can tell you about what the favourable positions are for or who to escalate to when you're in the contract, when you're reviewing it, and the time saved from that is incredible. Because that play book is also centralised, it means that any modifications to your positions over time are automatically reflected on everyone's system that's using using Summize. So there's real benefits to be had there as well.
Rory
Fantastic. So that that rating system as well, just to circle back to that, that that would be in house per customer. So what constitutes maybe a risky contract or a good contract for one customer, for another, it's a different set of a different metric that it's measuring it by?
Rich
Exactly. Yeah, exactly. Right. And I think it's not just different per customer, it's almost different per party per customer as well. So with inside one customer, they may have different parties, like I said that you know, that their most important supplier versus maybe some of the not most important ones, then you're going to be looking those and analysing those in a slightly different way as well. So that's all alternately possible.
Rory
Right, fantastic. And then just broadly, on the kind of outlook for automation in the industry: do you think that going forward, the old idea of kind of carving out the back office and just plugging in automation is maybe not reflective of what's actually going to happen? And that what will happen will be more of this integration between automation providing context, but work is still very much being in control?
Rich
I mean, for sure, let's say we talked about augmented intelligence, and I think it's much better framing, artificial intelligence feels a little bit scary, a little bit unknown. I think when you talk about it as augmented, it becomes a lot clearer about what you're trying to achieve. So look for the repetitive stuff, get the computers to do that. And then the advisory elements really keep that with the humans. But what benefitted or accelerated through data, to really try to combine those bits together, and when you look at some of the advancements we've seen recently in like text to image, some of these, the image generation stuff, it's phenomenal what AI can do. But it's, I don't know, if you've used any of these image generator things it's very, very much an iterative process. You put some keywords in, get some interesting images out, which probably aren't what you're after, three or four, ten, fifteen tries later and it's, actually something from that section is quite interesting. And that's a really good example for where the way we see things is you still got the humans involved in the loop. They're kind of managing and coordinating work that's done by a computer, you perhaps don't always understand how the computers got to a particular point. But if it's good data, then it's good data, whether it came from a computer or whether it came from a human.
Rory
Thanks so much for being on the show. As always, You can find links to all of the topics we've spoken about today in the show notes and even more on our website at itpro.co.uk. You can also follow us on social media, as well as subscribe to our daily newsletter. Don't forget to subscribe to the IT Pro Podcast wherever you find podcasts. And if you're enjoying the show, leave us a rating and a review. We'll be back next week with more insight from the world of IT but until then, goodbye.
Get the ITPro. daily newsletter
Receive our latest news, industry updates, featured resources and more. Sign up today to receive our FREE report on AI cyber crime & security - newly updated for 2023.
ITPro is a global business technology website providing the latest news, analysis, and business insight for IT decision-makers. Whether it's cyber security, cloud computing, IT infrastructure, or business strategy, we aim to equip leaders with the data they need to make informed IT investments.
For regular updates delivered to your inbox and social feeds, be sure to sign up to our daily newsletter and follow on us LinkedIn and Twitter.