How to reduce the impact of the skills gap in your business
Demand for IT skills is only expected to grow. Here's how you can anticipate and deal with the skills shortage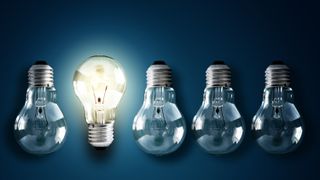 (Image credit: Shutterstock)
The rapid pace of technological development is resulting in a widening skills gap, especially in IT, where the complexity of reskilling workers for new technology can be overwhelming.
This is exacerbated by the short shelf life of IT skills today. The skills IT professionals acquired just 10 years ago are now largely obsolete, and given the rapid evolution of the IT sector, the length of time those skills are relevant for is only getting shorter.
With demand for IT skills only expected to grow over the next five years, there is a growing worldwide gap, with as many as 1.8 million IT jobs predicted to be unfilled by 2022, according to IDC.
The outlook may not look great for businesses, but there are small steps that can be taken to reduce the impact of the skills gap in your organisation, and give a competitive edge. Here are some short and long-term measures that can be taken.
Identify the level of the issue in your business
An analysis of the skills you currently have and the skills you will need over the next few years is a good place to start with addressing the skills gap in your business. This type of mini-audit will help with putting together a long term strategic plan.
A skills gap analysis can be done on two levels. Firstly, you can measure the skills of individual employees and compare this to the skills the job requires. This can be beneficial in identifying areas of training that individuals may need, which can help fill gaps in the short term.
Individual skills assessments can be incorporated into performance reviews, which will in turn help employees feel supported in developing the skills they need for their career path.
The second level is a company-wide analysis. This should start with the company's long-term goals, areas of business they are looking to develop, and which skills are needed to fulfil that.
Once those skills are identified, there are two choices when it comes to planning to fill any upcoming gaps: training or hiring. Both options have pros and cons, and should be carefully balanced against the long-term plans of the company.
Invest in existing talent
Hiring isn't always the best way to fill a skills gap, especially in IT where individuals with the right skills are in high demand.
Investing in talent you already have in the business won't help address short-term or urgent demands for skills, but is advantageous for longer-term demands.
Explore what training and certifications are available for existing employees, and how these will support business needs. Certifications won't necessarily solve the skills gap, but especially in IT, certifications can be a valuable validation of specific skill sets.
Encouraging staff to go on relevant conferences, workshops and webinars is another good way of getting them to build their knowledge, skills and confidence in certain areas. 52% of respondents to a survey from Kaseya said that conferences and workshops are a top type of training valued by IT staff.
Explore options with automation
Automation sometimes gets a bad name for causing job losses, but if used effectively, automation can be a good way to close the skills gap and free up resources.
A study from McKinsey estimates that up to 45% of work activities can be automated using technologies that already exist. Automating routine workloads frees up staff to focus on tasks that require their expertise, and gives them the scope to learn new skills.
However, finding people with the right skills to implement automation may ironically be another challenge. According to a report from CompTIA, the skills shortage is most acute in emerging technologies like automation and AI, as well as application integration, the cloud, digital transformation and cyber security.
External partners and technologies may be the best way of filling any short-term gaps for automation, as identifying and automating processes will be of long-term benefit. There are many IT management and security tools which automate things like patch management so that all systems are kept up-to-date against software vulnerabilities.
The skills gap isn't something that can be closed overnight, but being aware of what skills your business will need and identifying small steps that can take you towards that goal will help future-proof your organisation against the impact of skills shortages.
Get the ITPro. daily newsletter
Receive our latest news, industry updates, featured resources and more. Sign up today to receive our FREE report on AI cyber crime & security - newly updated for 2023.
Esther is a freelance media analyst, podcaster, and one-third of Media Voices. She has previously worked as a content marketing lead for Dennis Publishing and the Media Briefing. She writes frequently on topics such as subscriptions and tech developments for industry sites such as Digital Content Next and What's New in Publishing. She is co-founder of the Publisher Podcast Awards and Publisher Podcast Summit; the first conference and awards dedicated to celebrating and elevating publisher podcasts.