Best business quotes for every situation
Inspire success, build your business and motivate your team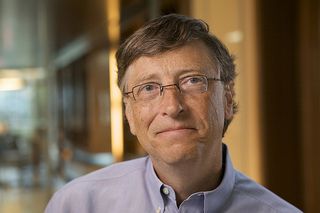 There comes a time when everyone needs just a little inspiration -- just a little nudge to get them through the day. Maybe it's an inspirational video or speech. To some, though, the right quote from the right person is enough to give them the motivation they need to get things done.
Fortunately, many leaders of some of the largest corporations in the world have no shortage of quotes they've doled out over the years. Below, you'll find a collection of some of the most inspirational quotes from leaders in all corners of the corporate world.
Inspirational quotes from top tech CEOs
Tech CEOs' stories in themselves are often inspirational, like Bill Gates' start as a computer programmer or Steve Jobs and company launching Apple from his parents' Los Altos, California garage. But these CEOS also have some epic quotes that are sure to get you motivated.
Larry Page, Former CEO of Google
"If you're changing the world, you're working on important things. You're excited to get up in the morning."
Steve Ballmer, former CEO of Microsoft
"The number one benefit of information technology is that it empowers people to do what they want to do. It lets people be creative. It lets people be productive. It lets people learn things they didn't think they could learn before, and so in a sense, it is all about potential."
Marissa Mayer, CEO of Yahoo
"I always did something I was a little not ready to do. I think that's how you grow. When there's that moment of 'Wow, I'm not really sure I can do this,' and you push through those moments, that's when you have a breakthrough."
Satya Nadella, CEO of Microsoft
"Our industry does not respect tradition - it only respects innovation."
Best quotes about building a business
Do you remember the moment you decided to make the leap and start your own business? That moment was likely a pivotal one. It's in those moments when you can feel satisfied in what you do and truly find the success that you seek.
Tony Hsieh, CEO of Zappos
"Chase the vision, not the money; the money will end up following you."
Steve Jobs, co-founder of Apple
"Your work is going to fill a large part of your life, and the only way to be truly satisfied is to do what you believe is great work. And the only way to do great work is to love what you do."
Jeremy Stoppelman, CEO of Yelp
"You have to be very nimble and very open-minded. Your success is going to be very dependent on how you adapt."
Seth Godin, founder of Squidoo
"The only thing worse than starting something and failing is not starting something."
Top business quotes to inspire success
You start a business in hopes of being successful. If success isn't the goal, then what's the point? Success is what should drive you.
John Chambers, former CEO of Cisco Systems
"If you don't innovate fast, disrupt your industry, disrupt yourself, you'll be left behind."
Jeff Bezos, CEO of Amazon
"I knew that if I failed, I wouldn't regret that. But I knew the one thing I might regret is not trying."
Nelson Mandela, former president of South Africa
"There is no passion to be found playing small - in settling for a life that is less than the one you are capable of living."
Bill Bradley, former democratic senator from New Jersey
"Ambition is the path to success. Persistence is the vehicle you arrive in."
Quotes to inspire your next big idea
Creativity gets you ahead in business. Maybe you feel stuck when trying to come up with your next big idea, but this feeling is only natural and happens to the best of us. Consider taking a moment to breathe and connect with those around you, or you take into account the words of those below.
Thomas Edison, American inventor
"The value of an idea lies in the using of it."
Robert Allen Iger, Chairman of Disney
"You can't allow tradition to get in the way of innovation. There's a need to respect the past, but it's a mistake to revere your past."
Brené Brown, professor and writer
"There is no innovation and creativity without failure. Period."
Margaret J. Wheatley, Mmagement consultant
"Innovation is fostered by information gathered from new connections; from insights gained by journeys into other disciplines or places; from active, collegial networks and fluid, open boundaries. Innovation arises from ongoing circles of exchange, where information is not just accumulated or stored, but created. Knowledge is generated anew from connections that weren't there before."
Inspiring business quotes about leadership
Not everyone is a natural-born leader. Being a great leader takes time, effort and an investment in yourself and the people around you. A great leader can inspire those around them, motivate them to learn more and be successful. Of course, that's not all being a great leader requires.
John Quincy Adams, sixth president of the United States
"If your actions inspire others to dream more, learn more, do more and become more, you are a leader."
Jim Rohn, motivational speaker
"The challenge of leadership is to be strong but not rude; be kind, but not weak; be bold, but not a bully; be humble, but not timid; be proud, but not arrogant; have humor but without folly."
Peter F. Drucker, management consultant
"Leadership is not magnetic personality, that can just as well be a glib tongue. It is not 'making friends and influencing people,' that is flattery. Leadership is lifting a person's vision to higher sights, the raising of a person's performance to a higher standard, the building of a personality beyond its normal limitations."
Sam Walton, founder of Walmart
"Outstanding leaders go out of their way to boost the self-esteem of their personnel. If people believe in themselves, it's amazing what they can accomplish."
Motivate your team with these business quotes
The age-old sentiment is it takes a village. When it comes to building a successful business, that sentiment rings very true.
Though many entrepreneurs and budding business owners prefer to go solo for the first few months, if not years, there's nothing quite like being surrounded by a team of like-minded individuals. Naturally, keeping those individuals motivated can contribute to your success.
Henry Ford, founder of Ford Motor Company
"Coming together is a beginning. Keeping together is progress. Working together is success."
Ken Blanchard, management consultant
"None of us is as smart as all of us."
Andrew Carnegie, American industrialist
"Teamwork is the ability to work together toward a common vision, the ability to direct individual accomplishments toward organizational objectives. It is the fuel that allows common people to attain uncommon results."
Steve Jobs, co-founder of Apple
"Great things in business are never done by one person; they're done by a team of people."
Business quotes to get you through tough times
When the going gets tough, you must keep going. It's how you handle yourself in those tough times that helps determine your long-term success.
Mark Zuckerberg, co-founder of Facebook
"The biggest risk is not taking any risk… In a world that's changing really quickly, the only strategy that is guaranteed to fail is not taking risks."
Bill Gates, co-founder of Microsoft
"It's fine to celebrate success but it is more important to heed the lessons of failure."
Arianna Huffington, co-founder of The Huffington Post
"We need to accept that we won't always make the right decisions, that we'll screw up royally sometimes – understanding that failure is not the opposite of success, it's part of success."
Ben Horowitz, co-founder of Andreessen Horowitz
"Whenever I meet a successful CEO, I ask them how they did it. Mediocre CEOs point to their brilliant strategic moves or their intuitive business sense or a variety of other self-congratulatory explanations. The great CEOs tend to be remarkably consistent in their answers: They all say, 'I didn't quit.'"
Get the ITPro. daily newsletter
Receive our latest news, industry updates, featured resources and more. Sign up today to receive our FREE report on AI cyber crime & security - newly updated for 2023.