Best music production and recording software
Making music using the cloud has never been easier, finding out the best tools is a little harder...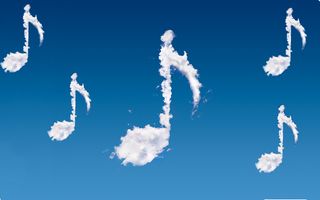 When it comes to music production and recording software, there has never been a better time to look at what cloud-based services are out there to help you make tracks, music effects and collaborate with others on that magnum opus.
The best music production and recording software tools (also known as digital audio workstation or DAW) are the ones you feel most comfortable using. Some can be basic for the beginner while others are often used in a professional studio environment.
We look at the software you should use today to make that next chart topper.
Audiotool
URL: www.audiotool.com
This cloud-based music production tool allows users to have production studio within their browsers.
Virtual devices can be added to the app's desktop and can be dragged around and connected to other devices via virtual cables to mirror a hardware studio setup. It uses flash, so won't work on a tablet.
Device settings can be saved as a preset and shared with other users of the site. There are also over 380,000 samples to choose from and resulting tracks can be saved in the cloud and again can be shared among users.
Ujam
URL: www.ujam.com
Ujam bills itself as a cloud-based production tool that lets you make music even if you don't have musical or technical knowledge.
You can start a session by singing into your computer's microphone and the service will analyse this and create a matching playback. You can also upload a vocal track and Ujam will create a backing track.
The service claims it uses real instruments recorded by professional musicians. We are guessing that these are samples that the service can use to create new pieces. It has a lot of different musical genres to choose from.
Again, it uses Flash, so this can only be used on a desktop or laptop computer.
Indaba Music
URL: www.indabamusic.com
Indabamusic is a strange hybrid; part cloud-based music production tool and part social network (a bit like MySpace but a zillion times better). Bands can put music out via the website and in some cases, other users can remix these songs to their tastes.
Users of the site can also collaborate with other musicians via sessions where tracks can be uploaded and downloaded. Basic editing and mixing can be done via the Indaba online console.
The session owner can get others to collaborate with them by searching through user profiles.
Tracks can then be hosted on the site for others to listen to and make comments about.
Soundation
URL: www.soundation.com
This is more of an online loop editor than a full-blown recording studio. However, maybe that's just the point. The sequencer allows the user to put together a few loops which you can then download as a Wave file for use elsewhere.
It comes with a lot of free samples to start to string together the bones of a song but you can also pay up and buy Premium samples for a few pennies more.
The interface is simple enough to use but has powerful enough features to get its simple job done very well.
The free account is quite versatile but for £65 per year you can get 5GB of storage and access to the premium library of samples. This also allows you for use your own microphone to create new tracks.
Looplabs
URL: www.looplabs.com
This online music mixing software that's great for beginners because of its ease of use.
It offers a wide range of samples to choose from (around 25,00 royalty-free ones) and all the mixing is done through a web browser.
You can record your own samples as well as add MP3 samples. It allows mixing and crossfading and there are stereo effect processing features that will allow you to combine several small audio clips into a track.
The service can also help in making ringtones for your smartphone. It offers social network integration so you can share your output with all your friends.
Splice
URL: www.splice.com
Splice is a cloud-based tool to help musicians save, share, collaborate, and remix music by working alongside professional music production tools.
Like Dropbox, you can store tracks in the cloud and it keeps track of revisions to those tracks. Users can see and examine different parts of a track, whatever that might be (MIDI, sample, etc.)
It downloads as a client (mush like Dropbox) and connects with a digital audio workstation, constantly backing up what you are working on. This then allows you to collaborate with another musician with a similar setup without the constant toing and froing of emailing tracks and samples to each other.
It also sports an online collaboration tool called DNA player so that multiple musicians can annotate tracks and leave notes for each other. Another tool within the website is a drum sequencer called Beatmaker. This allows users to quickly test sounds and create a drum loop you can use elsewhere.
Finished songs can also be showcase via the website for others to listen to and comment on.
TwistedWave
URL: twistedwave.com
The browser-based tool is a full-featured audio editor that allows you to edit audio files from your computer or your Google Drive, apply effects and save in one of many supported file formats, and export the file back to your disk, Google Drive or SoundCloud.
This is a good tool for novice audio editors to play around with. Users can cut, copy, split, fade in and fade out of audio. The software, however, doesn't appear to have audio restoration tools and it doesn't allow recording from more than one audio source at a time.
Stay up to date with the latest news and analysis from the world of cloud computing with our twice-weekly newsletter
Rene Millman is a freelance writer and broadcaster who covers cybersecurity, AI, IoT, and the cloud. He also works as a contributing analyst at GigaOm and has previously worked as an analyst for Gartner covering the infrastructure market. He has made numerous television appearances to give his views and expertise on technology trends and companies that affect and shape our lives. You can follow Rene Millman on Twitter.
Thank you for signing up to Cloud Pro. You will receive a verification email shortly.
There was a problem. Please refresh the page and try again.