How IBM's app helped a blind ultra-marathon runner cross the Namib desert
Armed with only a smartphone, blind racer Simon Wheatcroft ran 100 miles across a desert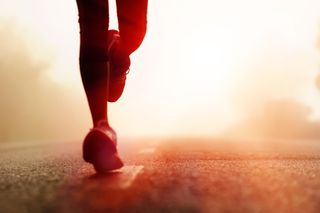 Running a marathon is a colossal test of endurance for trained athletes. So imagine running four of them in a row without being able to see.
That's what blind ultra-marathon runner Simon Wheatcroft recently achieved, with the help of IBM's Platform-as-a-Service cloud, Bluemix Garage, when he took on the unforgiving conditions of the Namib desert for a 150-mile challenge.
Preparing for this test of endurance, Wheatcroft, who has been blind since the age of 17, worked with IBM's EMEA Bluemix team to work out how he could stay on track.
Bluemix Garage EMEA head Roger Williams and his team had just eight weeks to design, test and refine a tool that would allow the blind runner to maintain his course, while communicating to him when, and how, he needed to adjust direction.
"That aggressive timescale really plays to what the Bluemix Garage can do," Wheatcroft tells Cloud Pro. "I came in to see Roger, and we went through the design process. It was two weeks till I had a working prototype, and then it was a collaborative process of me feeding back, and then Roger's team making the changes, and improving it."
During the early stages of the design process, wearables, such as the Apple Watch or a Fitbit, were considered. However, Wheatcroft says that those platforms did not suit him as a blind person. "We had to decide on a platform that had fantastic accessibility, and build on top of that," he says.
The design Wheatcroft and Williams settled on was a smartphone app that monitored satellite and external GPS to beep an alert to Wheatcroft when he had deviated from the set course. A lower tone would sound if he ran too far left, and a higher tone for too far right. The further off course Wheatcroft moved, the more rapidly the beeps would sound, alerting him that he was moving away from the course, and allowing him to adjust his route.
"We don't go in with preconceived ideas of what the solution could be," Williams says. "We use our design thinking approach, our methodologies, to understand if our ideation [is on the right track]. That's how innovation happens: it's about pushing the boundaries."
Williams explains that testing was central to the project, and something his team worked on continuously for the eight-week development cycle.
"My team were consistently deploying code, then they would go outside and test it, plotting their own sample data and coordinates around the office building here.
"So, when we did hand it over to Simon, we were pretty confident we wouldn't lose him in the field somewhere."
Located in Moorgate, London, IBM Bluemix Garage is composed of a small, multi-disciplinary team of engineers, designers and product managers. The IBM team uses Bluemix cloud and agile methods to deliver its projects.
"In terms of using the Bluemix platform, the great thing is you don't have to provision any hardware," says Williams. "Typically for enterprises and businesses that don't leverage the power of the cloud, they've got to procure their hardware, build it and configure it, before they can actually start developing.
"In Simon's case, from day two we started developing the app. Typically, we start developing from day three, because our design thinking workshop typically takes two days. But because we had Simon, our user, in the garage for the entire day, throwing out his thoughts on some of the challenges he'd have and what the solution could look like, from day two we started to develop code on the Bluemix platform, and had things that were able to be tested."
Before heading to the desert for the challenge, Wheatcroft did a trial run with the app at the Boston marathon. That experience enabled the Bluemix team to make a few quick changes ahead of the Namib desert challenge.
On race day itself, a last-minute change to the course, due to high tide, forced Wheatcroft away from the app's preloaded route.
"But because we'd made it so the frequency increased the further away [I was] from the desired bearing, all I did was match the frequency of the beeps and I knew I was on track," he explains.
Wheatcroft was able to navigate 100 miles of the 150-mile marathon before the extreme heat forced him to stop racing. Still, the app helped him complete those two-thirds of the distance independently, only accompanied by his friend and ghost runner Neil Bacon, who was on hand to check for injuries and as an extra precaution.
"There was a really beautiful moment on day one, in between checkpoints two and three," says Wheatcroft. "I was just running down this long, open bit with the app helping me navigate: I was sweeping left and then cutting right.
"It was at that point that I realised this is the first time I've ever had the chance to do this. In the past, I would run on memory, I would run on a route I had practiced for years. Whereas, now, there's an opportunity for me to run independently. Every step was brand-new."
Williams tells Cloud Pro that he and his team will continue work with Wheatcroft on new ideas, and ways the path-finding app could be adapted.
For Wheatcroft, the experience means he feels able to try out new challenges at much shorter notice.
"The fact that were able to turn [the app] round so fast gives me confidence that, if there is another challenge in future, it isn't something I've got to plan two or three years ahead," he says. "It's something I can present to the garage at relatively short notice, and produce something that gives me the freedom to savour new and interesting things – sometimes it's boring if you have to plan too much."
Stay up to date with the latest news and analysis from the world of cloud computing with our twice-weekly newsletter
Thank you for signing up to Cloud Pro. You will receive a verification email shortly.
There was a problem. Please refresh the page and try again.