Citrix unveils Workspace Service for context-based access management
Apps and data are delivered to users in a location and device-appropriate manner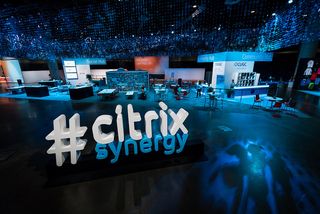 Citrix has unveiled Workspace Service, a new cloud-based offering that provides users with a single place to access all their Citrix services.
Introducing the product at the company's annual Synergy conference in Orlando, Citrix CEO Kirill Tatarinov said: "For people at work, the most important thing is the unified experience enabling them to access their workspaces.
"Today, we're announcing Citrix Workspace Service. Citrix Workspace Service that is available from Citrix cloud, Citrix Workspace Service that enables people to consistently connect to every app -- cloud app, on-prem app -- all the data all the files all the content all the workflow."
The company demoed the product twice on stage – once in each keynote – showing off how it gives users access to apps, data and files based on various contextual information.
For example, using location services, Workspace Services could determine that a user who is a doctor is in a clinic room in the hospital where they work using a desktop computer. In this context, the user would have full access to all the data and apps they are authorised to use and access.
If that user then goes out and accesses Workspace Services from a smartphone on public Wi-Fi, what they could access would be restricted based on both the device – which can't run the same rich set of apps the desktop computer can – and the fact the user is on in unsecure network – which could be open to various types of hacking attack.
If the name and usecase sound rather familiar, though, you're not imagining things.
Tatarinov's predecessor, Mark Templeton, showed off a concept then called Citrix Workspace Services at Citrix Synergy 2014.
Very clearly a prototype, it nevertheless has many features in common with the newly-announced Citrix Workspace Service, including the ability to host the apps wherever the business wants to, and acting as a single location for users to do everything, no matter where they were. What was missing is some of the more complex ideas that have been enabled by IoT technology and also the idea of proper work being done from a smartphone.
Apparently three years in the making, Citrix Workspace Service will be available later this quarter.
Stay up to date with the latest news and analysis from the world of cloud computing with our twice-weekly newsletter
Jane McCallion is ITPro's Deputy Editor, primarily covering security, storage and networking for ITPro, CloudPro and ChannelPro.
Jane joined ITPro and CloudPro in July 2012, having previously written freelance for a number of business and finance magazines. She has also covered current affairs, including the student, public sector workers and TUC protests and strikes in central London while studying a Masters in Journalism at Goldsmiths, University of London.
Prior to becoming a journalist, Jane studied Applied Languages at the University of Portsmouth.
Thank you for signing up to Cloud Pro. You will receive a verification email shortly.
There was a problem. Please refresh the page and try again.