Egnyte Connect lets users access company files from anywhere
Egnyte's new desktop app will let you access every corporate file from a single interface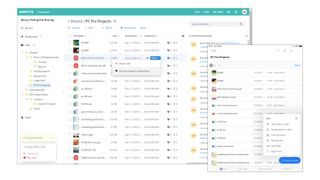 Cloud software company Egnyte has unveiled its latest platform designed to make it easier for employees to manage cloud and on-premise storage and access files offline.
Egnyte Connect is a desktop application that works in the background of Windows explorer or Mac Finder and while connected to the internet pulls together corporate files from the cloud and on-premise storage into one interface.
Users are then able to choose to sync specific files to their hard drive for offline working, with any changes being synced back to the network when the device reconnects to the internet.
This has the potential to massively reduce the time it takes to search for files, particularly if an organisation is using multiple collaboration services. Almost 36% of a typical knowledge worker's day is spent consolidating content that is spread across a variety of systems and storage locations, according to IDC research.
"As the amount of content in organisations continues to grow exponentially and is spread across many storage systems and cloud applications, it's becoming difficult for employees to figure out how to quickly and efficiently access what they need to get their jobs done," said Egnyte CEO Vineet Jain.
"The new release of Egnyte Connect decouples 'content location' from 'user experience'... allowing IT to modernise the content infrastructure without users ever noticing."
The app promises to give users the ability to collaborate on any corporate content, regardless of the file type, its size, or where it's stored and be able to access that content from anywhere.
Although the demonstration only showed Egnyte Connect running inside Windows explorer, the company said the app will integrate into popular productivity platforms, including Salesforce.
Other features include "intelligent access to content", in which the app automatically determines the best route for accessing corporate files, whether that be downloading from the cloud or making use of faster LAN connections.
The software will also support cross platform access, backwards compatibility for older OS versions, and even shareable links so that content can be shared across social apps.
"Finding ways to increase productivity is a real challenge for today's enterprise," said Terry Frazier, research director at IDC. "One of the best opportunities for this is in solving the content sharing and collaboration challenge still faced by more than 60% of knowledge workers, who routinely access four or more separate information systems and only succeed at quickly finding what they need 56% of the time."
"Solutions that give users a single drive they can take with them anywhere – regardless of whether the data is stored locally, on-premises or in multiple cloud services – provide needed flexibility for IT while maintaining valuable consistency for users."
A free trial of the new Egnyte Connect software is available here.
Stay up to date with the latest news and analysis from the world of cloud computing with our twice-weekly newsletter
Dale Walker is the Managing Editor of ITPro, and its sibling sites CloudPro and ChannelPro. Dale has a keen interest in IT regulations, data protection, and cyber security. He spent a number of years reporting for ITPro from numerous domestic and international events, including IBM, Red Hat, Google, and has been a regular reporter for Microsoft's various yearly showcases, including Ignite. Dale is also the Editor of ITPro 20/20, a monthly digital magazine providing a snapshot of the stories and themes shaping the business tech world. Prior to joining ITPro, Dale secured a Masters degree in Magazine Journalism from the University of Sheffield.
Thank you for signing up to Cloud Pro. You will receive a verification email shortly.
There was a problem. Please refresh the page and try again.