Microsoft and Dropbox partner over Office integration
Could OneDrive be taking a backseat, as Microsoft and Dropbox confirm collaboration?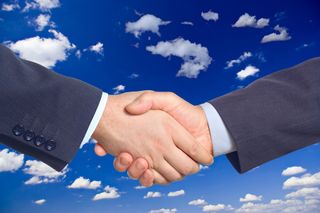 Update: The planned integration of Dropbox and Microsoft Office's respective online service rolled out today. Users of Dropbox's web app can now directly edit Word, Powerpoint and Excel files via Office Online, without having to launch any separate applications. Similarly, anyone creating or editing documents in Microsoft's Office Online suite of web apps can save them directly into their linked Dropbox account with no further hassle.
All users of either service will have access to this functionality, whether or not they're subscribers. Some have questioned the wisdom of this decision, given that Dropbox is a direct competitor to Microsoft's own OneDrive service. However, it remains to be seen whether or not the partnership will continue beyond this.
Dropbox and Microsoft have teamed up to allow Office users to store and share documents in Dropbox's cloud storage service.
The deal means Dropbox users will be able to access files directly from Office apps and edit documents via the Dropbox app.
In a blog post, Ilya Fushman, head of product, business and mobile at Dropbox, said the company was already home to 35 billion documents, spreadsheets, and presentations. Prior to the integration, Dropbox users could only preview these documents. The integration means that users will now be able to edit files without switching services.
"With this partnership, we're bringing the magic of the Dropbox and Office desktop experiences to mobile and the web," said Fushman. "What does that mean for you? In short: boundless productivity. You'll be able to edit Office documents right from your Dropbox mobile app, and access your Dropbox from within your Office apps."
Users will be able to edit files directly from the Dropbox mobile app, with changes syncing automatically across all devices. Users can access Dropbox files from the Office mobile and web apps, and save new files to Dropbox right from the Microsoft apps as well.
New or edited files can be shared from within Office apps using Dropbox's sharing functionality, without any extra steps between finishing a document and sending it off to colleagues, Fushman added.
An updated version of both mobile apps will roll out "in the next few weeks," with the firms adding integration between the Dropbox website and Office Online sometime next year.
The deal covers Office on the iPhone, as well as the iPad and Android versions. A Dropbox app for Windows Phone and Windows tablet users is promised in the coming months.
He confirmed that Dropbox for Business customers with Office 365 licenses will soon be able to take advantage of these new features.
Stuart Cochran, chief technology officer at cloud file collaboration vendor Huddle, said the partnership was a sign that "standalone file sync and share tools have become increasingly commoditised and are now becoming features of wider productivity tools".
"Although the partnership sees Dropbox start to shift into the enterprise collaboration space, simply combining editing plus sync capabilities does not equal a collaboration service," he added.
This article was originally published on 5/11/2015. It was updated on 9/04/2015 to reflect new release information.
Stay up to date with the latest news and analysis from the world of cloud computing with our twice-weekly newsletter
Rene Millman is a freelance writer and broadcaster who covers cybersecurity, AI, IoT, and the cloud. He also works as a contributing analyst at GigaOm and has previously worked as an analyst for Gartner covering the infrastructure market. He has made numerous television appearances to give his views and expertise on technology trends and companies that affect and shape our lives. You can follow Rene Millman on Twitter.
Thank you for signing up to Cloud Pro. You will receive a verification email shortly.
There was a problem. Please refresh the page and try again.