Out of office - on forever: Meet the companies leaving the office for good
We speak to the businesses embracing remote working beyond the pandemic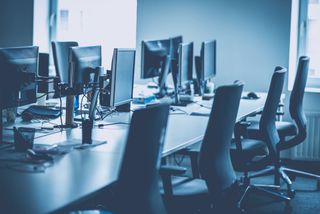 (Image credit: Shutterstock)
This article originally appeared in the March edition of IT Pro 20/20, available here. To sign up to receive each new issue in your inbox, click here.
The COVID pandemic has forced a radical shift in the way we work. Since March 2020, when the government first advised that everyone should "start working from home where they possibly can", businesses have been forced to ditch traditional workplaces and transition to a remote-first way of working.
While the shift was undoubtedly frantic and stressful for many organisations, particularly those that previously required employees to endure long commutes and overpriced lunches five days a week, it's becoming increasingly clear that the pandemic has broken through cultural and technological barriers that prevented remote work in the past. As a result, many companies are now figuring out that working remotely is the future of work, public health crisis or not.
While it's likely that hybrid work – a mix of remote and office-based working – will become the norm for the majority of once-office based employees, some companies are ditching the office for good. Twitter, for example, has told employees that they can continue to work from home indefinitely and Microsoft, though initially wary of home-based working, has also given its staff the option to ditch the commute for good.
Dropbox
Another big name embracing remote working is Dropbox, which recently announced it's becoming a "virtual-first" company. Not only will working from home become the norm for employees, but the remote experience will go one step further with "non-linear workdays", meaning core collaboration hours will be set up with overlap between time zones, with employees encouraged to design their own schedules beyond that.
Andy Wilson, director of new products initiatives at Dropbox, tells IT Pro that the company is already reaping the benefits of a virtual-first approach – and not just because its San Francisco headquarters recently sold for a record-breaking $1.08 billion (£777 million).
"Over the year, we've seen the obvious benefits of a virtual first approach. We've been able to live out our product truths; being a distributed team, building for distributed teams," says Wilson. "Our employees have had more control over how they work, and as we move out of lockdown, they're going to have more flexibility in terms of where they can work.
RELATED RESOURCE
A buyer's guide for cloud-based phone solutions
Finding the right phone system for your modern business
"While shifting to a virtual-first model, we must provide the right tools to enable our employees to collaborate as effectively as possible. Video calls are key, but other tools are important to get work done. By using our own tools such as Paper and Spaces, the teams were already working together asynchronously across the globe – it quickly became normal for us to collaborate on projects across time zones.
"We've also been adopting popular applications, such as Slack, to create a more effective and productive virtual way of working. For example, we recently moved our IT support to work across Slack – this has improved response times and allowed team members to gain instant support wherever they are.
"As we build teams from around the world, our ability to brainstorm in co-authoring tools like Paper means that teams can hand off work, or ideas, to others in different time zones to pick up. It's something that we've seen our customers pioneer as they move projects and content across time zones to speed up delivery."
Panaseer
It's not just big name technology companies that are leading the charge. Panaseer, a continuous controls monitoring platform for enterprise cyber security, has also recognised that, after a year of successful remote working, it has become a viable long-term solution.
Sophie Harrison, chief of staff at Panaseer, tells IT Pro: "We closed both our London and New York offices during the lockdown, to test a new remote working model. Our leadership team managed the communications, as we recognised this was a fundamental shift in working practices. We implemented a number of tactics to ensure our team were engaged in both the decision and new working model, including running weekly surveys and developing a cross-functional 'winning from home' group to garner feedback.
"We have developed collaborative initiatives to ensure our employees feel supported and still part of a team. This includes a monthly productivity allowance for all employees to assist with running home office costs, an Amazon voucher to 'pimp' the home office and passes to use co-working spaces. Our social team has run games nights, group activities and weekly HIIT classes."
These initiatives have received an overwhelmingly positive response from Panaseer's employees, Harrison says, which is why the company now plans to implement remote working on a permanent basis.
"We are committed to maintaining our culture and values virtually, and we are constantly measuring our team's satisfaction. Our leadership team has set an example by communicating more appropriate flexible working guidelines and offering better remote meeting and internal comms practices."
HomeHero
HomeHero, an AI-powered digital home manager that helps users to run all of their services from one platform, also has no plans to return to the office.
Internal employee research at the start of the pandemic found that a significant majority of HomeHero's team supported a permanent shift to remote working. While flexible and remote working has always been a part of the culture at HomeHero, the business is now a remote first organisation, with no plans to return to the office.
Kenny Alegbe, founder and CEO, HomeHero, said: "We've had nothing but positivity from our team about the move to being a remote first business. I hold weekly company wide updates to keep the team informed and connected and we have a 'bunker' in Central London, that the team can use for workshops and brainstorms whenever they want (and restrictions allow).
"We have found that not only has remote working boosted morale and productivity, it has also facilitated a fantastic work life balance for our colleagues."
The business uses Slack, Notion and Google Hangouts as part of its day to day business tools and also supports team members in funding remote office spaces near to their home, as well as kitting out personal offices too. The team is also keen to keep that Friday feeling with a variety of social events being hosted on Google Hangout, including sunset drinks in Mykonos, wine tasting in Provence, film club and a cocktail masterclass.
"The people at HomeHero are driving this business to be a success and I want to give them whatever they need to continue on this trajectory," Alegbe added. "I have listened to the team and we are now a remote first organisation and we will continue to evolve our ways of working to ensure they work best for the team."
34SP
Similarly, Manchester-based WordPress web hosting company 34SP has been so impressed by the results it saw from staff working remotely, it has decided to shift to this way of working on a full-time basis.
Stuart Melling, business development director at 34SP, tells IT Pro: "Before COVID-19 hit, we routinely offered WFH as a staff perk. This meant that one day every week, an employee could choose to work from their home, or indeed any remote location. This meant we were particularly prepared from a tech stand point (Slack, Zoom, VoIP, VPNs etc), and with the start of the pandemic we naturally sent everyone to work from home, and indeed, they remain there today.
"Everyone was a little apprehensive about what the change would mean in terms of productivity but what we found really surprised us. In all areas of the company, things have materially changed for the better. In our customer service department we've set a series of records in terms of quality – as rated by our own clients.
"As 2020 started to come to an end, we were so impressed by the results, we announced the change would become permanent in 2021. Some of our staff have decided to relocate around the country, and indeed, internationally given the flexibility afforded. Everyone's fairly thrilled about the change, and as business owners, we are too.
"I can't imagine why we'd force people to return just for the sake of it. I keep reading that some have struggled with knowledge sharing, mentorship, creativity etc, but for us, we've just re-imagined new ways to undertake all those tasks and improve on them."
Get the ITPro. daily newsletter
Receive our latest news, industry updates, featured resources and more. Sign up today to receive our FREE report on AI cyber crime & security - newly updated for 2023.
Carly Page is a freelance technology journalist, editor and copywriter specialising in cyber security, B2B, and consumer technology. She has more than a decade of experience in the industry and has written for a range of publications including Forbes, IT Pro, the Metro, TechRadar, TechCrunch, TES, and WIRED, as well as offering copywriting and consultancy services.
Prior to entering the weird and wonderful world of freelance journalism, Carly served as editor of tech tabloid The INQUIRER from 2012 and 2019. She is also a graduate of the University of Lincoln, where she earned a degree in journalism.
You can check out Carly's ramblings (and her dog) on Twitter, or email her at hello@carlypagewrites.co.uk.