Advertisement Feature
Why a flexible future is a more successful one
Flexible working is more than an employee incentive, it offers marked productivity benefits and can be a differentiating factor in whether employees want to work for you or not…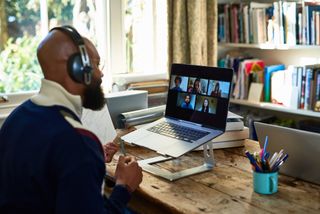 (Image credit: Getty Images)
The concept of flexible working has surged in popularity in recent years amid changing perceptions of working practices in the wake of the COVID pandemic.
The rapid shift to remote work during the early days of the pandemic was expected by some to fizzle out as restrictions eased - but that's not been the case.
Instead, many organizations have retained - at the very least - hybrid working practices and have come to realize the benefits of flexible working arrangements.
Similarly, employees themselves have become increasingly vocal about the necessity of flexible working, according to the Achievers Workforce Institute.
In a recent webinar entitled 'Flexibility at Work: What's Working and What's Not' Caitlin Nobes, lead analyst at the Institute said the definition of 'flexibility' has become a fluid concept for employees and employers alike.
Prior to the pandemic, employees seeking alternative work opportunities typically looked elsewhere due to career progression goals. However, the focus has now changed toward a desire for increased flexibility and autonomy in their daily working lives.
Nobes revealed that flexible working was identified as the top priority for employees for the first time in the five years that it has been running its annual survey, underlining the shift in focus for workers.
"For the first five years that we ran this annual survey, career progression was the number one reason people said they were going to job hunt, but today it's flexibility," said Nobes. "Most employees who can work from anywhere would like the option to at least sometimes work off site."
The Institute's analysis aligns closely with alternative research on the topic of workplace flexibility. A study by Gartner found that the "desire for flexibility" is very much here to stay. Nearly two-thirds (60%) of employees told the analyst firm that they expect to work remotely "at least once a week". This comes in stark contrast to before the pandemic, when just 38% said they expected greater workplace flexibility.
Flexible working and talent retention
This paradigm shift means that many employers now face adapting how they approach the future of work at their organization.
In a survey of HR leaders, two-thirds told the Institute that they expect labor challenges to deteriorate further. Therefore, moving forward, organizations that embrace flexible working models can differentiate themselves and help retain critical talent.
Gartner research shows that more than half (55%) of employees believe flexible work policies will directly affect their decision to stay at an organisation, highlighting flexible policies as a key benefit.
The topic of flexible working was a key focal point of a recent webinar run by the Achievers Workforce Institute, featuring input from HR leaders at Blue Ivy Group and Amazon Canada. Watch the whole video embedded in this article.
Alex Meers, director of employment brand and culture, Blu Ivy Group said this topic has now become "table stakes" for every company and that flexible working is often aligned with broader DEI and staff wellbeing goals.
"It's probably no surprise that DEI has become table stakes now for every company," he said in a webinar hosted by Achievers Workforce Institute.
"Wellness has now become a core part of every HR strategy. It's the baseline expectation in every culture. And now we see flexibility shifting to that category from a 'nice to have' into a 'need to have' for many."
Remote, hybrid, and flexible - what's the difference?
In the post-pandemic era of work, there is a notable distinction between the terms 'hybrid' and 'flexible'. However, the two are often conflated, leading to a degree of confusion among employers and employees alike.
Hybrid work practices typically involve employees working in a combination of office-based and home-based patterns. While this offers them a greater degree of flexibility in terms of work-life balance, there are drawbacks.
Typically, this is a company-ordained policy and can be rigid in nature, requiring staff to come to the office on set days of the week. A range of global brands currently operate hybrid work practices.
Google, for example, introduced new policies this year requiring staff to work from the office a minimum of three days per week.
Under this policy change, staff would be penalized for failing to attend in-office days regularly. This practice, by its very nature, is contradictory to the concept of 'flexible' working and may put pressure on employees to feel the need to conform to such policies even if it's not in the best interest.
By contrast, flexible working provides employees with a far more fluid work setup, enabling them to still combine office and remote work practices, but on their terms. Under the true umbrella of flexible working, staff can also choose the hours they work based around their personal commitments, such as childcare, for example.
Fundamentally, autonomy is crucial in any flexible working plan, according to Meers.
"The conversation [on flexible working] is usually limited to where and when work is done, so leaders end up focusing on hybrid versus remote work. And in reality, employees are actually referring to more than that," he said.
"We're talking about flexibility in terms of how work is done, generally. And in some ways employees today want what they've always wanted, which is autonomy, trust, and agency to do their jobs in a way that works for them."
Research from Gartner shows that granting employees and teams autonomy over how and where they work is highly beneficial in several ways, resulting in improved wellbeing and higher performance among staff.
Employees granted greater autonomy and flexibility in their working patterns were found to be less fatigued and 2.3 times more likely to stay with their organization.
Flexible working in action
Insurance giant Zurich is among a host of global organizations to have introduced flexible working plans for its employees in recent years.
The firm first introduced flexible work options prior to the pandemic, enabling staff to request a host of flexible options, such as:
Changing the days they work
Changing the hours and/or times they work
The ability to change to part-time, full-time, or to a job-share setup.
Employee feedback shows that the initiative has been highly beneficial in terms of productivity, wellbeing, and ensuring a more reasonable work-life balance since its launch in 2019.
Applications to the company were also boosted by two thirds (66%) since its launch, according to the firm, highlighting the appeal for jobseekers.
Great expectations
Productivity improvements among staff are among the most notable benefits of flexible working, according to research.
In Gartner's 2021 Digital Worker Experience Survey, 43% of respondents said flexible working hours helped them achieve "greater productivity".
Given the range of benefits offered by flexible working, organizations today can't afford to lag behind on commitments to employees.
Cultivating a more flexible, productive, and happy workforce could be the difference between weathering current economic conditions and losing vital talent during a precarious period in the global skills market.
The Confederation of British Industry (CBI) expects flexible working to persist in the coming years, meaning businesses have a prime opportunity to differentiate themselves and create a more efficient, distributed workforce.
Tips for flexible working policies
The Chartered Institute of Personnel and Development offers a range of best practice tips and advice on how employers and employees can broach the topic of flexible working.
Notable tips include:
Allowing staff to openly request flexible working from the onset of their employment
Offer different types of flexible working, such as a four-day work week, flexible hours, and the ability to work from different locations
Ensure consultation with staff when designing flexible or hybrid work practices
Invest in relevant tools and technologies to support flexible working
Consider inclusion and equality when embarking on a flexible working plan
Get the ITPro. daily newsletter
Receive our latest news, industry updates, featured resources and more. Sign up today to receive our FREE report on AI cyber crime & security - newly updated for 2023.
ITPro is a global business technology website providing the latest news, analysis, and business insight for IT decision-makers. Whether it's cyber security, cloud computing, IT infrastructure, or business strategy, we aim to equip leaders with the data they need to make informed IT investments.
For regular updates delivered to your inbox and social feeds, be sure to sign up to our daily newsletter and follow on us LinkedIn and Twitter.