Huawei chip supplier SMIC hit by US restrictions
The Trump administration's decision marks the latest development in the rocky US-China trade relations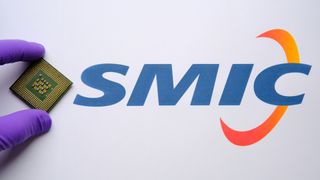 (Image credit: Gloved hand holding a chip next to the logo of SMIC)
The US Commerce Department has imposed restrictions on exports to China's biggest chip maker Semiconductor Manufacturing International Corp (SMIC), citing risks of military use.
SMIC is a supplier of semiconductors for Chinese companies such as Huawei, as well as US-based Qualcomm. In order to provide the chips, SMIC sources equipment from US manufacturers, such as California-based Applied Materials.
According to a letter from the US Commerce Department, seen by Reuters, SMIC's suppliers will now have to apply for individual licenses in order to continue exporting their equipment to the company.
SMIC denies it has ties with the Chinese military and said that it had not received any official notice of the restrictions from the US departments.
However, the news has caused SMIC's share prices to fall as much as 7.9% to HK$17.12 (£1.72). According to Reuters, this is the lowest since 29 May, when shares were down 6.7%.
The Trump administration's decision marks the latest development in the rocky US-China trade relations and is expected to directly impact Huawei. Last month it was reported that the company was running out of its own high-end chips for smartphones due to the US sanctions which were imposed earlier this year.
On 10 August, Huawei confirmed that it would be halting production of its most advanced smartphone chips, Kirin 9000, on 15 September. Starting from this date, the AP reported, Taiwan Semiconductor Manufacturing Co. (TSMC), which has been making Kirin 9000 chips using US equipment, was banned from manufacturing chips on behalf of Huawei's HiSilicon subsidiary.
At the time, CEO of Huawei's consumer business unit Richard Yu said that "this year may be the last generation of Huawei Kirin high-end chips".
A week later, the Commerce Department announced that it would be expanding restrictions aimed at preventing Huawei from obtaining semiconductors without a special license, including foreign-made chips manufactured using US software or technology. Sources said that the Trump administration was also planning to add 38 Huawei affiliates in 21 countries to the growing list of companies on the government's economic restrictions.
A daily dose of IT news, reviews, features and insights, straight to your inbox!
A daily dose of IT news, reviews, features and insights, straight to your inbox!
Thank you for signing up to ITPro. You will receive a verification email shortly.
There was a problem. Please refresh the page and try again.